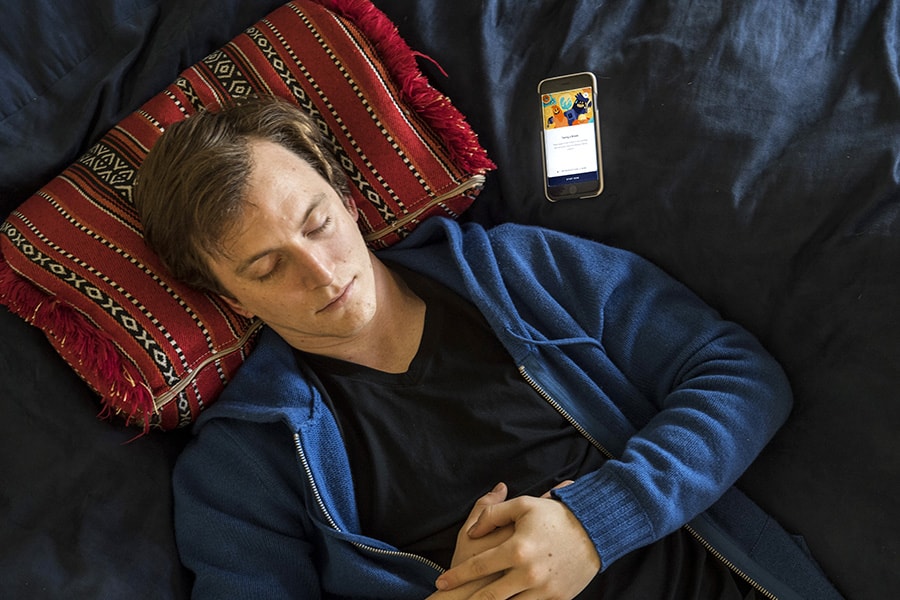 April 19, 2018
Headspace Brings Guided Meditation to You Anytime, Anywhere
App Is Now Free for CMU Community
By Kelly Saavedra ksaavedra(through)cmu.edu
Studies show the benefits of practicing mindfulness and meditation — from reduced stress and increased creativity to better immune response and improved relationships.

But despite their potential benefits, competing priorities can make it difficult for people to take part in the many wellness programs offered at Carnegie Mellon University.

"How do we meet someone at their desk who is frozen with the worry of how much is on their to do list? That is the question we asked ourselves," said Angie Lusk, program director for Student Affairs Wellness Initiatives.

The answer is Headspace, a popular meditation app, and the university is offering it for free to faculty, staff and students. (Redeem using your Andrew ID at CMU's landing page.)

Last summer, Lusk coordinated a pilot study of wellness apps among 150 members of the CMU community. Headspace came out on top for its evidence-based approach and design.

"Ultimately, we decided on mindfulness and meditation as something that has mass appeal and would be easily accessible by everyone," Lusk said.

Beginners can learn the basics of meditation on Headspace in as little as three minutes a day. More experienced meditators can dive into the app's longer and less guided meditations.

Meditations are "bite-sized" for busy schedules and come in themed packs that range from stress to sleep, anxiety management to pain management, sports performance and more. SOS exercises are also available in case of "sudden meltdowns."

"We already offer a variety of face-to-face opportunities in this domain at Carnegie Mellon. Headspace is the first time I am able to put in every person's hand a wellness resource that is immediately accessible to people in their own time, when they need it most," Lusk said.

David Creswell, associate professor of psychology at CMU, studies how mindfulness meditation training impacts the brain. He also explores how using simple strategies such as self-affirmation and rewarding activities can buffer stress and improve problem-solving under pressure.

"Headspace is a wonderful program, and new scientific studies testing it suggest that regular use of Headspace has multiple benefits," Creswell said.
"As a mindfulness researcher, I take this emerging work seriously enough that we are now developing new studies using the Headspace platform in my lab. But don't take my word for it. Try it and see for yourself."
To redeem your free subscription, go to CMU's landing page on the Headspace website, enter your Andrew ID and create a new password for your account.

"There are so many distractions trying to steal our attention these days," Lusk said. "When we introduce a few minutes of mindfulness and meditation into our day, suddenly we become very aware that we have the ability to focus more, to sleep better, to worry less, because mindfulness pulls us back into the present moment and what we can control."