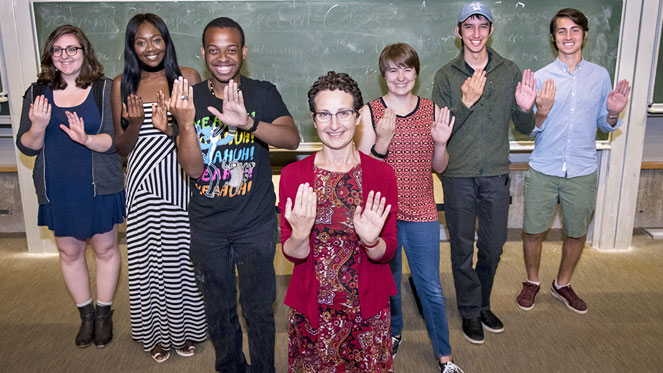 September 22, 2016
Language Lovers Find a Home in CMU's Linguistics Program
By Emily Stimmel
Languages are complex, with patterns and rules that can seem unpredictable. Linguistics provides us with tools to help crack the code that underlies many languages, enhancing our understanding of communication.
Students who learn linguistics at Carnegie Mellon University are not constrained to studying language from a single point of view. Instead, they are able to draw on perspectives from the Dietrich College of Humanities and Social Sciences' Departments of Philosophy, English, Modern Languages and Psychology, as well as the School of Computer Science's Language Technologies Institute (LTI).
"Language is such a ubiquitous, integral part of human life that many different disciplines find themselves bumping up against it," said Mandy Simons, professor of philosophy. Simons spearheaded the major in 2007 to create an "academic home" for a growing number of students who completed the linguistics minor and wanted more opportunities to study the subject.
The Linguistics Program provides students with a vocabulary for describing language precisely. Classes focus on everything from phonology, phonetics and syntax to the creative topics that drive courses like B.R. George's "Invented Languages" and Tom Werner's freshman seminar, "Interstellar Communication."
Senior Tess Harty, a linguistics major who is minoring in computer science, enjoys making connections between her major and everyday life.
"It's really exciting to notice things from class in the real world on a regular basis," said Harty. "Linguistics courses explain how and why my peers from different backgrounds communicate in certain ways, like having different words for the same thing, pronouncing consonants a certain way or forming different constructions altogether."
Daniel Davis was a science and humanities scholar who earned bachelor's degrees in linguistics and chemistry in 2014. Davis said he benefited from Werner's expertise in fieldwork when he traveled to Israel and the Palestinian Territories as part of his thesis for the Dietrich College Senior Honors Program.
Today, he is providing translation services in Latin America.
"The linguistics degree gave me many of the skills that I need as a translator, not to mention the skills needed to improve my Spanish so rapidly. A major in a language can be helpful in this sense, but a linguistics degree offers an infinitely more flexible, technical and practical approach," Davis said.
Werner agrees that the major complements language learning, but he stresses that linguistics tools can be broadly applied to a range of disciplines.
For example, students have combined the study of linguistics with computer science, design, human-computer interaction, architecture, voice, drama and dramaturgy.
"It makes sense that such interdisciplinary work is possible, given the importance of language to all human activity," said Werner, assistant teaching professor of philosophy.
And, Werner added, "Linguistics has everything to do with writing." In fact, CMU's writing instructors recognize the value of linguistics.
"A linguistics background can give writers useful insights into the anatomy of language, and those insights prove useful in helping writers better anticipate how their prose will be read," said David Kaufer, the Paul Mellon Distinguished Professor of English.
Pictured above: Professor Mandy Simons and students from her "Nature of Language" course demonstrate a sign from an invented language.