August 15, 2016
Honors Fellows Wrap Up Summer Research
Progress Impresses Advisers and Program Directors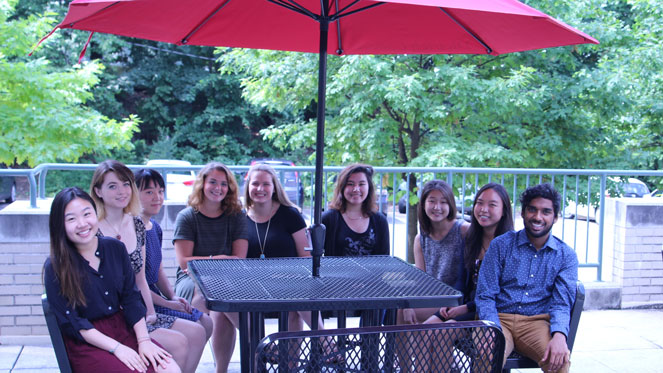 Eleven Dietrich College Honors Fellows are poised to begin their senior year with a head start on piloting psychological studies, conducting field research and laying the groundwork for film and writing projects.
Over the past three months, the fellows have examined citizenship and belonging in South Korea, the impact of La Loi Toubon on French nationalism and coming of age as a Vietnamese American, among other topics. 
Recently, they presented their works-in-progress to each other and faculty members including their advisers and fellowship program directors Jennifer Keating-Miller, Brian Junker and Joseph E. Devine.
"This summer's group was particularly impressive," said Devine, associate dean for undergraduate studies in the Dietrich College of Humanities and Social Sciences. "While their topics were interestingly diverse, they displayed shared qualities of high enthusiasm, confidence and preparedness that served them well this summer and will surely continue to do so over the coming academic year."
Psychology major Sophia Makal presented her research on using self-affirmation to increase males' willingness to provide emotional support.

"Having the opportunity to practice in front of an intimate group is a great advantage, as you are able to receive feedback that you can use later," said Makal.
"The feedback I received is leading me to go back into the literature and read up on some of the background information I need for my project." 
Brooke Feeney is mentoring Makal and Delancey Wu, who is majoring in psychology and decision science and studying how affectionate touch can promote intrinsic motivation in romantic partners. Feeney has enjoyed watching both students grow as researchers.
"It's exciting to see these honors students take charge of their first independent research project, to see their strong investment in answering the interesting research questions they have identified and to watch their confidence and skills grow as they take on and accomplish each challenge along the way," said Feeney, associate professor of psychology.
Though she has a soft spot for her protégées, Feeney was impressed by all the fellows' work.
"I enjoyed the great diversity of presentations given by students in different majors and from different backgrounds. It's a great learning experience for both students and faculty to learn about thesis projects conducted in other academic disciplines," she said.

Jordan Cox appreciated the presentations because they helped her view her project as an outsider. Cox, who is majoring in creative and professional writing, read excerpts from her collection of poetry, essays and short stories centering on the theme of human separation. 
She said that blogging about the process also changed her perspective on her work, as it helped her understand how individual segments of her project may be perceived.
"I have received feedback about how it's difficult to understand how parts of my project are connected. The connections that a reader makes himself are what I'm more interested in," said Cox. 
Dhruva Krishna, who is majoring in professional writing and ethics, history & public policy, has been conducting interviews with important figures within Pittsburgh's independent music scene. This fall, he will begin creating storyboards for his documentary film, "Do D.I.Y."
Tim Haggerty is excited about the connections Krishna is making.
"Dhruva has been doing terrific work on Pittsburgh's D.I.Y. music scene. I've been working with him to adopt a scholarly stance – to investigate this as a historian, find related work and find key informants," said Haggerty, director of the Humanities Scholars Program  and one of Krishna's advisers.
The fellows — the largest group in the program's three-year history — hope to carry the momentum they've created this summer with them as they continue working on their projects throughout the academic year. 
"The fact that this year's group was our largest to date is encouraging, suggesting that both the Honors Fellowship Program and the Senior Honors Program are solidly rooted in the college's academic culture," said Devine.
Related Articles:
Undergrads "Speak Up" About Their Research
Honors Fellows Confront Fear of Failure
Blogging Away: Honors Fellows Share Discoveries, Work Processes
Dietrich College Selects 11 Honors Fellows
_____
By Emily Stimmel
Pictured above, from left to right: You Bin Maeng, Jordan Cox, Delancey Wu, Sophia Makal, Casey Devine, Karen Nguyen, Diana Yuh, Kayla Lee & Dhruva Krishna