July 01, 2016
Blogging Away: Honors Fellows Share Discoveries, Work Processes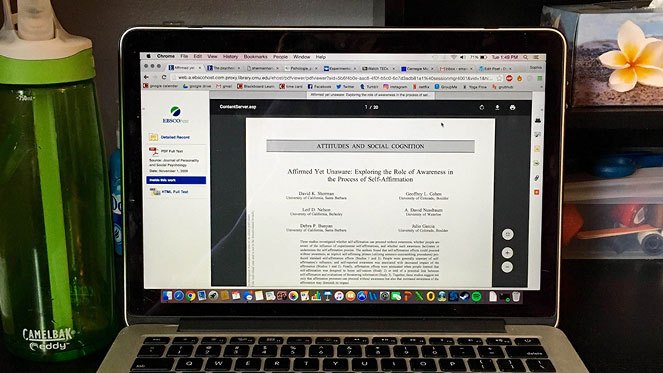 Eleven rising seniors in the Dietrich College have started developing their theses through the college's Honors Fellowship Program. The fellows have begun meeting with their advisers and reining in their research topics. And they're blogging about it, too.
Dhruva Krishna is creating a documentary about Pittsburgh's D.I.Y. (do it yourself) music scene. Krishna, who is majoring in ethics, history and public policy (EHPP) and professional writing, posted about the personal significance of his research topic, writing, "More than anything, music gave me a voice."
Rather than delve into the nuts and bolts of her research, psychology major Sophia Makal has also written about the personal impact of the fellowship. The fellowship has forced Makal, a self-proclaimed "control freak," to let go of certainty. It's also inspired her to find balance through hot yoga.
Jordan Cox shared drafts of her work, posting weekly poems on themes related to human separation. Cox, who is majoring in creative writing and professional writing, has covered topics ranging from family dynamics to the distance created between smokers and non-smokers.
Other fellows take readers behind the scenes in their research process. For example, Ariel Hoffmaier, who is majoring in creative writing and EHPP, tackled the sensitive issue of representing LGBT characters. And professional writing and psychology major Karen Nguyen has been using a journal to jot down inspiration for characters in her coming-of-age story.
Read the fellows' blogs.
_____
By Emily Stimmel