July 21, 2016
Honors Fellows Confront Fear of Failure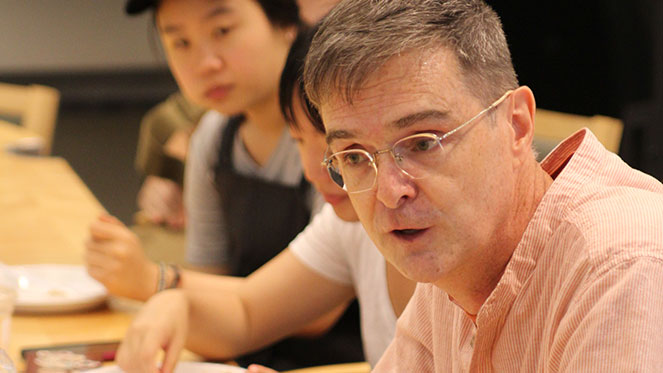 Scott Sandage knows failure. Throughout the 13-year process of writing "Born Losers: A History of Failure in America," the Carnegie Mellon University historian experienced personal and professional setbacks that intersected with his research.
"Most of that time I was failing to write my book about failure," said Sandage, an associate professor of history in the Dietrich College of Humanities and Social Sciences.
He recently spoke with the Dietrich College Honors Fellows, sharing his own struggles with the fear of failure and his lifelong treatment for depression.
According to Sandage, definitions of failure have changed over the past 250 years. In early American history, failure was viewed as something that happened to people, often as a result of too much ambition. By contrast, today it is perceived as a character flaw rooted in a lack of motivation.
In an open dialogue with Sandage and Brian Junker, the associate dean for academic affairs, students discussed their individual fears and strategies to cope with CMU's achievement-oriented culture.
Common themes emerged, from uneasiness about approaching interview subjects to concerns that they may not find data to support their hypotheses.
Casey Devine is majoring in global studies and French and Francophone Studies. She worries that she may never have an "aha!" moment in her research on French nationalism and La Loi Toubon.
Regarding CMU's competitive atmosphere, Dhruva Krishna said, "Everything becomes very high level really fast." Krishna, who is majoring in ethics, history & public policy and professional writing, is researching Pittsburgh's DIY music scene.
Sandage emphasized that individuals are more than their work and warned against "putting all your self-esteem eggs in one basket."
He believes that acknowledging failure is important and carefully avoided clichés about failure as a learning experience.
"You can't learn from failure if you don't believe it's real," Sandage remarked.
Putting the students' fears into perspective, he added, "It's pretty hard to ruin your life at 21."

View photos from Sandage's talk.
_____
By Emily Stimmel