April 19, 2016
Respect and Compassion Drive Senior's Educational Philosophy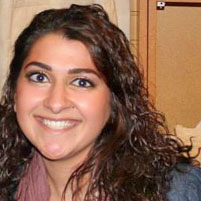 Siriana Abboud's (DC'16) educational philosophy is simple: "Tout moun se moun." Derived from a Haitian proverb meaning "All people are people," the phrase encapsulates respect, dignity and compassion — values that drive Abboud's teaching and volunteer work.
"As a teacher, I cannot assume that I can completely change the lives of the students I will teach," said Abboud, a psychology major with an additional major in French and Francophone Studies. "Rather, they will influence me as I influence them."
To recognize her commitment to quality education, Abboud has been selected as the Dietrich College of Humanities and Social Sciences' 2016 recipient of the Gretchen Lankford Prize.
Modern Languages Department Head Susan Polansky nominated Abboud for the award. She remarked, "Siriana is a true global citizen with multicultural and multilingual skills in English, French and Arabic. She has lived, worked and volunteered in diverse places around the globe, including Lebanon and Haiti."
As a freshman, Abboud co-founded CMU in Haiti and joined Carnegie Mellon University's International Student Union. On a 2014 visit to her home country of Lebanon, she gained hands-on clinical experience as a psychiatric intern at the American University of Beirut Medical Center and at a men's drug and alcohol rehabilitation clinic. And as a development intern at Hôpital Albert Schweitzer (HAS) in Pittsburgh, she helped organize fundraisers and connect HAS to other non-profit organizations working in Haiti.
In partnership with HAS, Abboud organized a panel discussion called "Revisiting Haiti: Five Years Later." The event was part of a 2015 celebration of the global legacy of Martin Luther King, Jr., which M. Shernell Smith helped coordinate.
Smith, assistant director of the Office of the Dean of Student Affairs, commented, "Siriana is an inspiring student leader and agent of social change."
Through activities like these, Abboud has developed a multicultural perspective that informs her teaching in the Children's School, the laboratory school housed within the Department of Psychology.
Last fall, Abboud enrolled in Sharon Carver's "Practicum in Child Development," a course designed to help students deepen their understanding of developmental psychology by assisting in a classroom.
Carver, the director of the Children's School, noted Abboud's nuanced understanding of child development.
"She frequently noted cross-cultural commonalities and contrasts based on her personal experiences, and she challenged the group to consider many types of diversity that might impact development," Carver wrote in her nomination letter.
As the winner of the Lankford Prize, Abboud will receive a monetary gift and a book about anti-bias education for young children, as well as children's books to begin building her educational library. According to Carver, the books — in Spanish, French and Arabic — were intentionally selected to represent multiple cultures.
The prize is named for the late Gretchen Goldsmith Lankford, a 1943 graduate of Margaret Morrison College who received her master's degree in public management from the Heinz School in 1990.
It underscores Lankford's deep conviction that "devoted teaching makes a difference in the lives of young people, helping them to fulfill their potentials as intellectuals, citizens and as human beings."
To Polansky, Abboud exemplifies Lankford's vision for the prize.
"She has already excelled in teaching and is working with students of different ages, cultures and backgrounds, both locally and internationally. She appreciates how crucial education is, and she is passionate about cultivating networks for growth to make the lives of individuals and groups better," Polansky said.
After graduating from CMU, Abboud will pursue her M.A. in early childhood education with a bilingual extension from Columbia University, Teachers College. She hopes to eventually work in education policy and reform; her experiences in Haiti reinforced her interest in this work.
Abboud commented, "It was so inspiring to meet students and teachers who fought to break down the barriers of a broken educational system on a daily basis."
She also draws inspiration from the Dietrich College faculty who encouraged her to pursue the enriching work of education.
"I have been warned time and time again that teaching will be a challenging profession. The most important thing I can have to succeed will be support," said Abboud. "Through this award, I have found support from fellow educators, and I have a new spark of excitement to begin my graduate studies and find my way back into the classroom."
Learn more about the Lankford Prize.
Related Article:
Passion for Teaching: Ethics, History and Public Policy Major Marie Avilez Wins The Gretchen Lankford Prize
_____
By Emily Stimmel