April 27, 2015
Passion for Teaching
Ethics, History and Public Policy Major Marie Avilez Wins The Gretchen Lankford Prize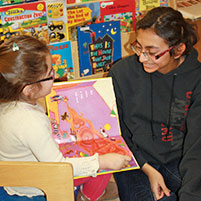 Marie Avilez (DC'15) did not realize how spending one semester abroad two years ago would influence the trajectory of her future plans.

It was during Carnegie Mellon University's first Social Change Semester that Avilez, an ethics, history and public policy major with a minor in psychology, discovered her passion: teaching. Now, to recognize her academic distinction, demonstrated accomplishment and potential as a rising educator, she is the Dietrich College of Humanities and Social Sciences' 2015 recipient of the Gretchen Lankford Prize.

"Marie's nomination stood out by the depth and genuine sincerity of her commitment to service through teaching, and also by how emphatically her nominators sang her praises. All agree that she will be an outstanding and high-impact educator," said Joseph E. Devine, associate dean of the Dietrich College..

During the spring of 2013, Avilez and 10 other students participating in the service-based Social Change Semester traveled to Doha, Qatar, rural central India and one of India's largest cities, Chennai. They taught English to migrant workers; assisted with projects in water management, alternative energy, women's empowerment, sustainable agriculture and village industries; and partnered with educational organizations that focused on educating and empowering underprivileged children.

"Marie proved to be one of the most committed and passionate members of our group," said Nico Slate, associate professor of history who co-led the semester abroad. "Whether we were working with high school students in one of India's largest cities or rural middle school students, Marie found ways to inspire and educate and—perhaps most importantly—to connect. She cared deeply for each student, and they saw that care and were touched by it."

The following summer helped to solidify Avilez's teaching ambitions. She taught a "Social Change in India" class to disadvantaged seventh and eighth graders through Breakthrough Collaborative Santa Fe. Watching students take what they learned in her class and use it on their own to peacefully protest the Trayvon Martin case reshaped her perspective on the role of a teacher.

"It taught me that I could shape futures and facilitate action and social change in the community," she said. "This is the kind of teacher I hope to be, someone who can bring out the best in each student, while learning from them, and remaining open to the many ways they will translate their own ideas into action."

Avilez was able to further define her teaching goals after serving as a teacher's aid at CMU's Children's School. She spent the last semester of her senior year working with a child with behavioral issues that most likely stemmed from a disability. Avilez said she loved "having the opportunity to work one-on-one with him and watch him grow, learn coping strategies and engage in the class more and more each day."

Caroline Acker, head of the Department of History, enthusiastically endorsed Avilez for the Lankford Prize, saying that she has identified one of the most challenging areas of education to focus on: working with children with disabilities.

"Marie described a student who was so easily distracted that he was almost incapable of learning in the classroom situation," Acker recalled. "After a number of conversations with him, Marie devised the idea of having him work simultaneously with two notebooks. In one, he could draw and sketch; this activity absorbed his distractedness in a way that he was able to listen to lecture and discussion and take useful notes in the other notebook."
 
Acker added, "I was deeply impressed by this creative solution to a student's problem."

Avilez has also been involved in extracurricular activities that support her long-term goals. She was active in the CMU chapter of Strong Women, Strong Girls, a mentoring program and co-founded a chapter of Visions for Global Empowerment, a non-governmental organization (NGO) that does education work in south Asia.

As the winner of the Lankford Prize, Avilez will receive a monetary gift and a book written by a faculty member or other distinguished writer in the winner's discipline, inscribed to note the connection with the prize.

The prize is named after the late Gretchen Goldsmith Lankford, who was a 1943 graduate of Margaret Morrison College and received her Master's Degree in Public Management from the Heinz School in 1990.

It underlines the Lankford's deep conviction that "devoted teaching makes a difference in the lives of young people, helping them to fulfill their potentials as intellectuals, citizens, and as human beings."

Avilez plans to work as an aide in a preschool part-time and as a substitute teacher with Mesa Public Schools, which will allow her to save money for graduate school. She then anticipates applying for the Masters of Arts in Teaching program at Arizona State University, which is a teacher in residency program.

Learn more about the Lankford Prize.
_____
By Shilo Rea