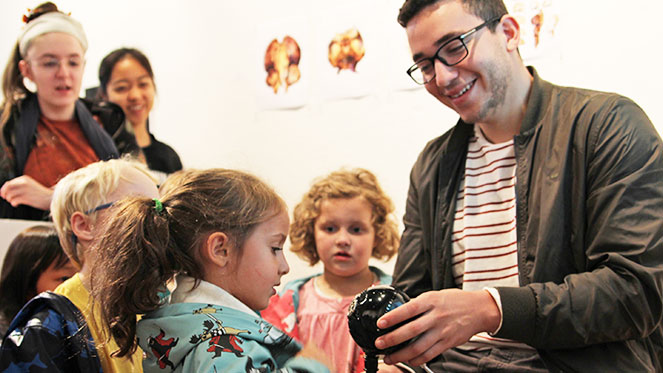 December 03, 2015
Art + the Brain
Patricia Maurides often works at the intersection of art and science. A biologist and visual artist, the adjunct professor of art at Carnegie Mellon University is known for designing courses that integrate fine arts practice with the disciplines of biology, neuroscience and psychology.
This semester, students enrolled in Maurides' Art + the Brain course have been interpreting concepts like memory and perception through photography, artists' books, sculpture and computer games. The students—whose majors include architecture, art, computer science and psychology—created art in response to the dissection of a sheep's brain and class discussion of neurological conditions including dyslexia, sleep paralysis and memory bias.
"Carnegie Mellon is a great place to cross disciplines," said Maurides, who wove guest speakers into the course curriculum.
Psychology Research Scientist Elissa Aminoff led a session about memory and Marlene Behrmann, the Cowan Professor of Cognitive Neuroscience, lectured about a neurological condition called prosopagnosia, or "face blindness." Aminoff and Behrmann are both faculty members of the Center for the Neural Basis of Cognition (CNBC), a joint project between CMU and the University of Pittsburgh that investigates the neural mechanisms responsible for human cognitive abilities.
Students also visited a kindergarten class at CMU's Children's School, a laboratory school housed within the Department of Psychology that focuses on hands-on learning for children between the ages of three and five. The students led an interactive class about the brain and the senses and the children created art in response to the discussion.
Maurides often seeks opportunities for her students to interact with the Children's School, and her students value the fresh perspective they gained from working with children.
"I think my favorite part of the experience was watching the children draw their brain," said Carolyn Chheath (DC'19), a first-year student in the Dietrich College. "One student decided to draw out thoughts around his brain and another colored each region of her brain with different markers to represent various things in her life."
One of the kindergarteners, Roxie, drew a self-portrait with images surrounding her head. She said, "This is my brain. I am smelling a rose. I am tasting a cookie. I am seeing a butterfly. I have to add a body to the brain. Now it's me!"
Joe Martinez (DC'16), a psychology major, added, "I appreciated seeing how the learning process occurred in these children as they took in new information about what brains look like and what functions they accomplish. This has always been the aspect of neuroscience that intrigued me the most: learning about the brain is the mind attempting to understand itself."
The 20 kindergarten students had a chance to visit the exhibit, where they saw their work on display among the Art + the Brain students' projects in the Ellis Gallery.
Kids flocked around Martinez, who designed "Atrium Vivum," a three-dimensional representation of the compound guanine, one of the four bases of DNA. The model served as a "memory palace," a mnemonic device used to recall information visually. The children were intrigued by its tactile components like clay and metal sheets.
"As soon as one figured out there was some clay in the model, the rest swarmed for a chance to play with it. Who can blame them? Play-Doh is awesome at any age," remarked Martinez.
They also enjoyed interacting with Chheath's work, "A Mind's Screen," a scrolled book simulating the experience of synesthesia, a neurological phenomenon in which stimulation of one sensory pathway leads to automatic, involuntary experiences in another.
The children took turns watching their brain activity through an interactive computer game called "Tell Me a Story." Abdelwahab Bourai (SCS'16), a computer science major, designed the game, which attempted to capture the children's stories through a microphone and mapped the regions of the brain activated by their words. For instance, when children laughed or spoke in an excited tone of voice, the "emotion" region of the brain was activated on screen.
Maurides believes her students' art projects have the potential to be powerful teaching tools.
"These artworks are inventive and engaging and use metaphors to explore sometimes challenging scientific concepts," she said.
Crossing disciplines to teach and research the human brain is a hallmark of Carnegie Mellon's approach to brain science, which has allowed CMU to become a leader in the study of brain and behavior for more than 50 years. To build on its strengths in biology, computer science, psychology, statistics and engineering, CMU launched BrainHub, an initiative that focuses on how the structure and activity of the brain give rise to complex behaviors.

View photos of the Ellis Gallery exhibit.
Learn more about Art + the Brain.
Related Article: Patricia Maurides Receives CNBC Friend of the Year Award