September 29, 2015
Patricia Maurides Receives CNBC Friend of the Year Award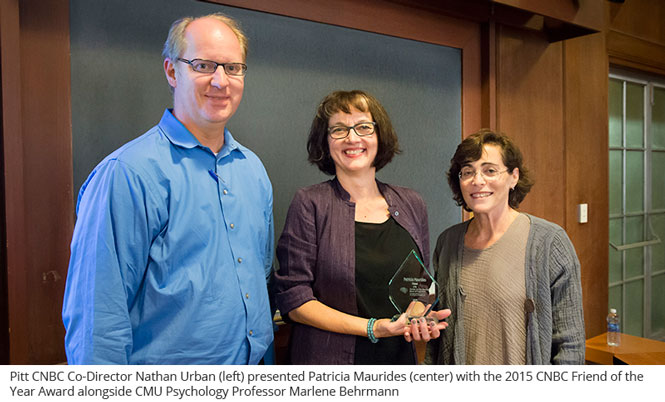 Patricia Maurides, a biologist and visual artist, has received the 2015 Center for the Neural Basis of Cognition's (CNBC) Friend of the Year Award from Carnegie Mellon University and the University of Pittsburgh. The award recognizes Maurides' contributions to the Pittsburgh neuroscience community through both scientific and artistic literacy.
Maurides, an adjunct professor of art at CMU, frequently integrates her interests in molecular genetics and psychology by probing issues of identity and origins in her art practice. She also uses her body as subject, screen or conduit for memory play.
To encourage students to connect art with science, Maurides designs and teaches courses that bridge the fine arts and natural sciences and social sciences. These courses include "Art and Biology," a studio laboratory art course, "Neurophoto" and "Art and the Brain." For her efforts to creatively connect art and science in the classroom, the Pittsburgh Post-Gazette named her a 2014 Classroom Innovator.
"Patricia has nurtured a substantial interest in combining brain and art, and this award recognizes her for her contributions," said Marlene Behrmann, the George A. and Helen Dunham Cowan Professor of Cognitive Neuroscience and CNBC faculty member.
Maurides has also curated several exhibitions related to neuroscience and art. In 2012, CMU's Miller Gallery showcased "Neurophoto," which featured photographs inspired and informed by brain science. Last year, and in conjunction with the CNBC's 20th anniversary, Maurides was behind "Neurons and Other Memories: Work In and Around the Brain." The exhibit presented investigations, translations and reflections of neural mechanisms by artists and neuroscientists. Work included themes in neuroanatomy, perception and memory.
Maurides has said that her work "involves a palimpsest-like process of generating layered images either using the computer or slide projection. Scientific images, photographs, slides and childhood picture books are blended to construct narrative tableaus that probe questions of ancestry, memory and evolution."
The 2015 CNBC Friend of the Year Award was presented to Maurides on Sept. 24 by Nathan Urban, the Pitt co-director of the CNBC, and Behrmann. The first Friend of the Year Award was given last year to Mark Roth, an award-winning science reporter at the Pittsburgh Post-Gazette.
A joint project between CMU and Pitt, the CNBC investigates the neural mechanisms that give rise to human cognitive abilities. The center integrates Pitt's strengths in basic and clinical neuroscience with CMU's strengths in psychology, computer science, biological sciences, engineering and statistics, and sponsors an interdisciplinary graduate training program. At CMU, the CNBC is a critical component of BrainHub, the university-wide initiative that focuses on brain science.
_____
By Shilo Rea