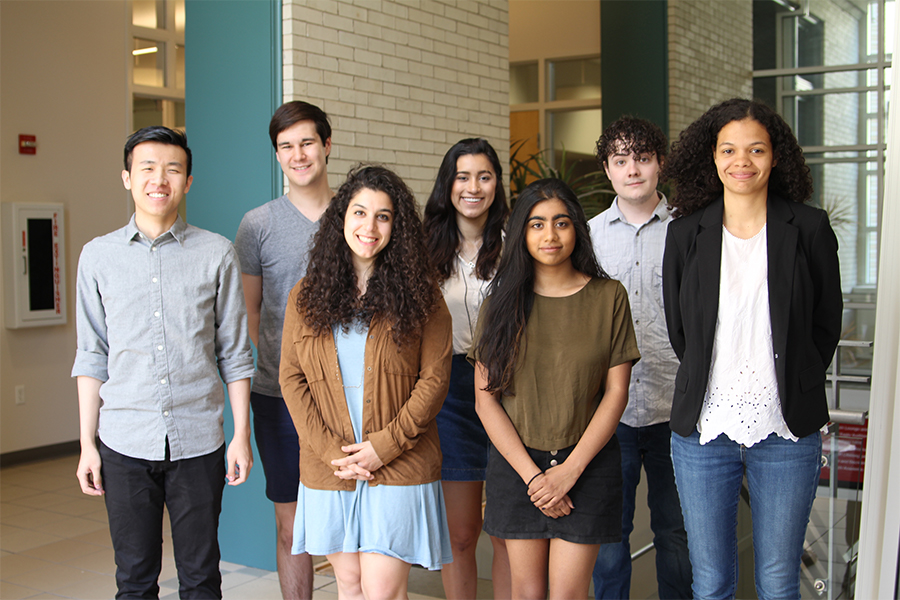 May 17, 2018
Nine Juniors Named Dietrich College Honors Fellows
Nine distinguished Carnegie Mellon University juniors will spend the summer working on research and creative projects that span across the college's various disciplines, including psychology, international relations, creative writing and more.
The students' work is funded through the Dietrich College of Humanities and Social Sciences Honors Fellowship, an extension of the college's Senior Honors Program, and gives the fellows a head start on their thesis development. 
"The Dietrich College Honors Fellowship supports some of our most promising and interesting honors research projects by giving the students a summer stipend to get a head start on their work, receive additional mentoring and have access to networking opportunities," said Brian Junker, associate dean for academic affairs. "Past fellows have continued their work in medical school, in graduate studies in psychology and economics, as a Fulbright scholar, an international design researcher, an entrepreneur who founded two tech startups, a Luce scholar, a filmmaker and more."
Since the spring of her freshman year, Maggie Mertz has been researching female and minority representation in the film industry. As part of her work, Mertz, a global studies and creative writing major, founded the film production studio Momoka Studios. It is run by women and other minorities in the film industry, as part of an effort to increase diverse representation behind the camera as well as in front of it.
"My senior honors thesis, 'Breathing Words,' will be a culmination of my work at Carnegie Mellon University, and the largest production Momoka Studios has made to date," Mertz said. "The project itself revolves around a deep, female friendship and is inspired by my coursework in film, literature, history and cross-cultural entertainment."
She continued, "I applied to be a fellow so that I could begin my research as soon as possible. Due to the scope and size of the project, I am extremely grateful for the opportunity to work with my adviser during the summer and to get a start on filming before our campus is crowded again."
"What strikes me about this cohort is the high degree of relevance of their topics to important current societal issues, such as state-wide politically-motivated gerrymandering, or a combined research and creative project that explores and deconstructs the relationship between violence and humor," said Joseph E. Devine, associate dean for undergraduate studies. "It is very heartening to see students' interests be so attracted to thorny issues that matter so much to our society, and that hold such promise of positive insight and impact."
Alexandra Halberstadt's first experience conducting research involved cigarette smoking. She's expanding on that interest in her senior honors thesis. Majoring in biology and psychology, Halberstadt plans to gather personality dimensions to investigate the relationship between personality and nicotine addiction.
"With this project, I really wanted to combine my interest in the tendencies of people who smoke cigarettes and my interest in mental health," Halberstadt said. "I want to look into personality traits that predict nicotine addiction, and my research mentor, Assistant Professor of Psychology Kasey Creswell, has a lot of background in addiction research." 
Now in its fifth year, the Honors Fellowship Program is administered by Devine, Junker and Jennifer Keating, assistant dean for educational initiatives.
"We have seen the program grow in its disciplinary diversity since its inception, and we are especially excited to see how this cohort will explore a rich array of topics in the summer months and throughout the academic year," said Keating. "One of the distinguishing features of this program is not just an opportunity for students to delve into their chosen research enterprise, but also an opportunity to build an intellectual community.
Keating continued, "A wide array of topics, a variety of faculty mentors and regular opportunities to communicate about their work in progress through the Dietrich Honors Fellowship Program blog and regular meetings throughout the summer months give this year's fellows a variety of ways to grow and explore as thinkers and developing practitioners in their fields.  We can't wait to see what this group will do." 
The 2018-2019 Dietrich College Honors Fellows:
Brian Bizier
Majors: Creative Writing, Dramaturgy
Bachelor of Humanities and Arts
Project: Revenge Project: Untitled Screenplay
Adviser: Stephen Wittek
Will Crouch
Majors: Cognitive Neuroscience, Health Psychology
Minor: Biomedical Engineering
Project: Relationship Intimacy as a Moderator for Unmitigated Communion & Psychological Distress
Adviser: Vicki Helgeson
Allison Guzman
Major: Ethics, History & Public Policy
Minors: Professional Writing, Politics & Public Policy
Project: A Comparative Analysis of Racial and Partisan Gerrymandering in Texas and Pennsylvania
Adviser: Geoffrey McGovern
Alexandra Halberstadt
Majors: Biology, Psychology
Science and Humanities Scholars
Project: Personality and Nicotine Dependence
Adviser: Kasey Creswell
Paloma Sierra Hernandez
Majors: Creative Writing, Drama
Bachelor of Humanities and Arts
Minor: Hispanic Studies
Project: Project-LOGUE: Cultural Exchange Through Artistic Translation
Adviser: David Shumway
Jieming (Lewis) Li
Major: Psychology
Project: Interventional Methodology Comparisons in Male Gender Stereotype
Adviser: Kody Manke
Maggie Mertz
Majors: Global Studies, Creative Writing
Minors: Film Studies, Animation and Special Effects
Project: Breathing Words
Adviser: Sharon Dilworth
Isabella Starvaggi
Majors: Psychology, Statistics
Project: Vegetative Rumination in Seasonal Affective Disorder
Adviser: Kasey Creswell
Sahana Thirumazhusai
Majors: International Relations & Politics, Social & Political History
Project: Shared Trauma: The Recovery Process of Communities in Former Conflict Zones
Adviser: Jennifer Keating
Pictured above are the new Dietrich College Honors Fellows. Missing are Maggie Mertz and Alexandra Halberstadt.