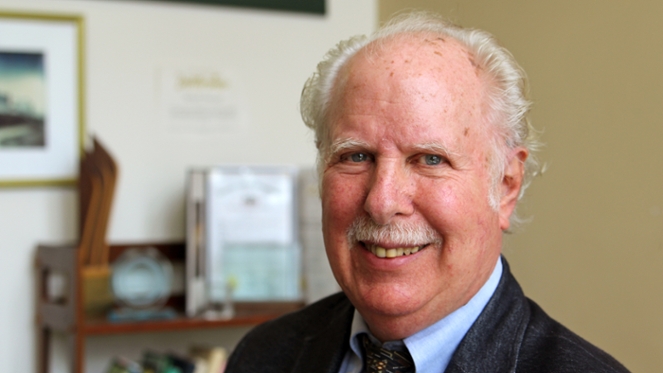 May 16, 2017
Robert Cavalier May Be Retiring, But He's Not Slowing Down
Philosophy Professor Brought Deliberative Democracy to CMU, Pittsburgh and Beyond
By Emily Stimmel
Carnegie Mellon University's Robert Cavalier may be retiring this June, but he doesn't plan on slowing down. Instead, he will devote his time as teaching professor, emeritus to several projects that have been in the works for years.
"It's more of a 'reset' for me," said Cavalier, director of the Program for Deliberative Democracy (PDD) in the Dietrich College of Humanities of Social Sciences' Department of Philosophy. "I'll have extra time to focus on many issues of importance to me and the larger community."
Cavalier will continue working with Kenya Dworkin, associate professor of Hispanic Studies, to bring deliberative democracy to Cuba. With a gift from alumna Judith Wright (CIT'69), he is developing a "virtuous citizen feedback loop" for members of Congress through an add-on to GovTrack, an open-source tool that shows how the members are voting. And next spring he hopes to run a statewide Deliberative Poll on the issue of abortion with a view toward Pennsylvania clinic regulations.

These projects are the culmination of 30 years of innovation that Cavalier has spearheaded at CMU—from pioneering computer-assisted instruction and multimedia exploration of hard cases in ethics, to developing online tools for citizen deliberation and designing face-to-face roundtables to create the conditions for informed, well-structured and civil conversations.
Cavalier came to CMU in 1987 as a project scientist in the Center for the Design of Educational Computing. He joined the Philosophy Department in 1995, and from 2002 to 2007, directed the Center for the Advancement of Applied Ethics and Political Philosophy, now the Center for Ethics and Policy. 

Through the PDD, which he founded in 2005, Cavalier implemented Campus Conversations on topics including faculty course evaluations and climate change as it relates to campus policy. He has also worked on citizen forums addressing pressing neighborhood needs and a state-wide Deliberative Poll  on same-sex marriage.
Cavalier's deliberative democracy work led to City Council member Dan Gilman (DC'04) proclaiming May 9, 2017 as "Professor Robert Cavalier Day" in the City of Pittsburgh.
"Now standard practice for the City of Pittsburgh's public comment process, deliberative democracy forums have engaged hundreds of residents and facilitated meaningful dialogue around important decisions such as a national search for a new police chief, capital budget priorities and affordable housing," said Gilman, a former student of Cavalier's who majored in ethics, history and public policy. 

He added, "Due to the groundbreaking public-private partnership between the mayor's Office of Community Affairs and Professor Cavalier's team at Carnegie Mellon, policymakers are changing the way they interact with residents across the nation – and it all began right here in Pittsburgh."  
Sophomore Mayowa Hannah Osinowo is part of that team. She joined the PDD after taking Cavalier's Introduction to Ethics course and said that he has shown her the importance of initiating conversations about difficult social issues.
"He has made an excellent contribution to CMU not only as professor but as an advocate for real change in the Pittsburgh community," said Osinowo, an economics major.
Tim Dawson (DC'17) presented a model public engagement process inspired by his work with the PDD in his Ph.D. dissertation in rhetoric. Dawson began working with Cavalier in 2005; today he is the co-principal of a CMU spinoff, the Art of Democracy, which builds on research done by the PDD.
"Robert has an exceptional talent for nurturing productive collaborative relationships. He challenges and invites scholars, students, public officials, community leaders and citizens to discover what unique contributions they can make to strengthening democracy," said Dawson.

Cavalier's willingness to collaborate across disciplines is part of what makes him a perfect fit for CMU according to Philosophy Department Head David Danks.
"Robert Cavalier's research, teaching and implementation of deliberative democracy is an exemplar of the way philosophy is done at CMU: foundational and interdisciplinary with real-world impact," said Danks, the L.L. Thurstone Professor of Philosophy and Psychology.
Related Links: