November 22, 2016
CMU, City Officials Write the Book on Deliberative Democracy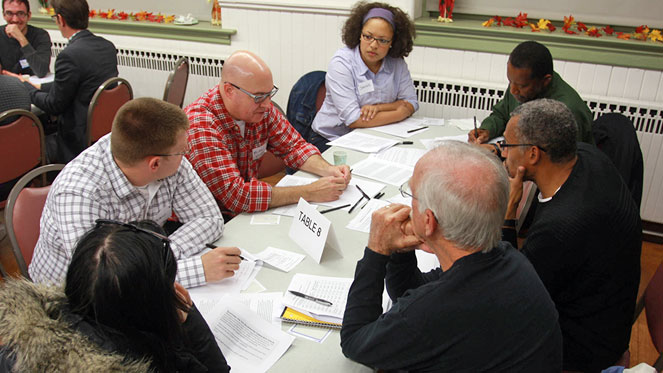 If the results of the contentious 2016 presidential election have taught us anything, it's that people on both sides of the aisle want to be heard.
Through deliberative democracy, ordinary citizens are empowered to play an active role in policy decisions. With help from Carnegie Mellon University's Program for Deliberative Democracy (PDD), the City of Pittsburgh is becoming a national model for this community-driven approach to addressing important issues.
A part of the Center for Ethics and Policy, the PDD has used deliberative democracy techniques since 2005 to glean informed public opinion on everything from marriage equality to women's reproductive rights.
Through structured conversations including moderated roundtable discussions, Q&A sessions with expert panels and an exit survey, deliberative community forums engage diverse groups of citizens in decision-making. By creating a forum for all voices to be heard, public officials develop trust within their communities and increase their constituents' investment in the outcomes of their decisions.
"We've redesigned the town hall meeting, moving away from seven angry citizens and a microphone to a forum that is civil and thoughtful," said Robert Cavalier, director of the PDD and teaching professor of philosophy in the Dietrich College of Humanities and Social Sciences.
In 2013, Mayor William Peduto supported a recommendation from the Civic Health Index that Pittsburgh become a center for deliberative democracy. Within a year, the city began organizing deliberative community forums to select a new Chief of Police and set goals for its capital budget. And this November, at the National League of Cities (NLC) conference—which drew close to 3,000 elected officials from across the U.S. to Pittsburgh—the city rolled out "A Handbook for Deliberative Democracy Forums."
CMU's Metro21 initiative provided funding to support the creation of the handbook, which includes case studies and tips on developing briefing materials and recruiting participants. The Art of Democracy, a new CMU spinoff consultancy, assumed a leading role in facilitating the city's deliberative community forums and composed the handbook in consultation with PDD and the city's Office of Community Affairs.
In the handbook's foreword, Peduto wrote, "Deliberative community forums offer well-structured opportunities for informed and inclusive public engagement."
He continued, "They facilitate civil dialogue among citizens from diverse backgrounds and between citizens and policy makers. As a result, these forums provide a means for gathering rich input about particular issues in ways that strengthen civic relationships and improve our community's overall civic health."
The use of deliberative community forums at the city level is the culmination of several years of networking and consensus building between the PDD and the city.
"What is critical in all this is the fact that the city has institutionalized this practice, making it a part of the public comment process," remarked Cavalier.
Sally Stadelman, deputy manager in the City of Pittsburgh's Office of Community Affairs, has been involved in the project since her days as an intern for Peduto. Stadelman believes that one of the most significant aspects of the deliberative forums is the public-private partnership that blossomed at CMU.
"It took on a life of its own," she said. "And now, the Mayor's Office has a useful and practical tool to improve the way we interact with the community."
_____
By Emily Stimmel