December 13, 2016
Bringing Deliberative Democracy to Cuba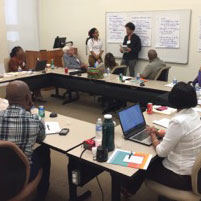 Independent civil society in Cuba has been excluded from virtually all official governing processes for over 50 years. But with the U.S. lifting travel and commerce restrictions between the two nations and the recent death of Fidel Castro, Cuba is poised for continued political change.
Carnegie Mellon University's Program for Deliberative Democracy (PDD) is participating in a working group on deliberative democracy with key figures from Cuban pro-democracy groups, including #Otro18 and Consenso Constitucional. The group's goal is to promote mutual learning between independent, Cuban civic leaders interested in the practice of deliberative democracy and proponents of these techniques in the U.S.
"These leaders understood immediately and deeply how useful this process is and how valuable it can be in cultivating a robust civil society," said Robert Cavalier, director of the PDD and teaching professor of philosophy in the Dietrich College of Humanities and Social Sciences.
One of those leaders is Manuel Cuesta Morúa, a Cuban historian and political scientist who has facilitated 500 roundtable conversations in private homes since attending workshops hosted by the PDD. He received the 2016 Ion Ratiu Democracy Award from the Woodrow Wilson International Center for Scholars and was recently awarded a prestigious Wilson Center fellowship.
The PDD, founded in 2003 and housed within CMU's Center for Ethics and Policy, has widely promoted deliberative democracy through citizen forums and campus conversations. Through the PDD, Cavalier and Kenya C. Dworkin y Méndez have combined their individual expertise in deliberative democracy and Cuban society to offer workshops and materials to Cuban civic leaders since 2013.
This fall, working group participants met at Florida International University (FIU) in connection with FIU's Cuban Research Institute. They built upon previous workshops designed to teach the processes that guide deliberative conversations and to explore topics relevant the current concerns of Cuban society, like modifying the country's constitution.
In early 2017, the group will convene for a follow-up meeting on the island. Among other activities, they will host "train the trainers" sessions to build capacity for sustained engagement in the practice.
"It is truly remarkable that the members of this group have established over 500, independent 'constitutional roundtables' in private homes all around Cuba over the past few years and are set to engage the citizenry in the process of municipal elections in 2018 using the tools of deliberative democracy," said Dworkin y Méndez, associate professor of Hispanic Studies in CMU's Department of Modern Languages who has published extensively on the issues of race, nationality and independence in Cuba.
Related Article

_____
By Emily Stimmel