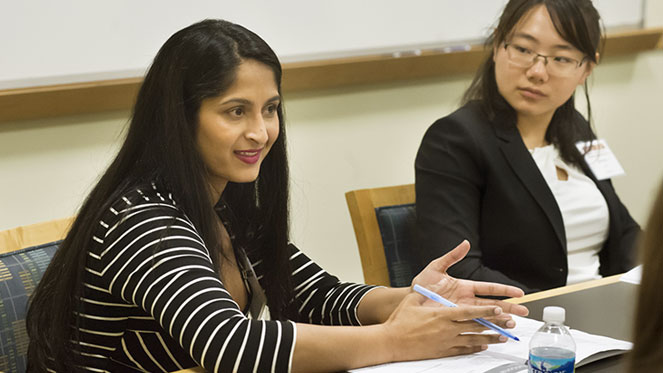 February 16, 2017
There's More Than One Way to Get From A to Z With a History Degree
By Emily Stimmel
For Faryal Khan (DC'09), the path to her current career has been anything but a straight line – and she wouldn't have it any other way.
"There's more than one way to get from A to Z," said Khan, who received a Bachelor of Science in history and policy and minored in drama at Carnegie Mellon University.
Khan is a transcreation director at World Writers – part of Williams Lea Tag, a large marketing and communications agency in New York City. In this role, she manages operations and business development, cultivates client relationships and ensures that international marketing initiatives resonate with audiences worldwide.
Previously, Khan worked as a project manager at TransPerfect Translations, where she was asked to train a new hire within her first year. From there, she jumped at chances to train and form larger teams in Hong Kong and Barcelona and discovered a talent for managing staff. She credits her success to saying "yes" to opportunities as they arose and following her interests, even when they diverged from her past experiences.
"It's OK to not know where you're going," she said. "After all, a conventional career path is a myth."
In fact, Khan shared tips on pursuing a non-traditional career at the Dietrich College of Humanities and Social Sciences' Under Construction event.
Khan didn't find her niche at CMU right away. But by joining student organizations like MAYUR (CMU's South Asian Student Association), Bhangra in the Burgh and Dancer Symposium, Khan began a journey of self-discovery.
"My participation in these organizations supported my growing academic interests in business, international affairs and policy," said Khan. "I always wanted to effect positive change in the world, and getting involved with diverse student groups helped me develop in that direction and complemented my growth in the classroom."
Naum Kats was not surprised to learn that Khan has built a career to suit her passions.
"Faryal was a very talented student with broad interests," said Kats, an adjunct professor of history in the Dietrich College and Khan's adviser. "I wanted to inspire her not to limit herself to one area of historical interest and to go beyond CMU's academic requirements to explore cultural offerings on campus and in Pittsburgh."
Kats' efforts paid off.
"By attending cultural events, I learned a lot about people and identified common threads to connect them," said Khan. "Now I use what I learned to help deliver consultations for major brands so their messaging is culturally relevant and still stays true to who they are."
On Thursday, March 2 in New York City, Khan will host "Dinner with 12 Tartans: Women in Business and Innovation" for CMU alumni, parents and current students. The event is part of the Alumni Association's CMUConnect.