December 19, 2016
First Person: Networking and Career Building Don't Have to be Overwhelming
Dietrich College Students Should Take Advantage of College and University Opportunities

Sarah Gutekunst is a Dietrich College of Humanities and Social Sciences senior majoring in professional writing. A member of the Humanities Scholars Program, publisher of The Tartan and involved in countless other activities on and off of campus, Gutekunst is no stranger to taking advantage of opportunities for students. She recently attended Under Construction: Building Your Future for the first time. She wrote about her experience at the event that brings Dietrich College alumni to campus to share advice with current students.
As a senior approaching the end of my penultimate semester at Carnegie Mellon University, I must admit, the very idea of Under Construction overwhelmed me. I have enough on my plate as it is, army crawling my way to the finish of the year. The mental folder called "post-grad plans" has been filed away neatly, where I can ignore it until at least March. Naturally, I felt apprehensive, and preemptively exhausted, facing a full Saturday afternoon of building my future.
However, I quickly realized less than an hour into Under Construction that I failed to give the planners nearly enough credit. Of course, I'm not the only student who shudders nervously at the very thought of networking!
The day started with students and alumni scattered around randomly assigned tables for facilitated networking. Jennifer Keating, assistant dean for educational initiatives in the Dietrich College, introduced Kendra Albert (BHA'11), who established their approach to networking as anything but traditional.
Out of the gate, Albert let us know that they feel our pain, calling the old-school, one-size-fits-all approach to networking nonsense. They even told a painful tale of their own networking failure, which elicited some giggles from around Rangos and eased some of my own anxiety. Broken into three sections, their speech encouraged each table to put their minds together and tackle typical networking anxieties, like where to start and how to duck out when conversation runs stale. Above all, Albert made sure we all felt in control of our own networking fate, emphasizing comfort and realistic goal-setting. Heading out for my first session, I almost felt sad to leave my table after we made great personal connections, under the guise of professional networking.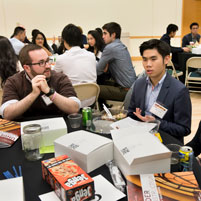 For the first session, I chose to attend "Tough Decisions: Making Career Choices in the Midst of Uncertainty." The three panelists really made the session about the self. Maureen Rolla (DC'75) an English literature major, advised the room, "There's always going to be uncertainty," saying that the world isn't suited to the straight and narrow, especially in today's economy. Rolla stressed that all we can do is prepare ourselves for the challenge, which is why we're here at Carnegie Mellon.
Joshua Knauer (DC'95), who received his B.A. in environmental ethics and policy, is a social entrepreneur with more than 20 years of experience creating and leading successful non-profit and for-profit organizations. Knauer, president and CEO of Rhiza, told us to look beyond our majors and the classes we have taken.
"The career you're preparing yourself for is life's journey," he said.
Susan Jannetta (DC'76) advised us to always be willing to "take flying leaps," because nothing is forever and there's always the chance to bounce back and try again. The group also made a point about "the gaps," which they believe is where opportunity lives.
The next session I attended, "Internships as Education: Arts, Publishing & Entertainment," hit a little closer to home for me. All four panelists were young, urban and extremely impressive alumni from the English Department. Brit McCandless (DC'08), a 60 Minutes producer who left me a little starstruck, told about her first internship for her hometown newspaper. She recalled how she dressed up in a life-size newspaper costume and made the rounds through town events. To wrap up the internship, she wrote a piece for the paper about that unique experience. The takeaway? No internship is beneath you.
 The panel chimed in to concur, advising students that no matter where you are, opportunities abound. In small workplaces, learn by taking as many tasks as you can. In big workplaces, learn by keeping your eyes peeled — listen to conversations, read every memo that passes through your hands and ask questions. Chloe Fraboni (DC'11) added not to forget the personal touch. Sending a thank you notes can make a difference, as Randy Pausch told us in "The Last Lecture," before freshman year.
Finishing up the day, I attended a small session called "A Traditional Career Path: Is it a Myth?" For all intents and purposes, this session really served to wrap up the day and put us in touch with our feelings and needs. Facilitator and Associate Dean for Academic Affairs Brian Junker broke the ice by asking panelists to tell us where they were five years ago and for the students to say where they hope to be five years from now. This remained a theme throughout the session.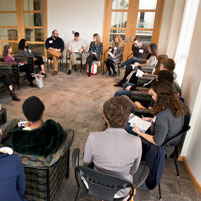 To start, panelists Michael Szczerban (DC'07) and Faryal Khan (DC'09) discussed list-making for the purposes of outlining priorities for job-hunting, as well as pro and con lists to keep in touch with your reactions to past experiences. Also sitting in on the conversation, Associate Dean for Undergraduate Studies Jay Devine told us how he takes his dog for an hour-long walk each day, building time into his daily routine for self-reflection. In his words, talking to yourself often "breeds authenticity in the decisions you make," because everyone will have their own journey, process and reactions to each step.
Szczerban, who majored in information systems and creative writing and now is executive editor at Little, Brown and Company, reminded us, "It happens moment by moment, and you're a participant in it."
I felt both excited and empowered by this session's message. Of course the traditional career path is a myth, and I'll find my way by tuning in to how I feel every step of the way. Making decisions based on my reactions is my own form of agency in this uncontrollable job market.
Admittedly, I was planning to book it after the formal panel discussions, so nobody was more surprised than me when I chose to stay after for the optional networking hour — and that choice was only slightly informed by the spread of hors d'oeuvres.
In the days following Under Construction, something Knauer said in my first session has stood out: "My god, how many people are paid to be here to help you? Use them!"
He's so right. CMU students are so lucky to have access to so many experienced faculty, alumni and staff, all working day in and out to help students like me succeed. Dietrich College students are especially lucky to have the opportunity to build their future at Under Construction.
View photos from Under Construction: Building Your Future.
_____
By Sarah Gutekunst