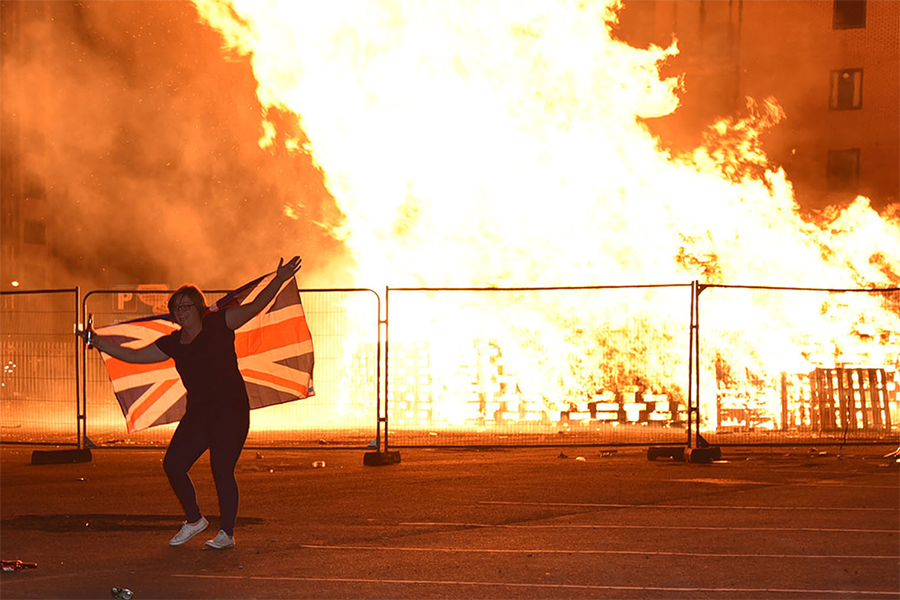 August 07, 2017
Causing a Scene: Miller Gallery Explores Performance Through Protest and Everyday Life
Exhibition Runs Aug. 19-Sept. 3, With Special Reception Aug. 31
By Shilo Rea
For three years, members of Carnegie Mellon University's Center for the Arts in Society (CAS) explored performance beyond the traditional relationship between audiences and actors. Instead, three faculty-led projects considered how people performatively frame their lives through reinterpreting history, protest, digital devices and everyday acts.

Highlights from the CAS Performance Initiative, including a dot map illustrating sectarian division in Belfast over time and augmented reality events from Pittsburgh's past, will be displayed at CMU's Miller Gallery from August 19 through September 3. A special reception will be held on August 31 from 4:30 – 6:30 p.m.

"These projects engage a diverse public, on and off campus, with politically salient questions that allow the viewer to both reflect and act on the content," said James Duesing, CAS director and professor of art.

The Performance Initiative was directed by Duesing and co-organized by Wendy Arons, professor of dramatic literature, Kristina Straub, professor of English. Three projects used the rubric of performance to continue CAS' exploration of how distinctions between the work and place of artist and scholar can be reassessed and transformed through collaborations.

Ghosts in the Machines, by Associate Professor of Drama Larry Shea, focused on how newly developed technologies, such as mediated reality and location based interactivity, enhance and extend live performance through the incorporation and overlay of digital media and information.

John Carson, professor of art, and Jennifer Keating, assistant dean for educational initiatives in the Dietrich College of Humanities and Social Sciences, used Performing Peace in the North of Ireland to understand how tensions between the past and present might coexist in a society built on principles of tolerance rather than strife.

Edda Fields-Black, associate professor of history, brought the records, stories and lives of Africans enslaved on low country rice plantations to life in Requiem for Rice. She also collaborated with The Colour of Music, Charleston's Black Classical Music Festival.

In addition to the main projects, the initiative involved speakers, workshops, panel discussions and "Drama Queens," an evening of performances that united two generations of feminist performers.

CAS is a research center in the Dietrich College and College of Fine Arts that investigates the role of arts in societies.

The Miller Gallery is located in CMU's Purnell Center for the Arts at 5000 Forbes Avenue, Pittsburgh, PA 15213. It is open Tuesday through Sundays from noon until 6 p.m. Admission is free, and the gallery is open to the public.
The above photo is from Performing Peace in Northern Ireland.