September 09, 2016
Drama Queens! Unites Two Generations of Feminist Performers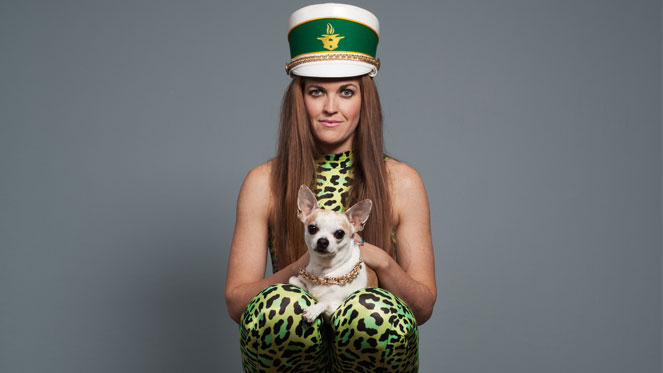 When Kristina Straub and Wendy Arons decided to organize a showcase of feminist performance art, they invited artists who influenced them. But they knew it was just as important to build a bridge to a new generation of feminists.
Straub and Arons contacted Holly Hughes, Deb Margolin and Carmelita Tropicana—three performers with roots in New York City's vibrant 1980s art scene—and asked them to invite contemporary artists whose work they admire. This is how they brought Erin Markey, Desiree Burch and Becca Blackwell into the fold. The six performance artists—whose work spans comedy, theater and writing on everything from lesbian desire to transgender experience—will appear together for the first time at Drama Queens!, a two-day event hosted by Carnegie Mellon University's Center for the Arts in Society (CAS).
"The groundbreaking work that Holly, Deb, Carmelita and other feminist performers did in the '80s and '90s is still relevant and exciting," said Arons, professor of dramatic literature in CMU's College of Fine Arts. "We can still see their influence on performance and theater in general—feminist performance is vibrant, changing and continuing to challenge audiences."
Straub teaches courses in gender and sexuality studies that keep her connected to feminist communities at CMU.
"I think that Drama Queens! is coming to Carnegie Mellon at a wonderful time in its history," said Straub, professor of English and director of the Literary and Cultural Studies Program. "Feminism is alive and well on this campus."
Drama Queens! is scheduled for 6:30 p.m. on Thursday, September 29, in the Purnell Center's Rauh Studio Theater. At noon on Friday, September 30, the artists will participate in a panel discussion led by feminist scholars Jill Dolan and Emily Klein in CFA Room 303. Both the performances and panel are free and open to the public. Tickets to the performances will be available at the Purnell box office beginning on Monday, September 26.
The event is co-sponsored by CAS and CMU's Department of English, School of Art and School of Drama.
CAS is a research center in the Dietrich College of Humanities and Social Sciences and the College of Fine Arts that investigates the role of arts in societies.
Learn more.
_____
By Emily Stimmel
Pictured above is performance artist and comedian Erin Markey.