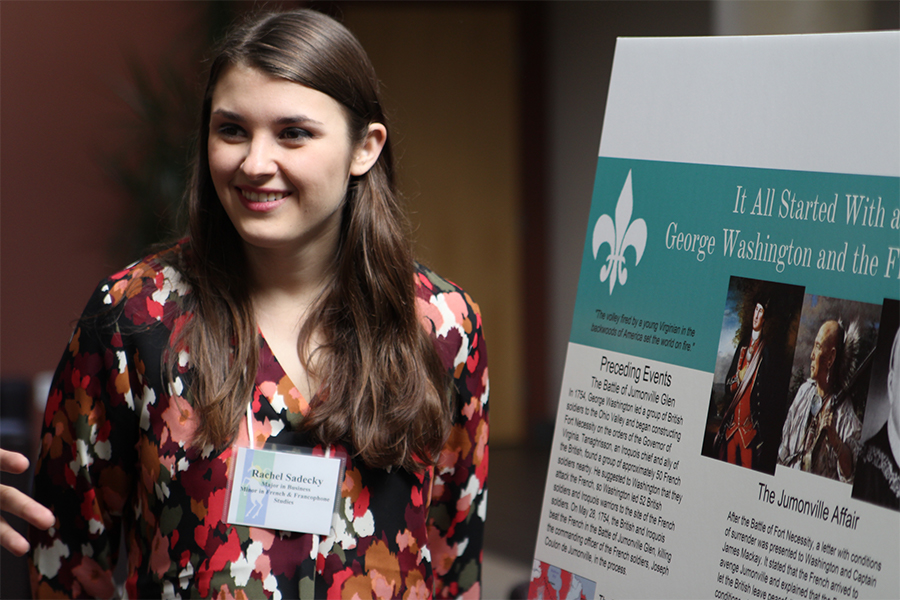 November 18, 2016
DUC Helps Students Talk About Their Work
The ability to effectively explain complicated information is often the key to landing a job, securing a promotion or winning research funding. For example, a data analyst who can crunch numbers and clearly describe trends is much more valuable than someone who is just good with numbers. And a researcher will never receive money for their project or publish their results without the ability to explain what they want to do, what they discovered and why it matters.
Dietrich College of Humanities and Social Sciences students are lucky because, for the past four years, the Dietrich Undergraduate Colloquium (DUC) has given them an outlet to practice presenting and sharing their work. This year, students gave formal presentations and participated in poster sessions on research and creative topics ranging from women's roles in terrorist organizations to the acoustics of Mandarin pitch and Pittsburgh's DIY music scene.
Kayla Lee, a Dietrich College Honors Fellow, is examining the links between English language proficiency and economic self-sufficiency among Bhutanese-Nepali refugees in Pittsburgh. While she has explained her senior honors thesis project to others before, the DUC gave her a different kind of opportunity.
"The last time I'd presented my thesis project was in front of the rest of the honors fellows and their advisers – a crowd that is familiar with one another," said Lee, a senior majoring in global studies and Hispanic Studies with a minor in politics and public policy.
Kiersten Chuc, a junior majoring in statistics and French & Francophone Studies, had participated in the DUC before, as well as CMU's more formal Meeting of the Minds.
"I like the DUC because it's a casual, low-stakes venue for presenting research," said Chuc.
Chuc worked with classmates Sonya Anopa and Ree Sherwood on a poster called "Wampum Belts: From Communication to Currency." The project originated from work the group did together in Bonnie Youngs' course, "The French in America."
According to Youngs, the DUC is special because it gives students opportunities to showcase both advanced research and works in progress.
"Our students make connections that haven't been looked at before and it's interesting to watch their research evolve in different directions," said Youngs, teaching professor of French & Francophone Studies and DUC organizer. "When they present, they're confronted with questions that force them to think on their feet. It's important that they learn to manage challenges like these at CMU and beyond."
She added, "It gives students a chance to convey their passion in a way that others can understand,"
Lina Sheremet will use the feedback she received at DUC to refine her early-stage research on interactive model-based clustering. She presented a poster on the concept with encouragement from her faculty mentor, Sam Ventura, visiting assistant professor of statistics.
"The idea was interesting to me because it combines general statistics with machine learning," said Sheremet, a senior with majors in statistics and public policy and management. "Machines can do a lot of work, but when combined with human knowledge, the output becomes even more helpful."
2016 Presentations:
COCKTAIL: Tasting Three Different Perspectives About the Puerto Rican National Identity Through Poetry
Paloma Sierra-Hérnandez, Creative and Professional Writing
Cultural Relativism and Its Evolution in the Context of French History
Jack Biggs, French & Francophone Studies and Computer Science
Jasmine Kim, Technical Writing and French & Francophone Studies
An Interactive Website About the Pittsburgh Music Scene
Dhruva Krishna, Ethics, History & Public Policy and Professional Writing
The Interplay of Tone and Duration in Mandarin Diphthongs
Tess Harty, Linguistics
A State of Exile
Habiba Shalaby, Finance
Understanding the Economic Self-Sufficiency of Adult Bhutanese-Nepali Refugees in Pittsburgh Through English Language Proficiency: Towards a Theory of Refugee Self-Sufficiency
Kayla Lee, Global Studies and Hispanic Studies
Posters:
Interactive Model-Based Clustering
Lina Sheremet, Statistics and Public Policy & Management
It All Started with a Letter…
Alyssa Aburachis, Neurobiology and Psychology
Rahmon Ross, International Relations & Politics and French & Francophone Studies
Rachel Sadecky, Business Administration
The Roles of Women in Terrorist Organizations
Damin Jung, International Relations & Politics
"Tomboy": Dual Identity in Algeria and France
Colin Tait, Ethics, History & Public Policy and Bagpipe Performance
Wampum Belts: From Communication to Currency
Sonya Anopa, Computer Science and Cognitive Science
Kiersten Chuc, Statistics and French & Francophone Studies
Ree Sherwood, Creative Writing and French & Francophone Studies
Related Links:
_____
By Emily Stimmel
Pictured above: Senior Rachel Sadecky shares her group's poster, "It All Started with a Letter…," at the fourth annual DUC.