May 11, 2016
Students Solve Tech Problems for Nonprofits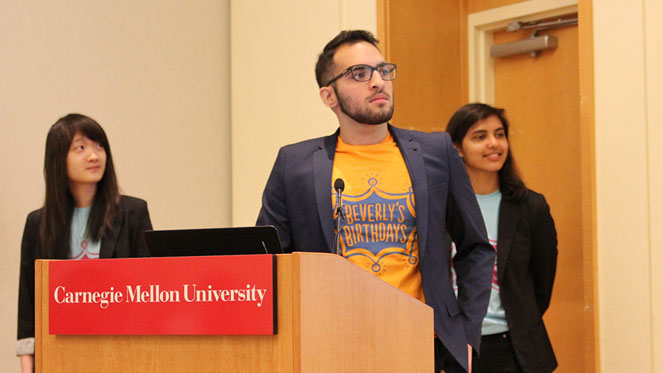 Real-world partnerships are an integral part of Carnegie Mellon University's Information Systems (IS) Program. Through the program's Software Development Project course, students collaborate with community-based organizations to develop useful technology solutions.
"Service learning is a very important element of the curriculum," said Randy Weinberg, director of the IS Program.
Three years ago, the course — once a senior capstone — was moved to the junior year as a way to build upon students' previous learning and introduce consulting concepts.
Jeria Quesenberry, teaching professor of IS, sees the client collaboration as a "win-win-win" scenario.
"The clients receive software or another product and students gain technical and interpersonal skills. By solving real problems, both parties are making a difference in the community," Quesenberry said.
Students Gus Henry, Shijie Rao and Alex Wang worked with the Beaver County Humane Society (BCHS) to digitize applications for individuals interested in fostering dogs from the shelter.
The shelter staff had relied on cumbersome paper applications, which made it difficult to match potential foster parents with pets based on unique characteristics. In fact, the application system had become so unwieldy that they found themselves returning to a small pool of volunteers again and again.
The team built a web application that allows BCHS staff to view all animals in need of foster care at once, making it easier to match caregivers with animals. Their biggest hurdle was integrating the new application with the shelter's existing technology.
"As a programmer, overcoming challenges and building something that just works is always a delight," said Wang, who is majoring in information systems and human-computer interaction. "The potential impact of our project on BCHS really made us feel like we were doing meaningful work."
Jasmin Wu, a veterinarian at the shelter, believes real-time updates on available pets and photos of the animals will spark an emotional connection and help facilitate placement.
BCHS Executive Director Susan Salyards was impressed with the students' professionalism and the quality of their work.
"Our foster system will now be streamlined to allow us to be efficient, provide better customer service to our fosters and ultimately — and most importantly — save more animal lives," she said.
Similarly, Beverly's Birthdays sought help modernizing its internal tracking process. Since 2011, the organization has provided birthday experiences for more than 6,000 children and families experiencing homelessness in the Pittsburgh area. Staff members had tracked inventory on paper with a rudimentary tally system, but as the volume of donations grew, it became clear that items coming in and out would need to be tracked more efficiently.
The student team of Jeanine Huang, Gaury Nagaraju and Ibrahim Soltan worked with the organization to develop a custom web application that uses barcode scanners to track items and provide metrics that Beverly's Birthdays staff can use for future planning.
"They have a lot more quantifiable data and information to play around with, which opens up a lot of possibilities, like performing analyses to figure out the most popular toys, predict season trends so they can stock their inventory ahead of time and make their business process a lot smoother," said Huang, an information systems and statistics double major.
Martina Caruso (A'14) is Beverly's Birthdays' program manager and volunteer coordinator. She was impressed by the team's motivation, creativity and work ethic, and she enjoyed visiting her alma mater to work on a project that will save her "tons of time" managing inventory and donations.
"You never fully understand how special a place like CMU is until you are back on campus, in the excitement of it all. It was so much fun for me to come to campus once a week to work with these intelligent students on something we were both passionate about," said Caruso.
Additional clients were Best of the Batch Foundation; CMU's Center for Building Performance and Diagnostics; CMU Professional Development Services; CMU Spring Carnival Committee 2016; Environmental Foodprint; Handprinter; Pennsylvania Resources Council; Phipps Conservatory and Botanical Gardens; SEI Rubric Creator; CMU's Six Degrees of Francis Bacon; SwiftCeipt; United Mitochondrial Disease Foundation; and the YMCA of Greater Pittsburgh.

View photos from the client presentations.
_____
By Emily Stimmel