WHAT IS 'INFORMATION SYSTEMS?' AND IS IT RIGHT FOR ME?
The importance of information systems to all types of companies, as well as the need for well-educated and creative professionals in the field, continues to surge around the world.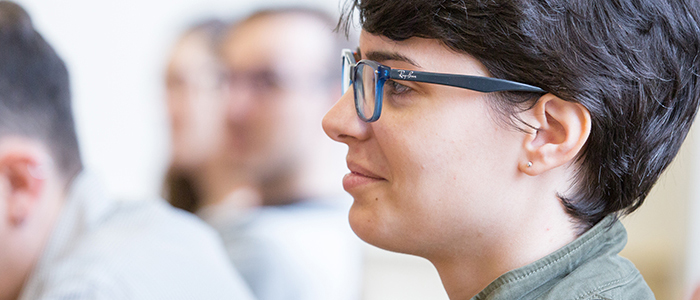 An Information Systems (IS) major is ideal for students with an interest in computer science, business, and information technology—and who want to explore the exciting possibilties that are emerging where these subjects overlap.
The IS major is the perfect place for you if you are passionate about using technology for positive gains across society, both economic and humanistic.
But what can I do with it? Here are some examples of what you could do with an IS degree:
Enable platforms like Netflix and Twitch to make better recommendations
Work with companies like Uber, Lyft, Waymo, or Argo AI to improve autonomous vehicle performance
Help government agencies use technology to be more efficient, transparent, and secure, and make services more accessible
Change the way people experience and interact with technology as a UX designer
Make financial institutions better at recognizing fraud
Give doctors and social workers better technological tools for fighting the opioid epidemic and other public health crises
Design the next app that transforms an entire industry
Improve the products of social media giants like Instagram, Snapchat, YouTube, and TikTok, or analyze social data to help companies and brands track trends and connect with people
Pursue advanced research and master's/doctoral study in Information Systems
Plan the future of smart cities and smart communities
Use data and technology to help a non-profit you care about deliver on its mission in exciting new ways
Power new forms of art and entertainment media; help cultural institutions use technology to reach and engage with audiences
Lead big companies and major brands through technological shifts that are affecting their business
Be a technology entrepreneur
CURRICULUM & COURSES
The field of Information Systems involves the effective design, delivery, and use of information and communications technologies to solve problems for companies, governments, and society. Equally, it is about understanding and measuring the impacts of these technologies on people and communities so they can be deployed ethically.
As an IS student, you will build a solid foundation in computing, communications, and software development. You will also study social sciences and organizational theory to develop "big picture" critical thinking and understand the human impacts of technological change. This blend prepares you to take a leading role in our digital future.
The flexible nature of the program encourages students to explore their own interests through program electives, study in a contemporary content area or through optional second majors and minors, and opportunities to study abroad.
The IS program curriculum includes:
A broad grounding in humanities and social sciences to promote self-directed learning, critical thinking, and interdisciplinary problem-solving
An Information Systems Core to provide the technology, project management, and business-facing skills needed to design and build effective real-world systems solutions
An Information Systems Breadth focused on professional communications, quantitative analysis, and how technology functions in society
A Concentration that gives you the flexibility and agency to gain expertise in a supporting area and define your own niche in IS
Humanities & Social Sciences Core
IS students fulfill the curricular requirements of the Dietrich College of Humanities and Social Sciences, which provides a broad educational foundation.
Through holistic advising, courses emphasizing disciplinary perspectives and interdisciplinary collaboration, and robust experiential learning, students gain broad knowledge and essential skills to communicate and solve complex problems in a multicultural, global society.
Information Systems Core
In the Information Systems Core, you will learn the basic skills necessary to analyze, design, implement, and test high-quality, cost effective information systems.
The Information Systems Milieux
Database Design and Development
Application Design and Development
Human-Computer Interaction
Foundations of Software Engineering
Managing Digital Transformation
Information Systems Consulting Project
Information Systems Breadth
In the Information Systems Breadth, you will study key areas fundamental to understanding and solving problems in information systems. At least one course is required from each of the following buckets (courses listed are samples only):
PROFESSIONAL COMMUNICATIONS
Organizational Communication
Statistical Graphics and Visualizations
Negotiation and Conflict Resolution
Managing Across Cultures
Communication Design
QUANTITATIVE ANALYSIS AND RESEARCH METHODS
Regression Analysis
Practical Data Science
Models and Methods for Optimization
Sampling, Surveys, and Society
Choices, Decisions, and Games
INNOVATION AND ENTREPRENEURSHIP
Digital Service Innovation
Mobile Application Development in iOS
Hacking for Homeland Security
IS Concentration
The Information Systems major is flexible and designed to help you develop your own unique interests. Carnegie Mellon University is distinctively interdisciplinary, encouraging you to draw from many colleges and disciplines beyond your home major.
The study of Information Systems can take many paths; Concentrations allow you to find the path that best suits your plans and aspirations. They also allow you to establish relationships with leading researchers in your area of specialization.
Concentrations typically consist of:
3 advanced courses
One project course or equivalent research experience
Alternatively, students may choose from an approved list of minors or second majors.
SAMPLE SCHEDULE: Information Systems Major
FIRST YEAR - Fall
Information Systems First Year Colloquium
Principles of Computing
Reasoning with Data

Math Requirement

Computing @ Carnegie Mellon

Interpretation & Argument

Elective
FIRST YEAR - Spring
The Information Systems Milieux
Fundamentals of Programming and Computer Science
Grand Challenge Seminar
Gen Ed
Gen Ed
SOPHOMORE YEAR - Fall
Introduction to Data Structures
Database Design and Development
Professional Communications Requirement
Gen Ed 
Elective
SOPHOMORE YEAR - Spring
Application Design and Development
Quantitative Analysis Requirement
Gen Ed
Gen Ed
Elective
JUNIOR YEAR - Fall
Foundations of Software Engineering
Concentration Course
HCI Requirement
Gen Ed
Elective
JUNIOR YEAR - Spring
Information Systems Consulting Project
Concentration Course
Gen Ed
Elective
Elective
SENIOR YEAR - Fall
Managing Digital Transformation
Concentration Research
Gen Ed
Elective
Elective
SENIOR YEAR - Spring
Concentration Course
Innovation and Entrepreneurship Requirement
Gen Ed
Elective
Elective
INFORMATION SYSTEMS FACT SHEET AND CLASS PROFILE