June 06, 2016
The Many Ways to Study Latin America in the Dietrich College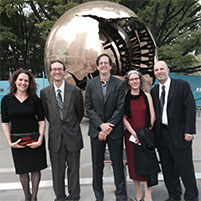 By Emily Stimmel
Though Carnegie Mellon University does not have a formal program devoted to studying Latin America's history, culture and politics, there is no shortage of research and educational opportunities.
"You might say the Dietrich College of Humanities and Social Sciences has a Latin American Studies Program in all but name," said Paul Eiss, associate professor of anthropology and history.

Faculty members from several departments conduct research in Mexico, Cuba, Honduras, Nicaragua, Chile, Uruguay and Argentina and provide an array of course offerings in Latin American and Latinx Studies.

"Many undergraduate majors in Hispanic Studies and Global Studies focus on Latin America and have undertaken study abroad programs throughout the region," Eiss said, adding, "Graduate students in History and in Second Language Acquisition have explored topics ranging from the U.S.-Mexico borderlands to native Maya leaders in Yucatan, to language policy in Peru."

Rajeshwari Dutt (DC'12) worked closely with Eiss as a CMU graduate student in social and cultural history, sparking her interest in Latin American history and culture. 

"The scholars working on Latin America across disciplines form a close-knit and vibrant group with students and faculty doing research on topics ranging from environmental history to linguistics and cultural studies," said Dutt, now assistant professor of history at Indian Institute of Technology, Mandi, where her research areas include Latin American history and indigenous and agrarian studies.

David Marshall Struthers (DC'04,'10) completed his dissertation on transnational organizing in Los Angeles in the early 20th century.

"The strength of Latin American Studies at CMU comes from the nuanced and patient interrogation of local communities without losing sight of broader interrelations throughout the Americas and the world," said Struthers, a lecturer in the Department of English, Germanic and Romance Studies at the University of Copenhagen.
The importance of Latin American Studies was on display recently at the LASA at 50 Congress in New York City. The Latin American Studies Association's 50th anniversary celebration united scholars from 65 countries and more than 150 disciplines.

The Dietrich College and Departments of History and Modern Languages were major sponsors of the event, and CMU was well-represented with presentations by Eiss, fellow History Department Professors Karen Faulk  and John Soluri; Modern Languages Department Professors Mariana Achugar, Felipe Gómez and Therese Tardio; and Struthers, who gave a talk on "Turn of the Century Technê: Anarchist Newspapers, Participation, and the Practice of Transnational Solidarity, 1880-1940." And though she didn't attend the conference, Kenya Dworkin y Méndez has played an integral role in bringing Latin American and Latinx Studies courses and research opportunities to CMU.

The four-day conference also featured appearances by Rubén Zamora, El Salvador's former ambassador to the U.S. and current representative in the U.N., and Mexican journalist Alma Guillermoprieto.

The speakers were a highlight for Tardio, associate teaching professor of Hispanic Studies. She said, "Both have long been inspiring figures to me based on their work in Central America and their commitment to social justice."