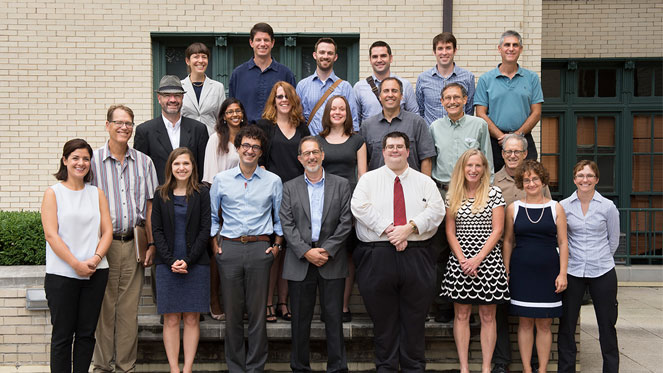 August 30, 2016
Meet the Newest Dietrich College Faculty Members
As Baker Hall fills with students who are eager to learn from the Dietrich College of Humanities and Social Sciences' world-class faculty, freshmen aren't the only new faces. The college is welcoming professors and post-doctoral researchers across a range of disciplines including history, modern languages, psychology and statistics. Their areas of expertise run the gamut from the history of funk music to happiness (or lack thereof) in Russian art.
Department of History
Scot Brown, CAUSE Post-Doctoral Researcher
Brown will be researching and writing about the social and cultural history of Dayton, Ohio as a hotbed of funk music. According to Brown, Dayton gave listeners the largest per capita number of soul and funk bands signed to major record labels during the 1970s, including the Ohio Players and a host of lesser-known acts.
He is looking forward to learning from CMU's community of scholars and artists while he links Dayton's music history to wider social conditions within a vibrant black public sphere.
Others may be surprised to learn... "I am also a musician and songwriter who grew up playing in local bands in Rochester, New York."
Andrew Meade McGee, Visiting Professor
McGee is teaching two courses this fall: "Exploring the American Century: United States History After 1945" and "Modern U.S. Business History: 1870 to the Present."
He's excited by the prospect of engaging professionally and intellectually with faculty whose research cuts across disciplinary boundaries. McGee is also eager to interact with CMU's high caliber undergraduate students.
"Not many schools can claim to equally value data science, public policy and theater arts—that dynamism appeals greatly," he said.
Others may be surprised to learn... "I did improv comedy in college and seriously considered a career in professional comedy writing and performance before settling on academia as a calling."
Abigail Owen, Visiting Assistant Professor
Owen's research specialty is the global history of groundwater perception and use. She will be teaching two courses examining freshwater and Middle East environments, each from a global perspective.
Before coming to CMU, Owen was a post-doctoral researcher at the University of Pittsburgh. She loves working and teaching in the city and said, "CMU is such a part of Pittsburgh. I'm excited to get to know CMU students and find out what their passions are."
Others may be surprised to learn... "Although I have a driver's license, I've never owned a car! One of my favorite things is to explore the city by foot, bicycle and transit."
Information Systems Program
Sara Moussawi, Assistant Teaching Professor
Moussawi will teach the senior capstone course, Innovation in Information Systems.
"I aim to help my students develop an innovator's frame of mind, and work with them at every step throughout the semester to help them benefit the most from this exciting experience," she said.
Others may be surprised to learn… "I love to explore new coffee shops with a hip vibe and great coffee. I also practice yoga regularly."
Department of Modern Languages
Sébastien DuBreil, Teaching Professor of French & Francophone Studies
DuBreil will be teaching Elementary French I Online and French and Its Social Contexts in the fall, followed by a graduate-level Computer-Assisted Language Learning (CALL) course in the spring.
He looks forward to creating new collaborative partnerships and working with undergraduate and graduate students to promote language and culture learning.
"CMU has such a long history as a strong technology-oriented school and, by the same token, a long tradition of blending STEM fields and disciplines from the arts and humanities. As an institution, CMU has done a lot to promote and cultivate interdisciplinary work, and the Dietrich College seems to have positioned itself as a driving force in curating these traditions," he remarked.
Others may be surprised to learn... "I recorded 20 jumps as a parachutist. Exhilarating and… kind of scary!"
Tatyana Gershkovich, Assistant Professor of Russian Studies
This fall, Gershkovich will be teaching "(Un)happiness in Russian Life and Art," which aims to examine how the concept of happiness changed over the course of Russian and Soviet history. She'll also teach Elementary Russian I.
"I love teaching Russian because it's not a language for the faint of heart, and the difficulty creates a wonderful camaraderie among students," said Gershkovich.
She's eager to work with colleagues whose research bridges the gap between the humanities and the sciences. She is currently working on a project that draws from statistical analysis and digital visualization to better understand the work of Leo Tolstoy.
Others may be surprised to learn... "I hail from Siberia. I was born in a town called Barnaul, which is 500 miles east of where Fyodor Dostoevsky was sent into exile and a stone's throw from the cave where the Denisovan—an extinct species of human—was recently discovered."
Department of Psychology
Kody Manke, Visiting Assistant Teaching Professor
Manke will be co-teaching Introduction to Psychology and Research Methods in Social Psychology this fall.
He's looking forward to the opportunity to teach a group of motivated, smart and diverse students.
"I'm a huge fan of being able to connect real-world concerns and interests with social psychological research and theory, and this will be an awesome opportunity to combine those things," Manke said.
Others may be surprised to learn... "I am actually a first-generation college student from a low-income, single-parent family in rural Montana. And that background is one of the reasons I'm so interested in studying things like social justice and inequality."
Department of Social and Decision Sciences
Stephanie Anglin, Social Psychology Post-Doctoral Researcher
Anglin will be studying motivated reasoning, examining the ways in which beliefs bias information processing. She will also be investigating issues of scientific validity and integrity.
"Ultimately, my goal is to develop methods of reducing motivated reasoning and questionable research practices so we can place stronger trust in scientific claims and more effectively apply scientific research to inform decision-making," she said.
She is excited about the potential to collaborate with researchers in the Dietrich College with expertise in areas like behavioral economics and health psychology.
Others may be surprised to learn... "I enjoy a range of sporting and outdoor activities, but running is my all-time favorite activity. Although I run for fun, I have run four half marathons and placed in my age group in every race."
Simon DeDeo, Assistant Professor
DeDeo will teach Social Complexity and an introductory class called "Bubbles, Norms and Revolutions."
"We'll cover some of the best new ideas on how to model the very biggest things: human society, the arc of history, our emergence from biology into culture. It's the big data era, but we need big theories to go with our Terabytes," DeDeo said.
He is impressed by CMU's interdisciplinary approach, particularly within the Dietrich College: "I'm not sure who else combines the psychologists, philosophers and poets."
Others may be surprised to learn… "My Ph.D. is in cosmology—at 22 I wanted to understand the origin of space and time. Now I study the human mind: what it does, and what it makes. Which turns out to be just puzzling and beautiful as the cosmos itself."
Kareem Haggag, Assistant Professor
Though he won't begin teaching till next fall, Haggag is gearing up to teach courses in behavioral economics.
He's looking forward to being in an environment that fosters a deep commitment to interdisciplinary thinking among students and faculty.
Others may be surprised to learn… "Students may be surprised to learn that, prior to grad school, I spent a few months managing surveys in Uganda and the Philippines."
Mark Patterson, Director of the Quantitative Social Science Scholars Program
Patterson will be teaching two courses this fall: Applied Quantitative Social Science I and QSSS Senior Seminar.
When he was a graduate student at CMU, Patterson witnessed students' diverse interests and deep passion for learning firsthand.
He said, "I can't wait to show students the ideas that inspire and excite me, but I'm really looking forward to being swept up in the projects and investigations that come from students."
Others may be surprised to learn… "I am a vegetarian who enjoys swing dancing and playing Go!"
Department of Statistics
Rebecca Doerge, Dean of Mellon College of Science, Professor of Statistics and Biological Sciences
Though Doerge won't be teaching in the statistics department this academic year, she will be involved as a faculty member in the department.
A recent Pittsburgh transplant, Doerge is looking forward to acclimating herself to the city.
She commented, "I look forward to meeting and talking with alumni, staff, students and faculty. But mostly, I am excited about elevating CMU to the next level."
Others may be surprised to learn... "There are two things: First, I have an eight-pound dog named Mr. Big —he's terrific! Second, I have an irrational fear of rodents (I'm terrified of mice… dead or alive.)"
Edward Kennedy, Assistant Professor
One course Kennedy is particularly excited to teach is Introduction to Causal Inference.
"Broadly speaking, causal inference is about teasing apart correlation and causation to learn about treatment effects and to evaluate policies," Kennedy said. "It is important in a wide array of fields, from economics to medicine to sociology."
He's also excited to be surrounded by a brilliant, collaborative group of faculty, students and staff.
Others may be surprised to learn… "I was an avid wrestler in high school (and a bit in college). The high point of my career was probably winning a state championship in the Greco-Roman style and going to nationals."
Anjali Mazumder, Assistant Research Professor
Mazumder will primarily teach graduate students. Courses include a master's level class on data analysis focused on experimental design. She will also work with undergraduate and Ph.D. research students.
She's excited to join a department and university that support interdisciplinary work.
"I'm looking forward to meeting people across disciplines and hopefully collaborating with others where we work beyond the boundaries of our fields," Mazumder said.
Others may be surprised to learn... "I am Canadian, lived in the U.K. for 11 years, and have now just moved to the U.S. I studied music before I focused my education and career in statistics and research."
Other new faces include Ryan Hope and Regina Leckie, both post-doctoral researchers in the Psychology Department, and Lotem Kaplan, a post-doc in the Statistics Department. Welcome!
Related Article