April 11, 2016
Dietrich College Represented at TEDxCMU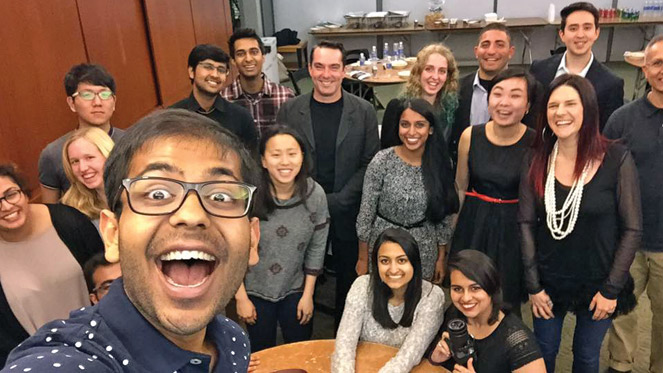 In late March, Carnegie Mellon University hosted its fifth TEDxCMU conference since the program began in 2010. The TEDx Program was designed to help individuals, communities and organizations independently coordinate events inspired by the popular lecture series about technology, entertainment and design.
The Dietrich College of Humanities and Social Sciences was well represented at the conference, which drew 100 attendees and featured nine speakers from within and outside the Carnegie Mellon community. In fact, the conference's only two student speakers were from within the college.
Presentations covered diverse topics, including the impact of bias on our interpretation of visual images, the effects of social media on interpersonal relationships and failure — the dark side of the American Dream.
Rubini Naidu, a senior majoring in psychology, has held an interest in the subject since she was a child. Naidu drew from her psychology background and her minor in photography to develop her presentation.
In December 2014, Naidu visited Tamil Nadu, India to begin a documentary photography project on the region's culture. Naidu returned with hours of interviews and thousands of photographs and created "Journey to My Beloved India," a handmade artist's book that captures narratives of the region through images and text. The book and photographs have been exhibited at the Pittsburgh Cultural Trust and Pittsburgh Filmmakers, and shared at research conferences. Naidu has been expanding upon this work through her senior honors thesis, which was also the basis for her TEDx talk.
In her talk, Naidu noted that people project their implicit biases and stereotypes when interpreting images, mirroring what they do in daily interactions — often without even realizing it. Through the project, she hopes to draw attention to the subtle ways that our prejudices surface and impact human interactions.
"My favorite aspect of photography is that I can use it as a tool to bring awareness to topics I detect as important," she said.
Naidu believes that because of the interconnected nature of today's world, it is more important than ever to become educated about the complex, diverse narratives that exist beyond what meets the eye.
She added, "I hope that we can move away from being judgmental and instead towards actively learning from and about others."
David Selverian's talk also focused on human connection — and disconnection.
Selverian, a junior majoring in decision science, presented "The Keys to Happiness: Apple Pie and Some Coffee," which explored the impact of social media on human interaction. Selverian believes that social media encourages impossibly high standards, as people are constantly exposed to others' filtered and carefully curated experiences.
"When people focus on digital personas rather than the real, dynamic nature of a human being, we do a disservice to both others and ourselves," he said. "We neglect the more meaningful relationships that are cultivated in person."
According to Selverian, misaligned expectations of self — often fueled by social media and stress culture — can erode mental health.
"I enjoyed sharing a message that I felt was highly relevant to the CMU community," he said. "I hope my talk can spark meaningful change."
Failure and the pressure to succeed were also salient themes for Associate Professor of History Scott Sandage.
Sandage's presentation was based on his first book, "Born Losers: A History of Failure in America," which examines the evolution of what it means to be called "a loser in a nation of winners."
According to Sandage, in early American history, failure was seen as something that happened to people — often as a result of excessive ambition. By contrast, today people view failure as a defining characteristic.
"We're using the language of business to describe our souls," Sandage said.
Sandage, who took 13 years to write "Born Losers," commented, "My book took so long to write that I began to feel like the history of failure was my own autobiography."
He added, "Failure is as much a part of the American Dream as success is, and the only way to guarantee that you are never 'a failure' is to accept that you will also never be 'a success.' We all fail and succeed, but that doesn't mean that any of us is what we do."
Though TED talks often focus on technology and related fields, Naidu observed that the humanities and social sciences form the basis for engaging, memorable presentations.
Selverian also appreciates the diversity of subject matter and perspectives. "I think that listening to and learning from the lessons of others was quite a powerful experience," he said.
A student committee organizes TEDxCMU. The next conference is slated for Spring 2017.
Learn more about TEDxCMU and watch a video of the conference.
_____
By Emily Stimmel