Undergraduate Program
The department offers undergraduate majors in Behavioral Economics, Decision Science and Policy and Management. All majors can be primary or additional majors. The core courses leverage our strength in decision analysis, empirical research, organizations, policy analysis and applied psychology. In addition to completing this core, students also specialize in their major area through a set of required and elective courses.
Our faculty is committed to the academic success and growth of our students and many of our undergraduates work with faculty on research projects and internships. The directors of the majors and academic advisors are easily accessible and encourage students to talk with them about their curriculum, progress, and available opportunities.
The Department of Social and Decision Sciences has a long history of creating innovative and prescient undergraduate programs that combine key ideas from across the social sciences into cohesive majors that allow our graduates to excel in their chosen professions or in the pursuit of advanced studies. Our emphasis on the theory and practice of individual and social decision-making linked with our high-quality, multidisciplinary social science faculty, provides a solid foundation from which graduates can embrace a variety of future paths.
 SDS Infographic   SDS Fact Sheet
B.S. in Behavioral Economics
Peter Schwardmann, Faculty Director
Office: Porter Hall 223J
Email: BEPO-advisor@andrew.cmu.edu
Lizzy Stoyle, Academic Advisor
Office: Porter Hall 208G
Email: estoyle@andrew.cmu.edu
The interdisciplinary field of Behavioral Economics integrates perspectives from Economics and Psychology to understand and predict human behavior in economic contexts. There has been an explosion of interest from government agencies to incorporate the insights from behavioral economics into the design of public policy and all types of organizations are increasingly relying on behavioral economics to improve their organizational effectiveness and profitability.
The Department of Social and Decision Sciences' (SDS) exceptional faculty in Behavioral Economics is at the forefront of research and teaching in this field and regularly consult with government and business on topics such as the impact of predatory lending practices on public welfare, how to design institutional practices to reduce the biases of stock traders, the design of interventions to motivate employees, how the government can increase participation in social service programs, interventions to increase patients' compliance with medication, and how businesses can reduce inequality in the workplace. Faculty bring this expertise and experience into the classroom to train students how to solve problems important to government and organizations.  
Students in BE—the first and only major of its kind—will be uniquely trained in the integration of Economics and Psychology and will have a solid grounding in quantitative methods. The core includes courses in economics, psychology, behavioral economics, and quantitative methods. SDS offers the largest selection of behavioral economics courses anywhere in the world. Applied projects in courses will teach students how to collect original data, design field and laboratory experiments, analyze data, and develop interventions to improve economic outcomes and decisions. Students will be well equipped to enter a wide range of professions and graduate degree programs.
For specific curriculum requirements, please see the Undergraduate Catalog.
Behavioral Economics Capstone Project 2023
B.S. in Decision Science
Silvia Saccardo, Faculty Director
Office: Porter Hall 319C
Email: DS-advisor@andrew.cmu.edu
Academic Advisors: Connie Angermeier, Decision Science (Additional Majors and Minors) and Lizzy Stoyle,  Decision Science (Primary Majors)
Office: Porter Hall 208A and 208G
Email: cla2@andrew.cmu.edu, estoyle@andrew.cmu.edu
The interdisciplinary field of Decision Science seeks to understand and improve the judgment and decision making of individuals, groups, and organizations. Qualified graduates can continue to Ph.D. programs in Decision Science or related fields (e.g., psychology, business), pursue professional degrees (e.g., MBA, MD, JD, MPH), or take professional positions in business, government, consulting, or the non-profit sector. Students work with faculty and the Academic Advisor to tailor their education to their personal needs and interest.
Carnegie Mellon is one of the leading centers for the study of Decision Science - and offers the only undergraduate major that integrates analytical and behavioral approaches to decision making.  Our faculty are involved in applying Decision Science in a wide variety of areas, allowing them to share practical experiences with students. These applications include medical decision making (e.g., conveying the costs and benefits of treatment options), legal decision making (e.g., reducing the effects of hindsight bias on attributions of responsibility for accidents), risk management (e.g., assessing and communicating the risks of climate change), marketing (e.g., understanding the effects of inter-temporal choice on purchasing decisions), and business (e.g., identifying unrecognized conflicts of interest).
Decision Science is grounded in theories and methods drawn from psychology, economics, philosophy, statistics, and management science. Courses in the major cover the three aspects of decision science: (a) normative analysis, creating formal models of choice; (b) descriptive research, studying how cognitive, emotional, social, and institutional factors affect judgment and choice, and (c) prescriptive interventions, seeking to improve judgment and decision making. In addition to gaining a broad education in the principles of judgment and decision making, Decision Science majors gain broadly applicable skills in research design and analysis. They also have the chance to think about and discuss decision making in many different areas.
The core courses present fundamental theories and results from the study of decision making, along with their application to real-world problems. They introduce students to methods for collecting and analyzing behavioral data. For example, students learn to conduct surveys (e.g., uncovering consumer or managerial preferences), design experiments (e.g., evaluating theories, comparing ways of presenting information), and evaluate the effectiveness of interventions.
The elective courses provide students with additional knowledge in areas of decision making that meet their personal, intellectual, and career goals. These courses are organized into six clusters: biological and behavioral aspects of decision making, managerial and organizational aspects, philosophical and ethical perspectives, economic and statistical methods, public policy, and research methods. Students can concentrate in one area or spread their studies across them. In addition to coursework, the department offers research opportunities for interested and qualified students. Participating in research helps students to extend their mastery of decision science, discover whether a research career is right for them, and get to know faculty and graduate students better.
For specific curriculum requirements, please see the Undergraduate Catalog.
B.S. Policy and Management
Christina Fong, Faculty Director
Office: Porter Hall 223I
Email: P-and-M-advisor@andrew.cmu.edu
Connie Angermeier, Academic Advisor
Office: Porter Hall 208A
Email: cla2@andrew.cmu.edu 
The Policy and Management major prepares students for key decision-making and management roles in government, non-profit organizations, and business. The major emphasizes analytical approaches to decision making, practical management skills, and empirical techniques necessary for graduates to excel in the public and private sectors. The multidisciplinary curriculum merges frontier knowledge on the ideals of decision making, policy, and data analysis, as well as the realities of individual behavior within various institutional settings that must be confronted if high-quality outcomes are to be attained.
The major is comprised of three required core areas taken by all Policy and Management majors, a capstone course, plus one of four concentration areas to be chosen by the student.
The three core areas are as follows:
The Policy Core gives students applied economic training and policy analysis experience. Students will gain an analytical understanding of some of the biggest domestic and global economic policy challenges, and gain an appreciation of the economic analysis of complex decisions, as well as the trade-off between economic and political-based decision making.
The Management Core focuses on real-world applications of decision making.  Students will develop an understanding of effective negotiation strategies and tactics, and identify the barriers and the psychological factors that may prevent decision-makers from reaching wise agreements.  The courses provide systematic methods for dealing with the complexities that make decisions difficult, ranging from incorporating issues of risk and uncertainty in decision making to dealing with choices that have mutually conflicting objectives. For example, a business or government agency may need to decide on a policy for mitigating the uncertain impacts of air pollution while simultaneously trying to minimize the costs of such a policy on manufacturing. A firm might want to consider the uncertain reductions in security dangers from alternative policies to protect against terrorism. 
The Empirical Core focuses on key methods for collecting and analyzing data that are needed to make informed decisions. Students learn to use interviews, surveys, experiments, and econometric methods to enhance their ability to test existing, and design new, policies.  Students will create statistical models to address questions asked in conceptual, computational, and data-driven investigations.
The required Capstone course gives students hands-on experience in a policy-related area.  Students work in teams to apply the research and analytical methods learned in their other courses to a real-world problem.
Finally, the four concentration areas consist of four courses chosen by the student, in coordination with the Academic Advisor.  The concentrations emphasize different aspects of decision making within the major: (1) Analytics, (2) Policy, (3) Management, and (4) Law.  Each of the concentration areas draws upon the research and teaching strength of the Department of Social and Decision Sciences.  Additionally, select courses from other areas in the University have been identified and approved as fulfilling elective requirements within the concentrations.  More detail will be found in the concentration areas below.
The Policy and Management major provides an excellent combination of theoretical and practical skills for students who intend to seek managerial positions. Because of its strong analytic orientation, it is also an excellent major for those who intend to go on to professional school programs in law, business, or public policy. It is also an appropriate choice for students pursuing graduate degrees in economics, political science, or decision science. One such graduate option is the accelerated master's program offered by CMU's Heinz College of Information Systems and Public Policy, in which a student earns both a B.S. in Policy and Management and a M.S. in Public Policy and Management in five years.
For specific curriculum requirements, please see the Undergraduate Catalog.
Undergraduate Resources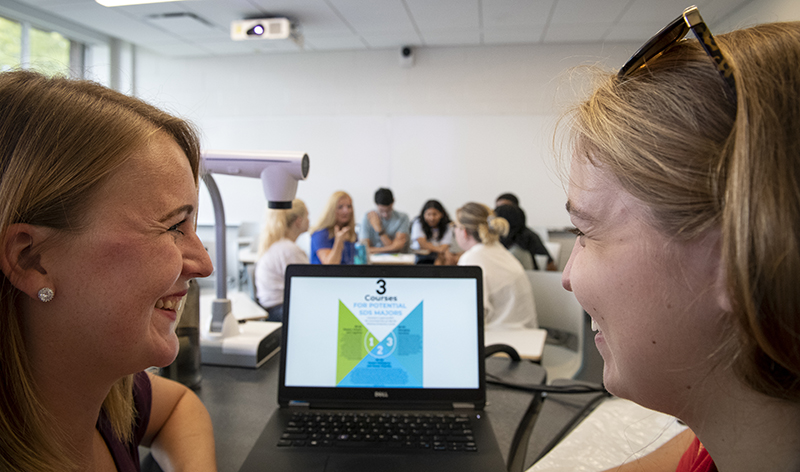 Recent SDS NEWs Editions
Interested in keeping up with general SDS updates?
Subscribe to our mailing list:
Share with us!
Are you involved in research? Did you just receive an awesome position? Organizing an event? Please send any interesting news stories to Lizzy Stoyle, who will feature the story to the SDS community.