September 22, 2015
Beyond the Obvious
Poetry and Photography by Jim Daniels and Charlee Brodsky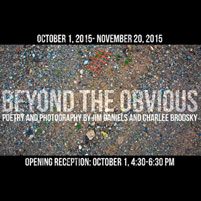 The Robert Morris University Media Arts Gallery will open an exhibition on Oct. 1 featuring the work of two Carnegie Mellon University artists.
"Beyond the Obvious: Poetry and Photography by Jim Daniels and Charlee Brodsky" will feature their work from five different collaborative projects completed over the past dozen years: "Street" and "From Milltown to Malltown," which were both turned into books; "Walls," the first work they did together; and two recent projects, "Trace" and "The Rocks."
In addition to displaying texts and photos, the show has an interactive component.
"The exhibition invites visitors to participate actively in the show by creating images and poems of their own," said John Lawson, professor of English at RMU. "We hope that visitors will come to the show, look at Daniels' and Brodsky's work and use that experience as a springboard for their own self-expression. Participants will be able to post their own original work, some in the gallery and others online."
Daniels' and Brodsky's 2005 book, "Street," reflected urban life and won the Tillie Olsen Prize. In 2010, they teamed up with English Professor Jane McCafferty on "From Milltown to Malltown," which explored the transformation of Homestead, Pa., and its neighboring Steel Valley communities, from the once thriving steel-producing capital of the world to an area divided.
"I love working with Charlee. Much of her work focuses on urban landscapes, just as much of my writing does. Also, we share a similar work ethic, and as a writer, I feed off the creative energy behind her and her work," said Daniels, the Thomas Stockham Baker University Professor of English.
Daniels work often crosses genres. He has written five collections of short stories, most recently 2014's "Eight Mile High." His 14th poetry book, "Birth Marks," was named to the 2014 Michigan Notable Books List and won the 2014 Independent Publisher Book (IPPY) Awards' Poetry Gold Medal and the 2014 Binghamton University Milt Kessler Poetry Book Award. He has written four films, including "The End of Blessings," which was just completed in July, and 2010's "Mr. Pleasant," which appeared in more than a dozen film festivals across the country.
Design Professor Brodsky, named Pittsburgh Artist of the Year in 2012, often describes her work as dealing with social issues and beauty. She won an Emmy for the documentary "Stephanie" that was based on her book about her friend's struggle with breast cancer. Her latest book, "I thought I Could Fly," is a compilation of firsthand experiences with mental illness.
She told the Pittsburgh Tribune-Review that working with Daniels is a natural fit because he is "very, very sensitive to visual things."
An opening reception for "Beyond the Obvious" will be held on Oct 1. from 4:30 p.m. – 6:30 p.m., and the exhibit will run through November 20. Both are free and open to the public. The gallery is located in the Wheatley Center at RMU's Moon Township campus.
_____
By Shilo Rea