June 16, 2014
Press Release: Carnegie Mellon's Jim Ray Daniels Tells "Eight Mile High" Stories
Contact: Shilo Rea / 412-268-6094 / shilo@cmu.edu



PITTSBURGH—Eight Mile Road, the infamous stretch of concrete that divides Detroit racially and culturally, is the setting and main character in Jim Ray Daniels' latest book, "Eight Mile High."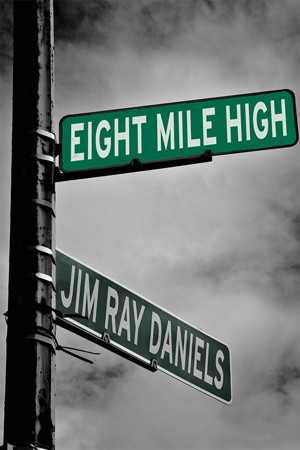 Through 14 short stories, Daniels, Carnegie Mellon University's Thomas Stockham Baker University Professor of English, connects characters by specific places, such as the fictitious Eight Mile High School and the always-open restaurant, the Clock. The white working-class community defines the individuals and never leaves them — even those who leave town — as they navigate work and love, change and loss, as best as they can.
Daniels, an award-winning author, poet and screenwriter, experiments with different writing styles as he puts the small community under a microscope. "Eight Mile High" contains two flash fiction pieces, a list story and different points of view — even within the same narrative.
Rosellen Brown, author of "Before and After" and "Half a Heart," called "Eight Mile High" Daniels' best book yet.
"[It] is a perceptive and sympathetic portrait of a place we don't often hear about from deep inside. Not Detroit, not the affluent suburbs - instead we see young kids trapped in between, stoned, floating on a river of beer; their parents whose lives on the line did not turn out to be as ideal as they sound now that the old times are gone; and their girls and women, for whom the word 'fulfillment' hardly exists. Jim Daniels' people are candid about their disappointment, with here and there a moment of tender contemplation," Brown said.
"Eight Mile High" is Daniels' fifth collection of short stories. His previous book, "Trigger Man: More Tales From the Motor City," won the 2012 Midwest Book Award in the Fiction: Short Story/Anthology category. Last year, he published his 14th poetry book, "Birth Marks," which was named to the 2014 Michigan Notable Books List and won the 2014 Independent Publisher Book (IPPY) Awards' Poetry Gold Medal and the 2014 Binghamton University Milt Kessler Poetry Book Award. He has written three films, including 2010's "Mr. Pleasant," which appeared in more than a dozen film festivals across the country.
Daniels has won the Brittingham Prize for Poetry, the Blue Lynx Poetry Prize, the Tillie Olsen Prize and two fellowships from both the National Endowment for the Arts and Pennsylvania Council on the Arts. His poetry has appeared in the Pushcart Prize anthology "Best American Poetry," Billy Collins' "Poetry 180" and Ted Kooser's "American Life in Poetry" series. His poem "Factory Love" was reproduced on the roof of a racecar.
Michigan State University Press published "Eight Mile High," and the official release date is July 1. For more information, visit http://bit.ly/EightMileHigh. Read "My Republican Love Affair," a story in "Eight Mile High."
###