May 06, 2014
Press Release: "Birth Marks" by Carnegie Mellon's Jim Daniels Wins Two More Prominent Awards
Contact: Shilo Rea / 412-268-6094 / shilo@cmu.edu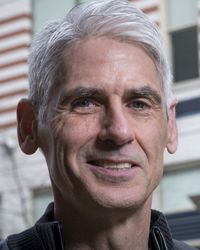 PITTSBURGH—"Birth Marks," the poetry collection by Carnegie Mellon University's Jim Daniels that captures the gritty culture of working-class urban life, has won two prestigious awards: the 2014 Independent Publisher Book (IPPY) Awards' Poetry Gold Medal and the 2014 Binghamton University Milt Kessler Poetry Book Award.
The IPPY Awards, considered the "world's largest book awards contest," attracted more than 5,000 entries from 35 countries. The Poetry Gold Medal is the top poetry prize awarded.

Binghamton's Kessler Poetry Book Award is annually given to a book of poems selected by the judges as the strongest poetry collection published in the previous year.
Judge Joe Weil said, "In 'Birth Marks,' Jim Daniels refuses to abdicate an interest in creating vibrant characters, in community, in coherent and lyrical narrative, directly challenging the over thirty year war against the poor and working class. … 'Birth Marks' contains a world that is as broken as a living bread. It is the world millions of Americans inhabit and their lives have been rendered in these poems with dignity, with humor, and, above all, with stunning accuracy."
"Birth Marks" is Daniels' 14th collection of poetry. Detroit born and raised, he uses the 39 poems to take readers on a tour of post-industrial Detroit and Pittsburgh to tell the tales of cities and their residents who came out swinging when the economy collapsed around them.

"I have always been interested in ordinary people in ordinary circumstances and the small moments in their lives that create a subtle shift in perspective. Place has consistently been a big part of my work, and it is again. We are marked by the places we come from. I try to bring these cities and people to life in a way that may make readers see beneath our cultural stereotypes," said Daniels, the Thomas Stockham Baker University Professor of English in the Dietrich College of Humanities and Social Sciences.

Published by BOA Editions, Ltd., "Birth Marks" focuses on how the urban landscape affects its residents as they struggle to establish a community on streets that can easily be tainted by distrust and the threat of random violence. Topics range from parenting and addiction to baseball and music, and Daniels uses longer poems with more juxtaposition to tell sharp stories about difficult situations.

Earlier this year, the Library of Michigan announced that "Birth Marks" was named to the 2014 Michigan Notable Books List, which features 20 books published in the previous calendar year that are about Michigan or the Great Lakes region.

Daniels' work frequently crosses different genres. He has published four books of short stories, and his fifth, "Eight Mile High," will be published later this year. He has written three films, including 2010's "Mr. Pleasant," which appeared in more than a dozen film festivals across the country.

His previous poetry collection, "Having a Little Talk with Capital P Poetry," won the Independent Publisher Book Awards 2012 Gold Medal for Poetry and the 2012 Paterson Award for Literacy Excellence from the Paterson Poetry Center. "Trigger Man: More Tales of the Motor City," his most recent book of short stories, was the 2012 winner of the Midwest Book Awards in the Short Story category.

Daniels has won the Brittingham Prize for Poetry, the Blue Lynx Poetry Prize, the Tillie Olsen Prize and two fellowships from both the National Endowment for the Arts and Pennsylvania Council on the Arts. His poetry has appeared in the Pushcart Prize anthology "Best American Poetry," Billy Collins' "Poetry 180" and Ted Kooser's "American Life in Poetry" series. His poem "Factory Love" was reproduced on the roof of a racecar.

To recognize Daniels for his outstanding contributions as a writer and educator, CMU announced last week that Daniels had been named a University Professor, the highest faculty distinction at Carnegie Mellon.

Watch a video of Daniels reading seven poems from "Birth Marks" at http://youtu.be/nTNN1uPzw-8.

For more information about "Birth Marks" or to purchase a copy, visit https://www.boaeditions.org/bookstore/catalog/product/view/id/945/.

###
"Birth Marks" is Jim Daniels' 14th collection of poetry. Born and raised in Detroit, Daniels (pictured above) uses the 39 poems to take readers on a tour of post-industrial Detroit and Pittsburgh to tell the tales of cities and their residents who came out swinging when the economy collapsed around them.