October 20, 2015
Innovating Foreign Language Education
By Elizabeth Jeffries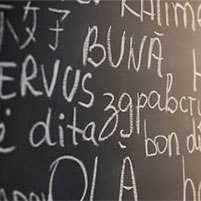 Whether it is for travel, career opportunities or personal growth, speaking a foreign language and understanding other cultures have become incredibly valuable skills. Often though, the time and commitment necessary to fully learn a second or third language can be a challenge.
Nearly two decades ago, the Department of Modern Languages in the Dietrich College of Humanities and Social Sciences set out to solve this problem in higher education by offering online courses.
Christopher Jones, director of the Modern Language Resource Center, has led the development of the language courses, which began with initial funding from the A.W. Mellon Foundation to support French and Spanish offerings. It has since grown to include Chinese and Arabic classes and became one of the first programs to use CMU's Open Learning Initiative (OLI).
OLI's goal is to create high-quality online courses and use original research to continuously improve learning. It is now part of the university's Simon Initiative, which aims to measurably improve student learning outcomes by harnessing the learning engineering ecosystem that has developed over several decades at CMU. 
"The initial conception of OLI was to make courses available to underserved populations," said Jones, also a teaching professor of French and Francophone Studies. "This has been successful. For example, tens of thousands of independent learners have used the French course for free."
The program has since expanded beyond higher education and is used in home schooling, at the high school level and for business and government employees. At the University of Maryland University College, the CMU-created courses are used to teach students located around the world in a purely distance format.
Jones believes the Modern Languages Department's online courses are innovative because they offer the possibility of alternate instructional organization. They often incorporate "blended" learning, an approach that combines a group in-person weekly meeting, one-on-one conversation sessions and extensive online interaction with course materials, classmates and tutors. 
Sue-mei Wu leads the Chinese OLI course development, and thinks the CMU-approach of using data to determine what works in real time is a huge advantage for improving the curriculum as well as for future education research. 
"Instructors can review a dashboard of student performance to quickly identify areas of difficulty for students. In the short-term those areas can be addressed in the face-to-face sessions. In the long-term the online activities that cover those areas can be improved," said Wu, teaching professor of Chinese Studies.
She continued, "The courses are also designed for students who need a more flexible approach to language learning than what is offered in a standard classroom course."
A common scenario involves students opting to take traditional or online courses depending on what fits their schedule each semester. And, because the Modern Languages Department conducted a three-year study that found that traditional classroom and blended online foreign language instruction have equal learning outcomes, they can be taken interchangeably.. 
Students appreciate having the options and some find that the blended online approach helps ensure organization and focus. 
"I like taking French through OLI because it is convenient having all of the notes in one place," said Josephine Sullivan, a senior majoring in logic and computation. "In a typical class, you may forget to write something down or lose a handout, but with OLI, I can go back and review everything." 
Jones is proud of how the Modern Languages Department led the charge to find successful online options for foreign language learning and thinks the department's offerings will just keep getting better. 
"The current challenge is to generate sufficient funding through course fees charged to students in instructor-led courses to maintain and improve the courses," Jones said. "The system constantly needs to be upgraded, technically, pedagogically and culturally. But, that is the beauty of a web-based course. We can work on it continuously, and the process is always interesting."
Learn more about the Modern Languages Resource Center and OLI.