May 22, 2015
New Grad Wins Inaugural G. Richard Tucker Award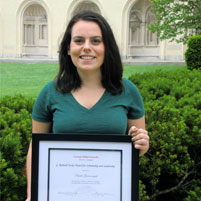 To honor his dedicated service to Carnegie Mellon University, the Department of Modern Languages has established the G. Richard Tucker Award for Scholarship and Leadership. The award will be given annually at the department's diploma ceremony.
Natalie Giannangeli (DC'15), a global studies and Hispanic Studies major, is the first recipient. Therese Tardio, associate teaching professor of Hispanic Studies, nominated Giannangeli, saying she could not think of a better student to earn the award.
"Natalie truly is among the best and the brightest of Carnegie Mellon and embodies much of the same spirit, work ethic and dedication that Dr. Tucker so generously shared with the Modern Languages Department and with the greater Carnegie Mellon community over many years," Tardio wrote in her nomination letter.
Tardio met Giannangeli as a freshman in class and subsequently taught her for two more advanced courses, served as her advisor in Hispanic Studies, directed her Senior Honors Program thesis and watched her flourish over the past four years.
"While in her first week or two during her freshman year, she was a quiet presence," Tardio recalled. "She quickly developed into one of the stronger voices in class. She prepares well and asks thought-provoking questions."
For her senior thesis, Giannangeli explored the use of Instagram in constructing the Cuban identity, by the Cuban government, foreign tourists and Cuban dissidents. She traced the history of tourism and the images used to promote it from the early 20th century through the rise of social media today, in the very complicated situation of Internet access in Cuba.
"Her research is very thorough, and she provides a sophisticated analysis of visual images that is most relevant, not just because of the rise of social media, but especially given the recent political changes in U.S.-Cuban relations," Tardio said. "I have encouraged her to continue working on this so that she might publish her work and am delighted to say that Natalie has so enjoyed her research experience that she has decided to pursue a graduate degree in the future."
In addition to her academic performance- and in the true spirit of Dick Tucker, Giannangeli also made significant contributions to campus life as an active member of a sorority and a key player and leader in CMU's new student orientation.
"Natalie's service and leadership on campus and her excellence in Hispanic Studies, Modern Languages and Global Studies upholds in an exemplary way what Dick's legacy inspires," said Susan Polansky, head of the Department of Modern Languages.
Learn more about Tucker and his legacy at Carnegie Mellon.
View photos from Tucker's retirement celebration.
Read what others had to say about Tucker.
_____
By: Shilo Rea