May 22, 2015
CMU Community Reflects On Dick Tucker's Legacy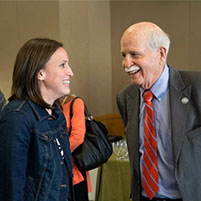 After a 23-year career, G. Richard "Dick" Tucker is retiring from Carnegie Mellon University. Tucker, the Paul Mellon University Professor of Applied Linguistics, has been an outstanding educator, winning both the Dietrich College of Humanities and Social Sciences and CMU's top teaching awards.
Tucker has been an effective leader and served as head of the Department of Modern Languages, interim dean of Student Affairs, associate vice provost for education for Carnegie Mellon Qatar, interim dean of Carnegie Mellon Qatar and Title IX Coordinator.
The university recently gathered to celebrate Tucker. Below are highlights of what was said.
Jared L. Cohon
President Emeritus
Cohon shared that as a new president – without a background in the humanities or arts – that Tucker made it a point in his "own understated but persistent way" to make sure he knew all about Modern Languages at Carnegie Mellon.
"I quickly got the idea of what a special place [the Modern Languages Department] was because of the culture that had been developed and sustained by Dick," Cohon said.
He also commented on "all of the wonderful things Dick did as a university citizen – I don't think he ever said no. He probably should have said no, but he didn't, and we, of course, were the great beneficiaries of that."
Mark Kamlet
Provost Emeritus
Kamlet remembered first meeting Tucker when they were both heads in what was formerly H&SS.
"I can't think of anybody whose contributions have been so impactful and broad," Kamlet said. "I never did know Dick to say no, and at one time I had an extremely important request that he said yes to. Which, on short notice, was to go to Qatar to be the dean of the Qatar campus. He did an outstanding job in what was a very important year for the evolution of that campus."
John Lehoczky
Executive Vice President; Former Dietrich College Dean
Lehoczky called Tucker's retirement "bittersweet," saying he is "an all around great guy from all corners of campus."
As dean, Lehoczky said Tucker was a "great, outstanding department head."
"The Department of Modern Languages is very much a federation of language units – like little, tiny departments," he said. "He was able to mold this into a unified department that functioned smoothly."
Richard Scheines
Dean of the Dietrich College
Scheines focused on the sense that Tucker is the whole package, saying Tucker is made up of "all of the attributes that we need to make a university great" and it is extremely rare to have that "rolled up in one person."
Scheines also said that he feels "shortchanged" because Tucker is retiring just one year into his role as dean.
Gina Casalegno
Dean of Student Affairs
"I'm no baseball aficionado, but I think it's fair to say that 'utility infielder' seems to be an apt analogy for the one and only Dick Tucker," Casalegno said.
Christian W. Hallstein
Teaching Professor of German
Hallstein tried to imagine a Modern Languages Department without Tucker, saying it would be unimaginable because they would likely be more competitive than cooperative, oriented towards their problems rather than their prospects and would likely make decisions according to what is expedient rather than according to what is equitable.
He asked, "How many books and articles would not have been written? How many conference papers would never have been delievered? How many new ideas would never have been implemented in the classroom?"
Dan Walter
Recent Ph.D. Graduate
"Dr. Tucker has had an incredible impact on Carnegie Mellon throughout his tenure," Walter said, calling the "root cause" of his accomplishments his "uncanny leadership skills."
Learn more about Tucker and his legacy at Carnegie Mellon.
View photos from Tucker's retirement celebration.
Find out which recent graduate won the inaugural G. Richard Tucker Award for Scholarship and Leadership.
_____
By: Shilo Rea