August 26, 2022
CMU Students Engage Pittsburgh Communities
By Stacy Kish skish(through)andrew.cmu.edu
Dietrich College welcomes the first cohort of students in the community-based Research-to-Practice program through the Center for Shared Prosperity (CSP).
"The Research-to-Practice grant is CSP's effort to recognize that Carnegie Mellon University is part of a community ecosystem," said Jessica Kaminsky, senior community engagement specialist with the Center for Shared Prosperity. "We believe that universities have a responsibility to work to ensure our region is a place where everyone can thrive, and the Research-to-Practice grant allows students to bring their unique expertise to serve our region while learning from the deep wisdom of community partners."
Six students received funding to create their own projects, inspired by their interests, and coordinate with local community-based organizations in the greater Pittsburgh region.
A History of Activism
Nick Mlakar, a sophomore majoring in international relations and politics, aims to explore the history of activism on the CMU campus, with a special focus on student activists and community organizations in the Pittsburgh region.
"Activism is the physical manifestation of peoples' views," said Mlakar. "With this project, I am trying to bridge the barrier between the university and the physical communities in which they exist."
His project culminated in a book titled "Protesters in Plaid: A Brief History of the Involvement of Carnegie Mellon Activists in Anti-War and Civil Rights Movements, 1915-2005." The work explores the often overlooked and undervalued role of intercommunity collaboration in activist movements.
Mlakar believes CMU has a storied history of activism. He points to the CMU community's engagement with the Black Construction Coalition (BCC) in 1968 – 1969 as an example. As Mlakar explains, CMU students, faculty and staff rallied to support the BCC, which was fighting to integrate the Pittsburgh construction unions. Their efforts culminated in a march to put a stop to the construction of the new science building on the CMU campus. In the end, the unions agreed to open 1,250 apprentice positions to African American skilled laborers over a three-year period. Following this success, similar movements expanded across the country. 
"History tends to repeat itself," said Mlakar. "That is a big part of why this project is useful. There is so much that the past can tell us about our future, but we first have to systematically examine this history and critically examine how it can serve us today." 
The Research-to-Practice grant experience is enhanced by community partnerships to foster connections between students, faculty and members of the greater Pittsburgh community.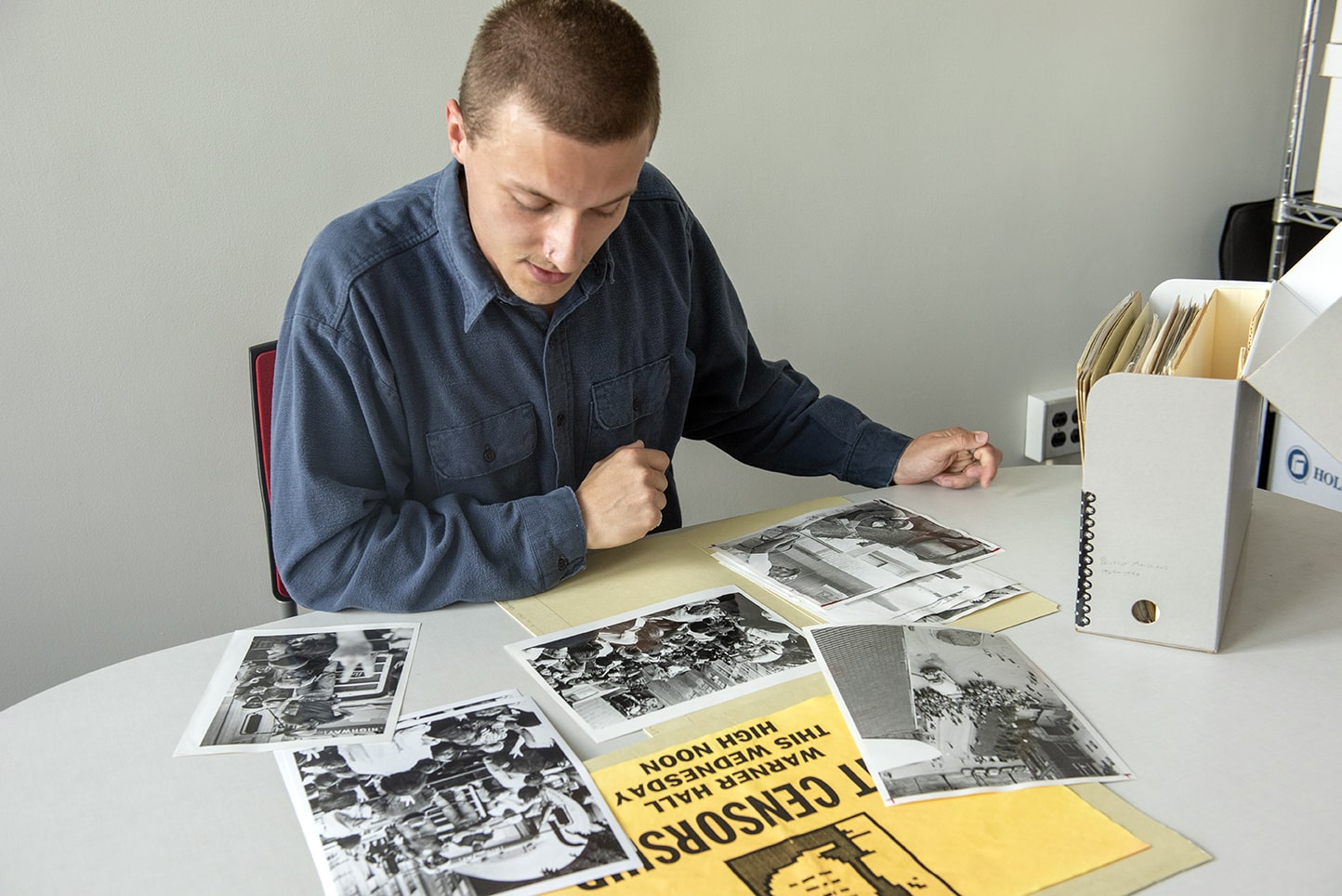 For his project, Mlakar is working with his project advisor, Meggan Lloyd, assistant director of SLICE at CMU, and Crystal Johnson, community collections processing archivist at the CMU Hunt Library. He is also coordinating with Scott Wolovich, executive director at New Sun Rising, a Pittsburgh nonprofit that aims to build capacity in other nonprofit organizations.
"Institutions like CMU hold valuable intellectual, social, financial and creative capital that primarily flows to large corporations," said Wolovich. "By strengthening connections with the greater Pittsburgh community, CMU students have the opportunity to learn more about the human and environmental impacts of inequity while contributing to solutions that improve quality of life."
Five additional students joined Mlakar on three other projects in 2022.
Leo Jung, a junior in statistics and machine learning, is working in collaboration with the
University of Pittsburgh's Community Engagement Center in Homewood and Pitt's Center for Analytical Approaches to Social Innovation to design incentives and web platforms to connect and increase engagement among Pittsburgh students and local Black-owned businesses and nonprofit organizations at 412connect.org.
Seyoung Lee, a sophomore arts major, joins Shangyi Zhu, a sophomore in biological sciences, on their project, titled "What Family Dynamics Produce Future Scientists?" The team aims to explore how family dynamics influence a child's academic interests through an afterschool STEM program. They are coordinating with Assemble, an afterschool program in the Garfield region of Pittsburgh.
Joey Wang, a first-year student in computer science, and Lydia Yang, a first-year student in computer science and biology, aim to strengthen social connection in the community through gardening. Their interventions are designed to improve the gardeners' understanding of plant health and conditions in the environment that may improve yield and improve the community's understanding of the nutritional elements of the plants being raised.
According to Richelle Bernazzoli, director of Undergraduate Research and Scholar Development at CMU, the Research-to-Practice grants have fostered a meaningful link between undergraduate research and community-engaged learning, making the program an invaluable addition to the undergraduate research programs that have traditionally been offered at CMU.
The Center for Shared Prosperity aims to reduce barriers to equitable prosperity in the Pittsburgh region while working to build healthier relationships between institutions and the communities of which they are a part.