May 20, 2021
Senior Rallies To Ace Comeback
By Michael Henninger mhenninger(through)cmu.edu
If 2020 proved anything, what life serves up comes downcourt fast. Since he was 8, Joshua Pinckney excelled at returning what came his way — both on the tennis court and in the classroom. Last year, though, the Carnegie Mellon University graduating senior encountered a defining challenge that changed his perspective of the world.
This new way of seeing started with a mysterious pain ... in his eye.
Born in Boston and raised in Atlanta, Pinckney chose CMU after a campus visit. Academics were his priority, but he planned on playing tennis no matter where he attended.
"When I came here and approached people on campus, everyone was so welcoming and passionate about their experience and what CMU meant to them," Pinckney said. "I was already in contact with the tennis coach, and sold right away just by the campus atmosphere. At CMU I could push myself on the court and in class." 
Pinckney has made the most of it. Double majoring in international relations and politics and Hispanic studies with a minor in sociology, he has played on the men's tennis team since starting at CMU. He's been honored twice as one of the top student-athletes at CMU at the Student Athlete Academic Achievement Celebration, worked as a resident assistant (RA) and a community advisor (CA), co-founded the Black and Latinx Athlete Coalition and will be inducted into the CMU chapter of the Phi Beta Kappa Society, the nation's oldest honor society.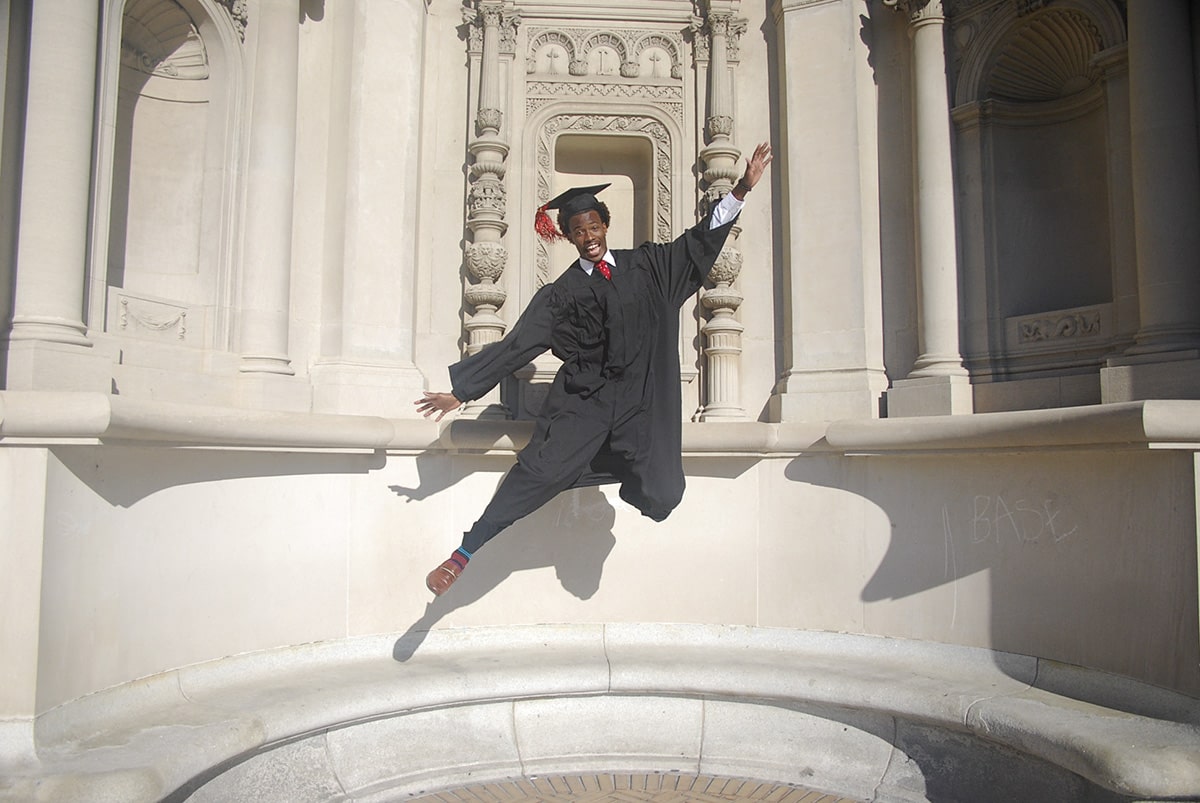 Pinckney is graduating this May.
Last summer, singles tennis was arguably the competitive sport least-affected by the coronavirus outbreak. Players remain separated, outdoors, on their own side of the court. COVID-19 wasn't the cause of the vision troubles that were plaguing Pinckney as he practiced. His inability to connect his racket to the ball led him to believe something was truly wrong.
A routine eye-exam showed the troubling indication of a larger problem, and Pinckney found a normal day morph into an emergency room visit, an MRI and a life-altering diagnosis of multiple sclerosis. His parents, Claristine and Eric Pinckney Sr. came to Pittsburgh immediately to be with him in the hospital. And in this trying moment, Pinckney said he felt a surprising feeling
Gratitude.
"We take life for granted, and this made me grateful for every day that I'm alive," Pinckney said. "We always go through life wanting more, and not appreciating what we have. My grandparents are a big part of my life. At my age, they were not afforded opportunities like these. It's because I'm grateful to be educated at a place like CMU that I'm so driven to make an impact here and leave a piece of myself and of my ancestors for those who follow." 
Read more about Joshua Pinckney