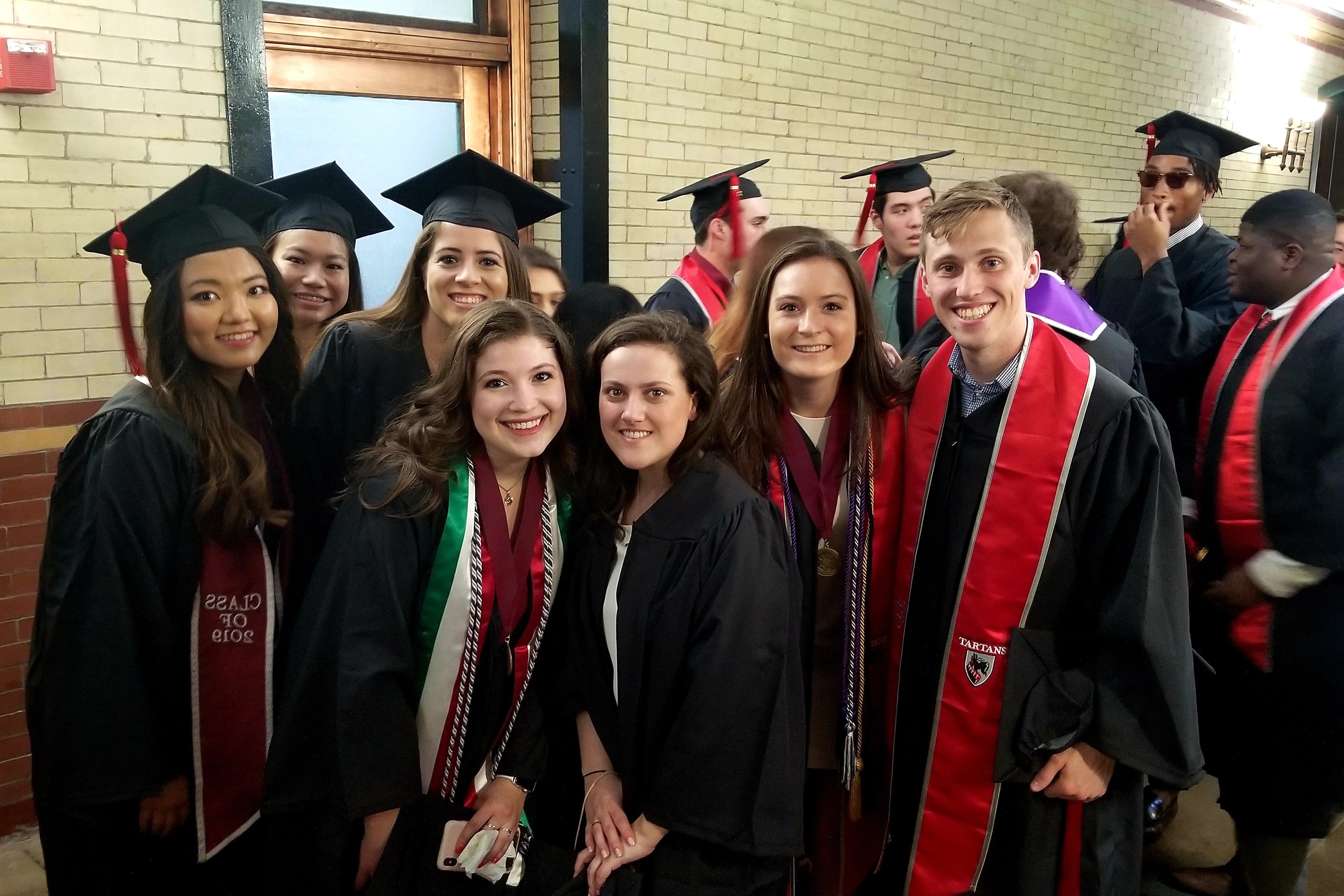 May 18, 2019
Celebrating the Class of 2019
By Abby Simmons and Stefanie Johndrow

The Dietrich College of Humanities and Social Sciences, family and friends are celebrating the Class of 2019's academic accomplishments, leadership and service throughout Carnegie Mellon University's 122nd Commencement Weekend.
Dietrich College will confer 328 undergraduate degrees, 92 master's degrees and 40 doctorates this year. In addition, 18 Science and Humanities Scholars will receive undergraduate degrees from the college.
Evan Glauberman, who participated in CMU's Naval Reserve Officers' Training Corps (NROTC) program, was among students honored. He will be commissioned as a Second Lieutenant in the U.S. Marine Corps following graduation.
"Dietrich College's flexible curriculum has enabled me to pursue my interests across many engaging fields of study," Glauberman said. "Pursuing a double major in international relations and politics and social and political history has allowed me to understand the current states of global and domestic politics in addition to the history of how they came to be. I have also studied Arabic language and culture extensively and gone from being illiterate to now working as a speaking assistant in the span of two years."
On Saturday, May 18, Dean Richard Scheines handed out University and/or College Honors to more than 180 graduating seniors. Undergraduates with a 3.5 or higher quality point average (QPA) received University Honors, and students who completed an honors thesis as part of the college's Senior Honors Program received College Honors.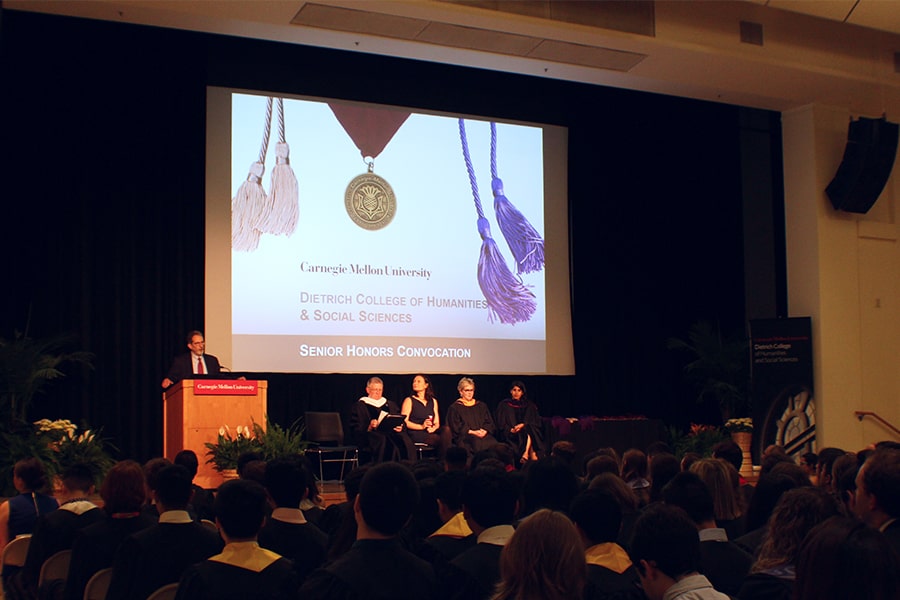 View University Honors recipients
Julia Adams
Autumn Armega-Finger
Alex Bainbridge
Philip Baker
Orchi Banerjee
Sydney Bauer
Jacob Bentley
Shubhangi Bhotika
Yuan Bing
Karan Bokil
Samuel Bolig
Sarah Boyle
Chih Yuan Chang
Chih-Sen Chang
Christie Chang
Justin Chang
Yoobin Chee
Tiffany Chen
Zhengrui Cheng
Allison Chu
Winston Chu
Rose Ciriello
Kenneth Cohen
Sonia de los Reyes
Makenzie Donaldson
Allysa Dong
Sihan Dong
Tian Dong
Walter Donnellan
Zeyan Du
Mingjun Duan
Jure Erlic
Emma Flickinger
Madeline Gardner
Emily Giedzinski
Amelia Gilson
Evan Glauberman
Tanay Godara
Ameeshi Goel
Shivani Goel
Zachary Goldstein
Heather Graci
Arnav Gupta
Allison Guzman
Melody Han
Malaika Handa
Brandon Hao
Julie Heming
Seth Henry
Weng Shian Ho
Brandon Hong
Eric Huang
Joshua Huang
Dylan Hyun
Rahul Iyer
Irina Javed
Youce Ji
Hanyu Jiang
Long Jiang
Siting Jin
Jared Jory-Geiger
Rita Kalar
Ben Kaplan
Saachi Khurana
Andrew Kim
Sean Kim
Terry Kim
Devansh Kukreja
Eun Kyung Kwon
Nahyun Kwon
Alec Lam
Rae Lasko
Daya Lee
Jieming Li
Frank Liao
Amy Lin
Felix Liu
Yuling Liu
Zichen Liu
Julia Luo
Prachi Mahableshwarkar
Lily Marty
Margaret Mertz
Hera Miao
Amanda Monteavaro
Rohan Nagalkar
Ashvin Niruttan
Paige O'Riordan
Mason Paccione
Vidya Palepu
Stephanie Pang
Sang Hyun Park
Emily Porat
Shreya Punya
Aisha Rashid
Pranjali Rathi
Margaret Reager
Maria Rodriguez De La Cruz
Jordan Romah
Zachary Roop
Sydney Roslin
Jules Ross
Abigail Salmon
Vera Schulz
Guthrie Scrimgeour
Qian Sha
William Shancey
Naveen Shankar
Jia Shi
Yingli Sieh
Margaret Slevin
Crystal Song
Barbara Soques
Arielle Spikes
John Sprong
Isabella Starvaggi
George Stoica
Benjamin Stone
Brielle Stovall
Tianqi Tang
Sahana Thirumazhusai
Lucy Truschel
Adam Tucker
Deepak Vanjani
John Verser
Thomas Serban Von Davier
Chenxi Wang
Claire Wang
Eric Wang
Kenneth Wells
Shawn Weng
David White
Andrew Wissinger
Gordon Wissinger
Jordan Wong
Xin Tong Wu
Yu Wu
Ziniu Wu
Linda Xia
Zhongmin Xie
Catherine Xu
Chong Xu
Grant Xu
Shenheng Xu
Valerie Yam
James Yan
Megan Yelsangikar
Hyunho Yoon
Alina Yu
Diana Yuh
Katherine Zhang
Reed Zhang
Yijia Zhang
Alice Zheng
Shirley Zhou
Yishan Zhou
Michael Zhu
Ruiqi Zhu
View College Honors recipients
Students Who Received Dietrich College Honors

BXA
Brian Bizier
Grace Huddleston
Juliana Schnerr
Paloma Sierra Hernandez
Dietrich College
Julia Adams
Kaily Bruch
Yoobin Chee
Heather Graci
Allison Guzman
Julie Heming
Ben Kaplan
Jieming Li
Prachi Mahableshwarkar
Margaret Mertz
Jordan Romah
Sydney Roslin
Abigail Salmon
Vera Schulz
John Sprong
Isabella Starvaggi
Sahana Thirumazhusai
Lucy Truschel
Yishan Zhou

Science and Humanities Scholars
Orchi Banerjee
Allison Black
Alexandra Halberstadt
Roosha Mandal
Qian Sha
Hyunho Yoon

Students from Other Colleges
William Crouch, Mellon College of Science
Jacky Lao, College of Engineering
Miranda Mlincek, Mellon College of Science
Naviya Singla, School of Computer Science

Dietrich College Students Who Earned Additional College Honors
Valene Mezmin, Mellon College of Science
George Stoica, School of Computer Science
Amelia Gilson, Tepper School of Business
Eric Huang, Tepper School of Business
Jules Ross, Tepper School of Business
Adam Tucker, Tepper School of Business
"A Carnegie Mellon education is regarded among the most rigorous in the world," Scheines said to graduates and their families. "Our alumni all tell me essentially the same thing. They say, 'As soon as I entered the workforce, I was immediately aware that I was ahead of my peers — even those from other colleges that are household names.'"
He noted alumni often say that their Dietrich College experiences set them apart because they learned to value hard work, had the opportunity to engage in real-world problems and developed a grounding in deep disciplinary knowledge.
Gabrielle Maier, the 2019 Elliot Dunlap Smith Teaching Award for Distinguished Teaching and Educational Service, also spoke at the Honors Convocation. She shared her personal journey of becoming teaching professor of German, one that was not a linear path.
"It took me a while and a few detours to figure out what truly made me happy, but in the end, it eventually all made sense," Maier said. "If you feel lost because everyone around you seems to have it figured out, be skeptical. Just keep an open mind, and don't be afraid to switch gears if you discover your current field or job isn't making you happy."
On Friday, May 17, nearly 100 graduates were honored at the university's Senior Leadership Recognition Awards. 
View Senior Leadership Recognition Awards recipients
Julia Adams
Orchi Banerjee
Eric Barrett
Sydney Bauer
Anna-Jamieson Beck
Brian Bizier
Allison Black
Katherine Boyle
Sarah Boyle
Kaily Bruch
Alisa Chang
Christie Chang
Yoobin Chee
Emily Chen
Ambika Chetal
Winston Chu
Anne Crumley
Chloé Desaulles
Katherine Diaz
Makenzie Donaldson
Sihan Dong
Emma Flickinger
Antonio Freiria
Holly Furnari
Graciela Garcia
Madeline Gardner
Amelia Gilson
Evan Glauberman
Zachary Goldstein
Pavan Gollapalli
Heather Graci
Rosana Elena Guernica
Allison Guzman
Alexandra Halberstadt
Julie Heming
Seth Henry
Eric Huang
Grace Huddleston
Sara Jahanian
Rita Kalar
Ben Kaplan
Hadley Killen
Hannah Kim
Francis Kovacs
Rae Lasko
Jieming (Lewis) Li
Felix Liu
Julia Luo
Prachi Mahableshwarkar
Roosha Mandal
Tristan Marino
Fletcher Marsh
Lily Katherine Marty
Margaret Mertz
Valene Mezmin
Hera Miao
Lauren Nazzaro
Paige O'Riordan
Mayowa Hannah Osinowo
Meera Patel
Christine Phang
Micah Rabin
Jordan Romah
Stefan Romero
Zachary Roop
Jules Ross
Daniela Salazar De Luna
Gabriela Salcedo
Abigail Salmon
Juliana Schnerr
Vera Schulz
Daniel See
William Shancey
Jia Shi
Yingli Sieh
Paloma Sierra-Hernández
Mamie Slevin
Arielle Spikes
John Sprong
Isabella Starvaggi
Sahana Thirumazhusai
Elliott Toy
Lucy Truschel
Victoria Van Benschoten
John Verser
Chie Wach
Ashley Watt
Sterling Wells
Andrew Wissinger
Gordon Wissinger
Yu Wu
Megan Yelsangikar
Hyunho Yoon
Katherine Zhang
Nan Zhang
Corey Zhou
Julia Adams, who studied international relations and politics, is serving as the college's flag bearer this year. She will lead graduates into Gesling Stadium for the main commencement ceremony on Sunday.

"Dietrich College introduced me to awide range of people and academics that assisted me in discovering my interests and passions as an individual," Adams said. "The diverse range of experiences in research and courses, balancing quantitative and qualitative work, provided me a unique perspective on the unlimited opportunities in my future. I have grown in both my confidence and capabilities as a student, friend and leader thanks to my time at Dietrich College."

Following graduation, Adams will be moving to Washington, D.C., to join Deloitte Government and Public Services as a tech analyst.

Visit the Dietrich College's social media channels throughout the weekend for the latest commencement coverage and share your own posts with #cmugrad #CMUDietrich.