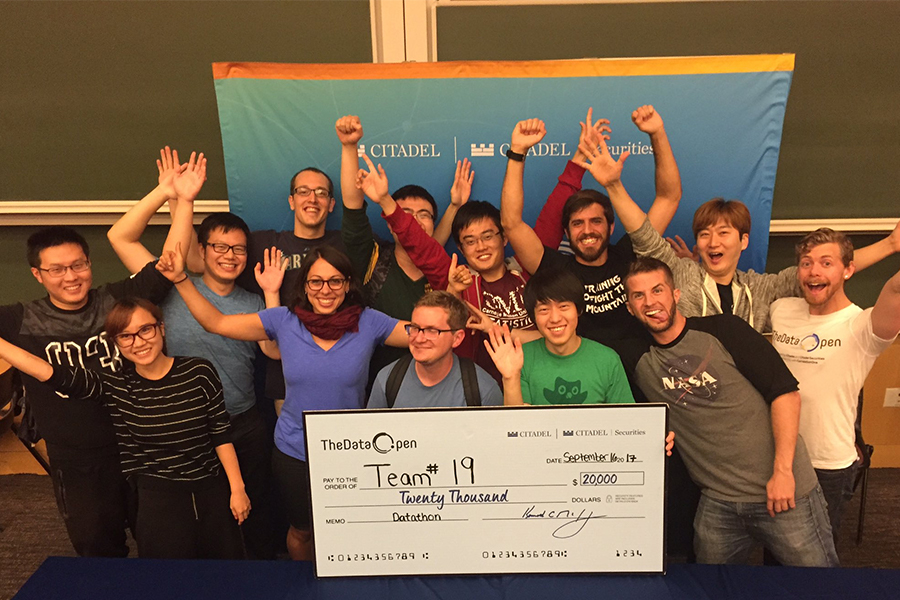 November 28, 2017
CMU Statistics and Data Science Graduate Students Keep Winning Big
Within the past year, multiple teams made up of Carnegie Mellon University Department of Statistics & Data Science Ph.D. students have placed in the top five at major datathons, competitions that consist of teams of computer scientists, data scientists and other experts who work on a case to study and analyze data.
This March, CMU hosted the Citadel/Citadel Securities Datathon, powered by Correlation One. Over 550 students applied to the competition, and approximately 125 students from varying CMU programs were selected to compete. Of the top five teams, four were primarily from the Department of Statistics & Data Science.
Then in September, another Citadel/Citadel Securities Datathon, powered by Correlation One was held. Tackling a research problem about cancer and genome therapy with genotype-tissue expression data, the winning team walked away with a $20,000 cash prize.
"I believe winning was the combination of constant exposure to cutting edge statistical methodologies with a rigorous training in both application and theory," said Nic Dalmasso. "Also having a department packed with outstandingly smart students and faculty definitely helps."
In addition to the $20,000, Dalmasso's team, which Kwhangho Kim, Alan Mishler and Chirag Nagpal were a part of, competed for $100,000 at "The Data Open" in New York City this month.
"I entered the competition for fun and to have a new experience," said Mishler. "Our goal going into November was to change the face of data analysis forever, but short of that, we were just looking to have fun, represent CMU and our department and learn from the other competitors."
The success continued in September when CMU student teams competed at the NBA Hackathon in New York City. Competitors worked for 24 hours and presented their work to a room full of NBA executives, sports analytics gurus and Nate Silver, a statistician and editor in chief of ESPN's FiveThirtyEight.
"Random Walkers," which included Collin Eubanks, Jining Qin, Lee Richardson and Michael Vespe, placed second in the competition for business analytics.
"We couldn't be more proud of our Ph.D. students," said Rebecca Nugent, associate head of the Statistics & Data Science Department and director of undergraduate studies. "They are of course, in our unbiased opinion, the absolute top talent in Statistics & Data Science, but it's their collaborative team spirit that really separates our students from others in our field."
Nugent continued, "You would be hard-pressed to find a more supportive, energetic group of Ph.D. students anywhere in the country."
On how CMU students are capable of and winning such elite competitions, the students credit their high caliber faculty.
"Our Ph.D. courses, specifically those in Advanced Data Analysis taught by Valerie Ventura and Ann Lee, provide ideal preparation for hackathons," Richardson said. "In fact, our applied qualifying exam has the same format as a hackathon: Address a substantive question using data-analysis techniques, in an eight-hour time window."
Eubanks agreed that solving real-life problems in a short amount of time is what the Department of Statistics & Data Science is about.
"Our curriculum provides us with all the tools necessary to compete in datathons at the highest level," Eubanks said. "We receive rigorous training in both the theory and practice of data analysis, and further, the programming skills necessary to carry out an analysis of any size. The recent successes among the Ph.D. students in our department undoubtedly must be credited to the faculty responsible for designing and instructing this curriculum."
A previous version of this story did not include Kwhangho Kim and Chirag Nagpal as part of the team who won the $20,000 prize in the September 2017 Citadel/Citadel Securities Datathon, powered by Correlation One.
Above image: CMU Statistics & Data Science students celebrate their win at the Citadel/Citadel Securities Datathon, powered by Correlation One.