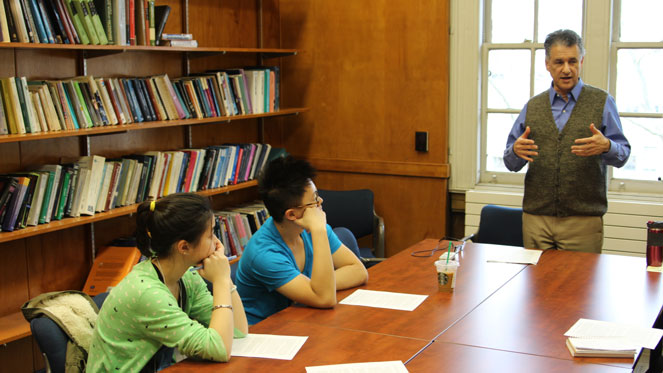 May 17, 2017
Listen Up: Auditory Scientists Catch Students' Attention
By Emily Stimmel
When we think of our most memorable learning experiences, we're more likely to recall a special field trip or charismatic speaker than a citation in a research paper. Besides offering a change of pace, these experiences help new concepts take hold.
Just ask the students in Carnegie Mellon University's Auditory Perception course. This spring, they participated in Q&A sessions with guest speakers who lectured about auditory science topics from absolute pitch to cochlear implant technology.
"Guest speakers enhance class material because the students like to have a chance to directly inquire about research that produces 'facts' that they read about," said Laurie Heller, associate teaching professor of psychology in the Dietrich College of Humanities and Social Sciences. "It's exciting and motivating to ask the people who actually conduct the research."

Visitors included neuroscientist, musician, professor and author Daniel Levitin and Heather Bortfeld, who leads developmental cognitive science research at University of California, Merced.

Before they visited the class, Levitin and Bortfeld each gave talks sponsored by the Department of Psychology. Many of the students attended those presentations and they all read papers by the scientists in advance of their Q&A sessions.
According to Heller, both Levitin and Bortfeld were impressed with the depth and breadth of the students' questions on everything from amusia—a defect in processing pitch—to the benefits and drawbacks of fNIRS (Functional Near-Infrared Spectroscopy) for measuring brain activity in infants with hearing loss.
"While normal lectures are sometimes abstracted away from original research or use papers that were written decades ago, guest lecturers provide a modern window into what's going on in the field," said Adam Dickter, a senior majoring in neuroscience. 
Students were especially excited to talk to the experts about their niche interests.
"I read many of Dr. Levitin's papers when I was researching absolute pitch—a topic he studied in depth—so I felt almost 'starstruck' about meeting him in person and getting to ask him a few questions of my own," added Marissa Dominick, a junior majoring in neuroscience with a minor in music.
Earlier this spring, the class visited the Carnegie Science Center, where they learned from program staff about fun, interactive ways to educate visitors. The students designed auditory experiments that could be demonstrated in a museum setting for 15- to 19-year-olds and presented their ideas to the staff.

Their demonstrations ranged from low-tech—asking participants to plug their ears to simulate hearing loss—to complex, utilizing real-time speech processing software. The students found it challenging to create exhibits that could be effective despite the background noise of a busy museum.

"We can see up to 3,000 visitors in a day, so it can get noisy," said Amanda Iwaniec, technical and education manager of demonstration theaters at the science center.  "The world of science can be intimidating. It's easy to think, 'It's not for me.' But when you make it fun—using relatable and comparable examples of real life, props and hands-on activities, like Laurie's students did—it's easy to realize that science is in everything we do!"
Other guest lecturers included Richard Randall, CMU's Cooper-Siegel Associate Professor of Music Theory, and Christopher Brown, assistant professor of hearing science at the University of Pittsburgh.