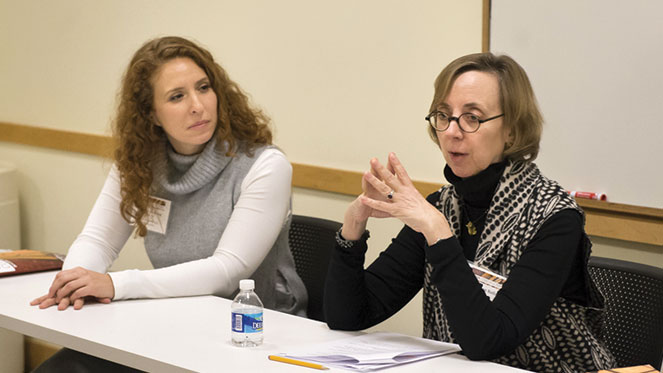 January 20, 2017
Using an English Degree To Do What You Love
By Emily Stimmel
What can you do with an English degree? Plenty. Carnegie Mellon University graduates have built diverse careers doing what they love – from publishing to museum administration, children's entertainment and entrepreneurship.
"When students graduate with a degree in English from CMU, they walk away with skills and knowledge that can give the opportunity to work as writers or communication specialists in a variety of professional environments, from Apple and Google to the Wall Street Journal," said Andreea Deciu Ritivoi, head of the Department of English in the Dietrich College of Humanities and Social Sciences.
After graduating from CMU with a bachelor of arts degree in English, Maureen Rolla (DC'75) landed her dream job at The Viking Press, a publishing house in New York City. Ten years later, while completing her master of arts degree in English and comparative literature at Columbia University, she began working in admissions at Columbia's Graduate School of Business, where she eventually became the assistant dean of student affairs.
Rolla reached a crossroads after seven years working with students and faculty at the J. Paul Getty Trust's Leadership Institute: She was offered a new position with the Getty in Los Angeles, but she turned it down to care for her ill parents in Pittsburgh, where she began an extensive job search.
"One piece of advice that served me well is this: When faced with a choice, take the opportunity that's the biggest stretch," said Rolla.
She did – and it paid off. For 13 years, Rolla worked as deputy director of Carnegie Museum of Art. The role helped her develop skills that she continues to use today as the director of strategic initiatives for all four Carnegie museums. Rolla works alongside the museums' president on projects like program development, planning, consulting, fundraising and collaborating with external partners – including CMU's International Film Festival and IDEATE.
At the Dietrich College's recent Under Construction: Building Your Future networking event, Rolla shared tips with undergraduate students on making choices in the midst of uncertainty, following a non-linear career path and articulating the value of the humanities to employers.
"The humanities are so important – we can't let these subjects be marginalized," she remarked.
That's why students in the English Department gain equal exposure to a rich humanist tradition and cross-disciplinary opportunities that instill creativity, historical perspective, global awareness and excellent communication skills.
The emphasis on reasoning, analysis and continuous learning was central to the appeal of CMU for Peggy Doyle (DC'84), who offered advice on startups and the arts at Under Construction.
"I think the humanities and the arts are so important, now more than ever. We have a compassion deficit in this country and these subjects help us develop empathy," said Doyle, who earned a bachelor of arts degree in professional writing and was the first CMU student to declare self-defined minors in theater and dance.
Doyle also credits CMU with showing her the potential of technology, which she has woven throughout her career.
After working for nine years in children's television, Doyle received a master's degree in interactive telecom from New York University's Tisch School of the Arts, which she leveraged to transition to the emerging field of new media.
At startups within larger corporations like BMG Music, Symantec and Yahoo!, she used her writing and marketing skills to help shift the brands online.
But the turning point in Doyle's career came when she attended a conference for women entrepreneurs in New York City. According to Doyle, women are the least supported group of entrepreneurs, with women-led startups receiving less than 10 percent of venture capital.
The experience inspired her to co-found What Now What Next, a collaborative marketplace that helps women artists, consultants and business owners connect with new customers and clients while supporting other women-owned businesses. She chose the collaborative model because she believes a competitive mindset is limiting for entrepreneurs.
"Collaboration is a huge part of my success," she said.