September 20, 2016
Polish Your Research Presentation Skills
Dietrich Undergraduate Colloquium Accepting Proposals Through Oct. 15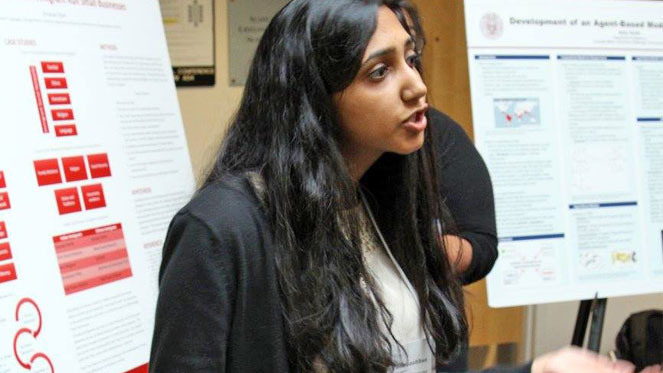 If you are an undergraduate student, freshman through senior with major or minor in the Dietrich College of Humanities and Social Sciences, do not miss this opportunity to present new, ongoing or completed research or creative work at the 2016 Dietrich Undergraduate Colloquium (DUC).
"Employers want people who can talk to non-specialists about their research," said Bonnie Youngs, teaching professor of French and Francophone Studies in the Department of Modern Languages. "I always ask, 'Can you explain it to your grandmother?'"
Previous DUC participants and attendees have had positive experiences with the program that began in 2013.
Last year, Philip DeCicco (DC'19) and Sahana Thirumazhusai (DC'19), both majoring in international relations and politics, presented their work, "Predicting Avoidance Strategies for U.S. Military Actions in Foreign Countries." The project analyzed patterns of U.S. military intervention.
"We are at the beginning stages of our research, but the wonderful thing about the DUC is that they wanted to showcase students at all stages of their work," Thirumazhusai said at the time.
Important Dates
Proposals Due
Oct. 15
The proposal can be creative or research oriented on any topic, and it can be current or previous work.
Learn more about the guidelines and submit a proposal.
DUC
Nov. 4 at 3 p.m.
Giant Eagle Auditorium and Coffee Lounge, Baker Hall, CMU
For more information, contact Youngs.
Related Links
_____
By Shilo Rea