September 08, 2016
Who Owns the Dead?
CMU's Jay D. Aronson Brings a New Perspective to the 9/11 Recovery Process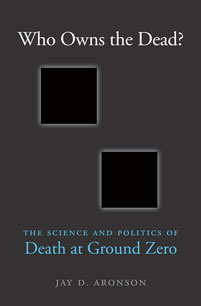 After the September 11th terrorist attacks, New York City's chief medical examiner guaranteed that he and his staff would spare no expense in trying to identify every victim and human body part larger than a thumbnail and return them to their families.
Fifteen years later, only 1,640 of the 2,753 victims killed in Manhattan have been identified. Matthew David Yarnell, a 1997 graduate of Carnegie Mellon University, was one of them. He was identified in March 2015.
In the new book, "Who Owns the Dead? The Science and Politics of Death at Ground Zero," Carnegie Mellon's Jay D. Aronson details the cultural and political reasons behind why the promise was made—a combination of the need to recover remains, pay tribute to the 9/11 victims and redevelop the World Trade Center site—and why living up to the task has been so challenging.
"My main goal in writing the book was to help Americans understand the challenges of recovering from mass atrocity or disaster in a way that goes beyond simply cleaning up and rebuilding, which is what most work focuses on in this context," said Aronson, associate professor of science, technology and society in the Dietrich College's Department of History and director of the Center for Human Rights Science.
Aronson initially intended to examine the ethical and political implications of Staten Island's Fresh Kills landfill, where materials from the World Trade Center site were sorted, and the disagreements between families and officials over storing remains in the Memorial Museum Complex. But he realized that the massive and ongoing 9/11 recovery effort—the most costly forensic investigation in U.S. history—is a highly significant event in American history that can also offer insights into other mass casualty incidents around the world.
"As a society, we tend to be simultaneously fascinated and repulsed by death, and I wanted to take a clear-headed look at how we dealt with the massive problem of human remains in the aftermath of the World Trade Center attacks," Aronson said. "I also wanted to explain what sometimes seemed like irrational and emotionally-driven behavior of some families to human remains issues in a way that was both empathetic and demonstrated the reasons why they responded the way they did."
Though science and technology have driven recovery and identification since the attacks, politics, culture, personal perception and emotion are central to understanding those processes, as well as how the victims are memorialized.
Historian Thomas Lacquer wrote that, "Aronson explores our commitment as a species to care for our dead through a beautifully written, intellectually serious and deeply researched account… At the heart of his story are the dead of a sacralized space and their remains―fragmentary, many unidentified, so little in and of themselves―that collectively and name by name come to represent the contested meanings of an epochal event in modern history."
Science Magazine featured a review of the book in its Sept. 2 issue and highlighted how Aronson is among the first to analyze the conflicts and controversies that erupted as New York City and the nation sought to recover from the attacks and reconstruct the World Trade Center site.
"It is extremely challenging to write a text and show no favoritism, but Aronson succeeds incredibly well, encouraging readers to come to their own conclusions," Sue Black wrote. "He masterfully chronicles the bitter debate between those who 'gave' their lives and those who 'lost' their lives, those who lived in Manhattan and those who died in Manhattan, those who lost family members and those who wished to rebuild a city."
"Who Owns the Dead?" was published by Harvard University Press.
Related Articles:
_____
By Emily Stimmel