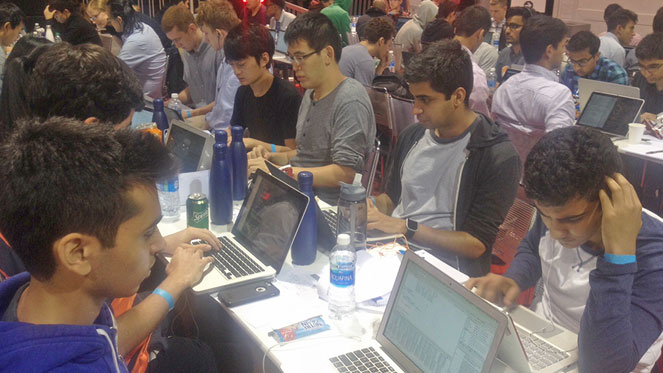 October 28, 2016
CMU Sports Analytics Team Hacks for NBA
By Emily Stimmel
To members of Carnegie Mellon University's Tartan Sports Analytics Club (TSAC), sports fandom and data analysis are a winning combination.
Last month, four TSAC members joined more than 200 students from the U.S. and Canada to compete in the NBA's first Basketball Analytics Hackathon in New York City.
Suvrath Penmetcha, a Dietrich College senior majoring in statistics, said that using R software, creating data visualizations and participating in CMU's Spring 2016 Tartan Data Science Cup prepared him to compete in the hackathon.
Penmetcha worked with Brad Wolff from the University of Texas at Austin and Saurabh Rane, a student at Northwestern University, to create a metric to assess defensive performance in the NBA. They placed fifth among 60 teams.
Sam Ventura was impressed by the way students apply what they've learned outside the classroom.
"It's exciting to see our students successfully competing in sports analytics competitions nationwide, using the skills they have developed in their classes and by doing statistical analysis for TSAC," said Ventura, a visiting assistant professor of statistics and TSAC's faculty adviser. "The club's success in these competitions has really put CMU on the map in the sports analytics world."
Alumni are also making their mark. Max Horowitz (DC'16), who co-founded TSAC with Arvind Pendurthi in 2014, now works in the NBA's basketball analytics group and helped select teams, create research prompts and clean data for the event.
According to Pendurthi, TSAC laid the foundation for Horowitz's success.
"Our club members love sports and data. We give them the opportunity to explore those passions and ultimately make a career out of it," said Pendurthi, a senior majoring in decision science and president of TSAC. "Like they say, if you love what you do, you'll never work a day in your life."
Other TSAC members who participated in the hackathon were Apoorva Havanur, a senior majoring in statistics and economics; Mohin Banker, a senior economics major; and Rohan Nagalkar, a sophomore business administration major.
Learn more about the NBA Basketball Analytics Hackathon.
Related Stories: