September 04, 2015
Professor Puts Talents on Ice
Ventura Joins Penguins as Analytics Consultant
By Bruce Gerson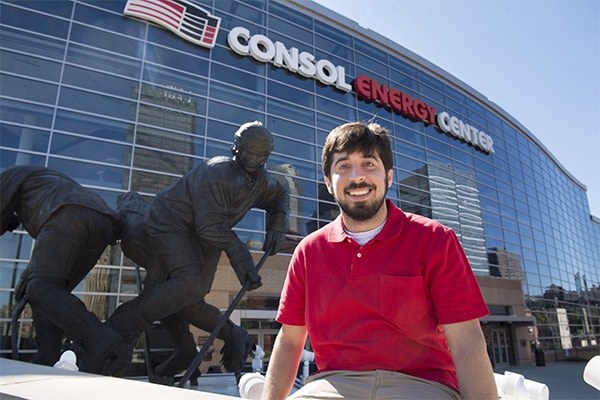 The Pittsburgh Penguins have signed Carnegie Mellon's Sam Ventura.
He's not a play-making forward, a hard-hitting defenseman or a lightning quick goaltender, but the 27-year-old junior faculty member in the Statistics Department is hoping to make a big impact nonetheless.
Ventura is among the growing breed of statistical analysts in professional sports, an industry proliferated by Moneyball, the book and subsequent movie about the Oakland Athletics' reliance on data analytics to build a successful baseball team. Last year, Karim Kassam, a former CMU professor of social and decision sciences, joined the Pittsburgh Steelers as their analytics and research coordinator.
"In any field, if you can objectively back up your decision with data, you're doing yourself a favor," said Ventura, who earned his bachelor's and master's degrees and Ph.D. in statistics at CMU.
A Pittsburgh native and lifelong hockey player and enthusiast, Ventura's appointment as a consultant with the Penguins stems from his senior year at CMU and Andrew Thomas, a professor who taught a class about applying statistical methods to the sporting world.
Ventura said he and Thomas, a native of Toronto, had a mutual interest in hockey. They put their heads together on a project rating players in the National Hockey League that incorporated statistical properties that went beyond the standard plus-minus rating, which assigns a value to a player based on the total number of goals his team scores and the opponent scores while that player is on the ice.
The project led to a paper that was published in The Annals of Applied Statistics and a panel discussion at the Joint Statistical Meetings, the annual major statistics conference. Ventura was a panelist for "Advances in Methods for the Analysis of Ice Hockey."
"It was a good discussion with a big Q&A with the audience. The conclusion was we thought our work was very good, but the common and advanced fans didn't have access to it. There was no public presentation of our results," Ventura said.
Enter War-on-Ice.com, a comprehensive visually appealing website that Ventura and Thomas co-developed to introduce fans to more statistical metrics.  WAR is an acronym that stands for Wins Above Replacement, which measures how many wins a player helps a team achieve over someone who would be his replacement.
While fans can go to NHL.com for player and team statistics, Ventura says War-on-Ice.com is different in two ways.
"War-on-Ice is geared to the more advanced fan, who is interested in stats that are good descriptors of what happened in the past but also good predictors of what will happen in the future," Ventura explained.
"That's what's behind the core tenet of modern hockey stats. We like to present the metrics that are predictors, like WAR."
Ventura said another big predictor is the total number of shots a team takes during a game, even the ones that are blocked and not officially logged as shots on goal.
"The idea is that the more shots a team takes, the more puck possession time they have. That's a good predictor of wins and losses and future success," Ventura said.
Ventura feels the website and the Pittsburgh Hockey Analytics Workshop, hosted by War-on-Ice and the Statistics Department at CMU last November, piqued the Penguins' interest in him.
"We're excited to add someone of Sam's talent to our organization," said Jason Karmanos, the Penguins' vice president of hockey operations. "Advance stats data continues to emerge and evolve daily, and Sam will be instrumental in helping us interpret new findings in that area."
Ventura said areas in which quantitative analysis could provide value include research about which players play well with each other and against each other, and if it's advantageous to play your starting goaltender in games on consecutive days.
This fall, Ventura will juggle his consultant duties with his responsibilities at CMU. As a freshly minted Ph.D. and visiting faculty member, he'll be teaching Probability Theory and Random Processes, an introductory course aimed at computer science and engineering students.
He's also a faculty co-adviser for the undergraduate Sports Analytics Club at CMU, and will be assuming his role behind the bench as an assistant coach for the CMU Hockey Club. Last year he helped the Tartans win its league championship.
"I only scored one goal and was injured. But I helped the team in other ways.
"That's what statistical analysis is all about. You have to find niches where you can provide value," he said.
The Penguins are counting on it.
Pictured: Sam Ventura is one of the growing breed of statistical analysts in professional sports.