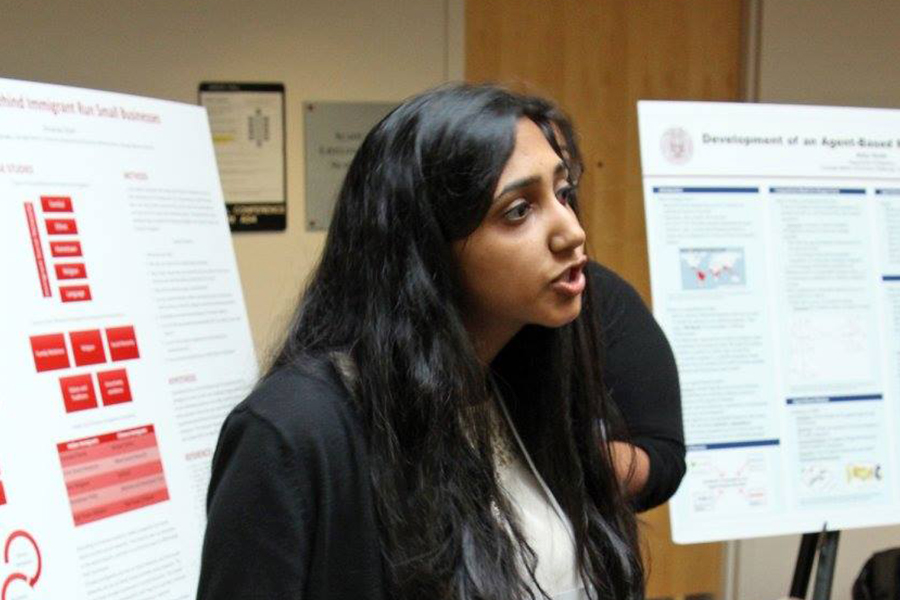 November 04, 2016
Students: Dive Into Research
At Carnegie Mellon University, undergraduate students are encouraged to dive into groundbreaking research early in their academic careers. But such a major undertaking requires specialized skills. Fortunately, freshmen and sophomores in the Dietrich College of Humanities and Social Sciences can receive "on the job" training while actively participating in research through the college's
Research Training Program
.
The program was designed to allow students to collaborate one-on-one with world-class faculty while cultivating their interest in research. They do this by working on a faculty project or in a lab for a one-semester/nine-unit apprenticeship. Topics can range from teaching scientific thinking to elementary school students to developing a corpus of historical writing from the Roman Empire to the present.
As a freshman, Sean Moore took Charles Kemp's "Understanding Learning and Behavior" course, where he attempted to predict how likely people are to believe facts based on various written premises. Working alongside Kemp, an associate professor of psychology, helped Moore feel engaged with academia from the start.
"It prepared me for further research at CMU because it gave me direct insight into what qualifies as productive thought in the scientific community," said Moore, a sophomore majoring in cognitive science.
He added, "The course offered me the exact opposite of my high school experience, which was muddled by 'busy work.' Instead, every moment spent thinking about how to improve an experiment felt valuable."
By working with faculty, students have the potential to make a tangible impact on real research projects.
In Sébastien Dubreil's new course, "Bonne Chance: Game Design as a Model for Language and Culture Learning," they will help develop a computer-based game designed to enhance French language learning at the elementary level. Dubreil is looking forward to tapping into students' expertise across disciplines including design, computer science and linguistics.
"CMU students have always astonished me with their level of engagement, creativity and productive passion they can bring to a project when they enjoy what they are doing and see the value in it," said Dubreil, teaching professor of French & Francophone studies, second language acquisition and technology-enhanced learning. "Students will not only influence, but shape, every step of the decision-making process regarding all aspects of the game."
Spring research training courses include "Cyber-Activism and Independent, Civil Society in Contemporary Cuba: Digital Platforms and Social Media as Tools for Change," "Women's Rights and Gender-Based Violence" and "Exploring Astrostatistics: Analyzing Astronomical Data with Cutting-Edge Methods of Statistics and Machine Learning."
The Research Training Program is open to students who will be second-semester freshmen or sophomores in the Spring 2017 semester. First priority is given to Dietrich College students.
View all of the Spring 2017 research training courses. [pdf]
Learn more about the Research Training Program.
Related Articles:
_____
By Emily Stimmel