November 11, 2015
Reap the Benefits of Undergraduate Research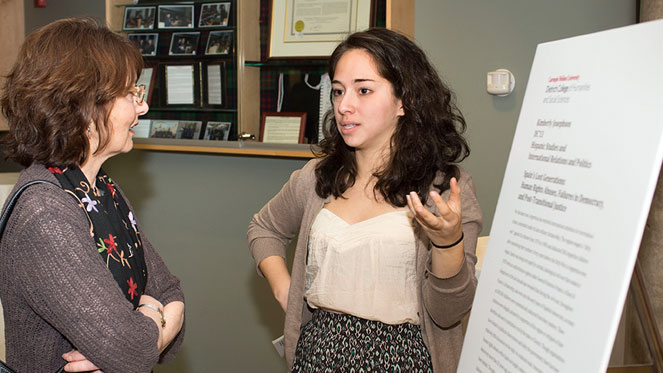 At Carnegie Mellon University, it is not unusual to find undergraduates who are creating documentary films, investigating cultural trends and discovering how the brain interprets visual information. These student researchers find themselves in the heart of the university's intellectual community, where they discover the thrilling—and often complicated—process of producing new knowledge.
Participating in research with world-class faculty is no small task and requires special training. Luckily, Dietrich College of Humanities and Social Sciences freshmen and sophomores can receive this training while actively engaging in groundbreaking research through the Dietrich College's Research Training Program. The program was designed to spark and nurture an interest in research while providing opportunities for one-on-one collaboration with faculty.
Students in the program work on a faculty project or in a lab for a one-semester/nine-unit apprenticeship. Topics vary each semester, and can range from Hispanic comics to the role of learning in infants' language acquisition.
"The best part of my research training experience with Dr. Vicki Helgeson was that it hardly felt like a training at all," said Kim Hochstedler (DC'18), a statistics and neuroscience double major. "Dr. Helgeson helped me jump straight into her lab group and taught me important research skills along the way. With her help, I conducted literature reviews and began running studies exploring the topic of communal coping in social psychology. Most importantly, these tasks gave me the skills necessary to begin delving into my own research explorations."
Modern Languages Department Head Susan Polansky believes early research training is critical.
"Early exposure to research gives students the experience of delving into particular topics that attract them, and also engages them in hands-on work that is both collaborative and independent," Polansky said.
Students consistently view research opportunities alongside Dietrich College faculty as experiences that will benefit them in the long run.
Leshaun Jones (DC'17), majoring in statistics and psychology, recognized how important it is to continue building the skills she learned in her other classes, particularly the experimental design and methods courses.
"I have had the opportunity to do more difficult things, gain experience and further develop these skills that I think will help me when I'm trying to figure out what I want to do after college," Jones said.
Courses offered next spring include Clinical Trials and Medical Studies, Psychology of Gender, Using Data to Explore Online Learning, Concept Formation in Second Language Learning and Cross-Cultural Currents Between Spain and the Americas: The Case of Chocolate.
The Research Training Program is open to students who will be second-semester freshmen or sophomores in the Spring 2016 semester. First priority is given to Dietrich College students.
Learn more about the Research Training Program
Related Article:
Students: Gain An Early Edge in Research
_____
By Emily Stimmel