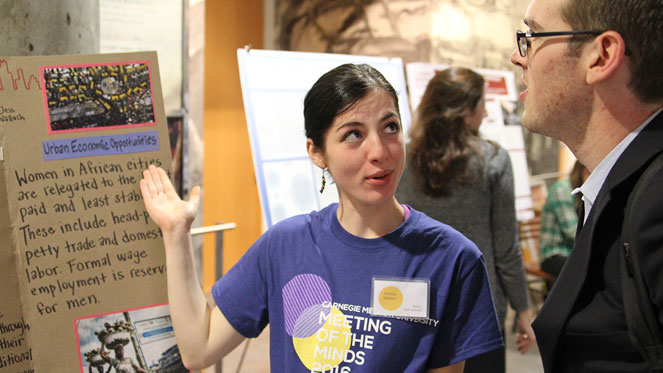 May 09, 2016
Undergrads Shine at Meeting of the Minds
Maya Schumer believes in the power of positive thinking.
The senior psychology major is interested in mindfulness meditation training as a mental health intervention and spent the past year conducting a meta-analysis on the overall effects it has on emotional regulation and wellbeing. Schumer's project was part of the Dietrich College Senior Honors Program, and her faculty adviser was none other than David Creswell, associate professor of psychology and a leading expert on the science behind mindfulness meditation.
Schumer presented her work at Meeting of the Minds, Carnegie Mellon University's annual undergraduate research symposium. She was one of the many Dietrich College of Humanities and Social Sciences students who placed in the competition, with first prize in the Psychology Department's oral competition. Schumer credits the experience for instilling confidence in her.
"It's made me into a researcher that I didn't know I could be," she said. "Now, I can really see myself as an active member of the scientific community."
From 157 presenters in 1995, Meeting of the Minds has grown to showcase the work of over 600 students. Poster sessions, oral presentations, art installations, prototype demonstrations and performances represent diverse disciplines and research areas across the university.
Stephanie Wallach, assistant vice provost for Undergraduate Education, believes that the event is a way to invite people to get an up-close and personal look at what is important to the Carnegie Mellon community.
"Our work matters and much of it takes place beyond the public eye," said Wallach.
She added, "It is like the academic version of Carnival: every year there are new ideas, new projects and new people who amaze you with their creativity. There is nothing predictable about the array of projects at Meeting of the Minds."
The Dietrich College was well represented at this year's event, with projects ranging from "Discouragement, Gender, and Professional Tennis" to "The Violet Quill Club: Constructing a Post-Stonewall Gay Identity Through Fiction."
Tim Haggerty, director of the Humanities Scholars Program, oversaw judging for the event's Dietrich College award categories.
"The breadth and quality of student work from Dietrich College continues to astonish me every year," said Haggerty. "Meeting of the Minds just exemplifies the university at its best."
2016 Dietrich College Award Winners
Award for Artistic Excellence (funded by the Center for the Arts in Society)
Jacqueline Barnes (BHA)
"Phanta Noir: An Exploration of Black Fantasy"
Iris Beaumier (Drama)
"Where the Hardyhead Live: Revisited"
Chloe Chia (Design)
"Passports as Power"
Olivia Hern (Drama)
"Enfantine: Prague Quadrennial"
Sylvia Kosowski (BCSA)
"Algorithmic Animation: A Tool for Creating Two-Dimensional Painterly Animation in the Context of Webcomic Storytelling"
Dietrich Humanities Prize (funded by the Humanities Scholars Program)
Heather Cowie (Art), Joseph Hill (Drama) and Kaytie Nielsen (BHA)
"Mariannes Noir: Mosaique Afropéennes"
Danielle Lehmann (BHA)
"The Proviso: Understanding Dystopian Dualities and How They Can Be Used to Challenge Our Current Decisions and Perspectives"
Iman Mazloum (BHA)
"The Zahra Center: A Play. Sharing Muslim Narratives Through Performance in Order to Promote Action Around Sensitive Topics and to Counter Symbolic Annihilation of Islam and Muslims"
David Parker (History)
"Runaways, Freedom Seekers, and Fornicators: The Indentured Servant in Court in 17th Century York County, Virginia"
Lina Pulgarin-Duque (BSA)
"A Small Leap: Placing Theater at the Center of Science Outreach"
Nicole Yoon (BHA)
"Dream Girl in Social Media"
Psychology Department Competition
Oral Competition:
First Prize:
Maya Schumer (Psychology)
"Brief Mindfulness Training Reduces Negative Affect, Anxiety, and Stress: A Meta-Analysis"

Runner-Up:
Nina Hill (Biological Sciences)
"Predicting Eating Behavior with Visceral and Visual Assessments of Hunger"

Runner-Up:
Joshua Swanson (Psychology)
"Predictors of Behavioral and Relationship Outcomes During Mutual Self-Disclosure: Implications of One-to-One Peer Support Interventions"
Poster Competition:
First Prize:
Hyunho Yoon (Psychology)
"Statistical Learning of Language and its Basis in Memory"
Statistics Competition
Oral Competition:
First Prize:
Richa Mohan (Statistics)
"Do Women Have a Say? Explaining Variation in Female Participation in Household Decision-Making"
Poster Competition:
First Prize:
Hyunsang Cho (Science and Humanities Scholars), Yuka Moroishi (Statistics) and Kristina Schiffhauer (Statistics)
"Biographies in Time: Investigating Gender Discrepancies in the Oxford Dictionary of National Biographies"
Second Prize:
Andersen Chang (Statistics)
"Simple Models for the Statistical Analysis of Infectious Disease Counts"
Third Prize:
Robert Citrone (Statistics), Devin Cortese (Statistics) and Maksim Horowitz (Statistics)
"A Statistical Analysis of the National Football League Draft: Valuing Draft Picks and Predicting Future Player Success"

Honorable Mention: 
Meghna Baskar (Economics), Kiersten Chuc (Statistics), Suvrath Penmetcha (Information Systems), Rohit Srungavarapu (Business Administration) and Skye Toor (Mechanical Engineering)
"Port Authority Bus Reliability Across Pittsburgh Neighborhoods"

Honorable Mention:
Qiulei Bao (Mathematical Sciences) and Zhehao Yu (Mathematical Sciences)
"Comparison of Community Detection Methods"

Honorable Mention:
Timothy Fitzgerald (BHA), Dee Dee Paik (Economics), Daniel Park (Economics and Statistics), Siqi Yang (Statistics) and Derek Young (Statistics)
"Optimization of Spaces in Hunt Library"
Early Research Award (Freshman/Sophomore):
Siqi Guo (Science and Humanities Scholars)
"Differentiating Stars and Galaxies in SDSS and WISE Data"
Early Research Award (Freshman/Sophomore):
Joshua Brakensiek (Mathematical Sciences)
"Galaxy Morphology and Synthesis: Application for the Large Synoptic Sky"
View photos from Meeting of the Minds.
Related Links: