May 06, 2016
Q&A with Longtime Professor Charlene Castellano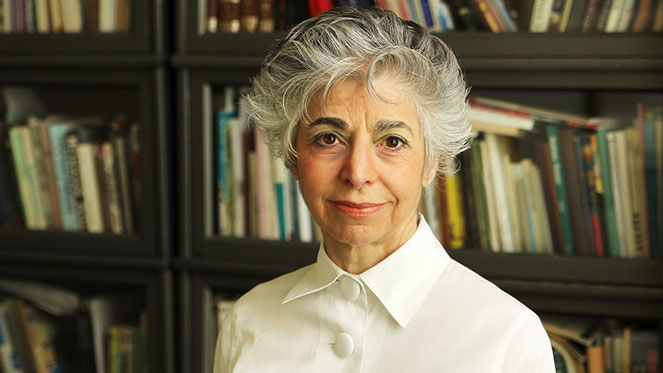 Since 1990, Charlene Castellano has been a fixture in the Department of Modern Languages – co-founding and co-leading the Russian Studies Program and teaching many Russian language and culture courses.
Castellano, teaching professor of Russian, will retire at the end of May. She will leave a lasting legacy that hundreds of students from the Modern Languages Department, Dietrich College of Humanities and Social Sciences and all of Carnegie Mellon University can attest to. She explains, in her own words, how she ended up at Carnegie Mellon and reflects on her time here.
How did you become interested in Russian Studies?
I've been fascinated by foreign languages for as long as I can remember. Italian was spoken in my family, so it surely started there. No Italian classes were offered where I went to school, but I studied French and Spanish with great enjoyment.
I began my college career with a major in Spanish, a focus fixed by a high school summer spent in Santiago, Chile. But it wasn't long before something more exotic beckoned. Georgetown University's Russian department was recruiting, and I was looking for a challenge. I signed on as a sophomore and at the end of that first year of Russian study, spent the summer taking classes in St. Petersburg, Russia. I was hooked. The place is gorgeous. The richness of its art, architecture and literary traditions is overwhelming. And in those old, Cold War days, the hint of political intrigue attending to the presence of an American in the USSR added distinctly to its allure.
What was the path that led you to CMU?
I left Georgetown with a B.S. in Linguistics and Russian, went on to Ohio State for an M.A. in Slavic Languages and Literature and received a Ph.D. from Cornell University. My first faculty appointment came from Yale University, where I taught graduate seminars on one of my favorite topics, the Petersburg tradition in Russian literature. Afterwards, I went back to Ohio State to teach, and then spent a few more years teaching both grads and undergrads in the University of Pittsburgh's Slavic department.
I took three years off from teaching to work in international trade, so to speak. It was a small operation. An entrepreneur from the French linens industry had been sent to Charlottesville, Virginia to set up shop. He came with only a rudimentary knowledge of English, which he spoke unintelligibly, along with a handful of agreements to purvey the wares of a few fancy manufacturers of bed and bath linens. He rented an office with nothing but two desks in it and hired me. I fit the bill: my level of French comprehension from high school was still quite high. I was able to communicate with and for him as we did everything together from purchasing a computer, to contracting sales representatives, to outfitting them with promotional materials for which I wrote the copy.
I also became a company spokesperson at national trade shows, designing the display booths I manned. The company took off. You can now find its "Palais Royal" label in high-end shops all over the country: New York, Dallas, Los Angeles… and yes, Pittsburgh! (Oprah Winfrey buys hers in Chicago.) It was fun for a while to branch out and be part of a flourishing concern that I had helped to start up, but what it really taught me was that my heart belongs to academe.
When you arrived at CMU, you helped to reignite Russian Studies, right?
When I arrived in January of 1990, there had been no Russian courses on offer for about a decade. Four or five other languages were taught through a History Department program. Although Russian history was a concern of theirs, the corresponding language was lacking. Soon after I launched Russian language study, the Modern Languages Department was created, and I was able to expand my offerings.
My goal from the beginning was to generate interest in learning a language that engages alert and active minds, and speaks to multifarious needs and desires. These range from historical, political and economic fine tooling to pointed inquiries into cultural and aesthetic achievements. My curriculum took root, as you would expect, in courses on elementary and intermediate Russian. It became apparent quite quickly that some students were after more knowledge of the Russian nation than could be gleaned with intermediate-level language skills. (Russian is acknowledged by linguists at large to be among the more difficult languages.) It also stood to reason, at least to me, that spreading the culture first could instigate students outside of modern languages to come in and give it a try. So, with the permission of Barbara Freed, head of the Modern Languages Department at the time, I was the very first to offer courses in English on topics emerging from the languages we teach. It worked. Russian language classes grew larger, and Russian culture courses in English thrived. Fellow faculty members followed my lead in due course.
My courses have served students from across the university – students with majors in politics and international affairs, world history, English and professional writing, art, music, drama, mathematics, engineering, business and finance. No one group seems to predominate, except perhaps for those with Russian roots or friends.
I don't want to leave you with the thought that Russian is only and always just one facet of larger enterprises. There are some students for whom Russia is central, and thanks to the encouragement of the History Department, we do, since the mid-1990s, offer major and minor specializations in our jointly purveyed curriculum of Russian Studies.
One of the invigorating elements of Russian Studies derives from our faculty exchange program with the Russian State University for the Humanities in Moscow. Spearheaded by Wendy Goldman, the Paul Mellon Distinguished Professor of History, this program brings to our campus a visiting faculty member from Moscow for one semester each year. The History and Modern Languages Departments take turns hosting and guiding our Muscovite colleagues, as we grow under their influence.
What will you remember the most about your Carnegie Mellon career?
One of the things I've valued at CMU is the freedom my department has given me to look outside of my Ph.D. specialization for new sparks. I've been able to explore something that piqued my curiosity long ago but long remained under the surface: the Faust legend. It isn't a Russian thing; at least, not in its origins. The Russians took it up from Germany, as did all the cultures of western Europe, the Americas and Asia as well. I developed a course on it to home in on its medieval German wellspring and then trace out its efflorescence across varying histories and geographies that reach us here today. The course takes in literature, playwriting, theater, opera, rock music, painting, comics and film. What gives the Faust story its persistent appeal? How are its meanings continually reshaped by its forms? To what experiences does it keep speaking?
What is next for you?
I'm still too involved in what I'm doing here to draw up precise plans. I know I'll be continuing with my research, attending conferences and hopefully publishing a thing or two. In the works is a piece on my first love, the Symbolist novelist Andrei Bely, and I'll continue my study of the protean literary figure Joseph Brodsky. The two are bookends in the annals of Russian literature, as I see it. One is the sunrise, and the other, the sunset, of Russian literary Symbolism. They mark the beginning and the end of the 20th century. Bely moored the Symbolist movement in his theories about all the critical issues for the writers of his day – from the power of speech to the twin crises of culture and consciousness. He also invented new genres that drew equally on poetry and prose. Brodsky's poetry summons up all the metaphysical yearnings of the Symbolists, only to put them to rest with his technical prowess. His essays, most of them written from the start in his second language, English, are revelatory. They show you how to cultivate a mind.
So that's what I'll be trying to do! And beyond that, I'm eager to establish a wide horizon.