March 31, 2016
Graduate Student Teachers Honored for Excellence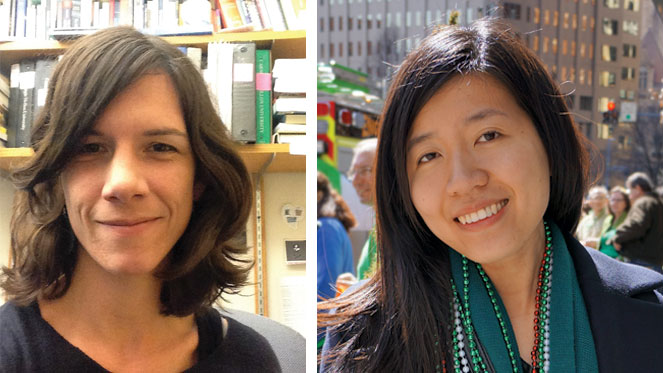 This year's co-winners of Carnegie Mellon University's Dietrich College of Humanities and Social Sciences' Graduate Student Teaching Award have one thing in common: excellence in teaching.
Since 2001, a college-wide committee has selected award winners based on teaching scores and letters of recommendation from faculty and students, among other criteria. This year, the committee chose two winners: Ana Cooke and Sihui (Echo) Ke.
A Ph.D. candidate in rhetoric within the Department of English, Cooke holds a master of arts degree in rhetoric from Carnegie Mellon and a B.A. in English from Reed College. Prior to coming to CMU, Ana taught ESL writing to adults and worked as a professional textbook editor.
Cooke describes her teaching style as "student-centered and collaborative."
"I think learning occurs best when students are actively engaged in discussing, sharing, and interacting, both with me and with one another. It fosters relationships, and ideally creates an environment in which students have more agency and empowerment in their learning," said Cooke.
In a letter recommending Cooke for the award, Associate Professor of English Marian Aguiar said, "One of Ana's more striking pedagogical contributions has been in a key area related to sensitivity issues in the classroom. Ana developed ideas around 'trigger warnings' that help build methods of recognizing students' sometimes intimate relationships with violence, and helping to frame the instructional material to be mindful of those often hidden histories."
Cooke's motivation to raise the issue of trigger warnings in class stemmed from her work as a member of CMU's Survivor Support Network and the Sexual Assault and Relationship Violence Prevention Committee. Cooke addressed the issue as acting director of the First-Year Writing Program.
"As instructors, we need to consider how the material we present intersects with and impacts students' experiences — but it's important for instructors to feel empowered to make choices that fit their own courses, materials and pedagogical goals," remarked Cooke.
Freshman Lily Marty was enrolled in Cooke's first-year writing course, "Interpretation and Argument: Boycotts, Bullets, Bits? Political Resistance and Forms of Protest" last fall.
"This class acted as my introduction into understanding political protests and the complexity in the ethics of violence. She was able to take very difficult subject matter and make it approachable and interesting to a class full of freshmen with varying skills," said Marty. "She set up a class that allowed us to bring our high school writing to a college level without being critical or overwhelming, and for that I am extremely grateful."
Cooke says that she most enjoys the moments when students become so immersed in their learning that they let go of the stresses and pressures of college life.
"Teaching writing courses in particular lets you view another person's mind at work — you have a chance to give feedback or guidance that helps them with this tricky process of getting 'into language' something they want to communicate to others."
As a Ph.D. candidate in second language acquisition in the Modern Languages Department, Ke also works to help her students communicate through her teaching. Before coming to CMU in 2012, she earned a master of philosophy degree in Chinese teaching and language acquisition from the Hong Kong Polytechnic University and a BA in English with a minor in Japanese from Sun Yat-sen University.
Ke is interested in innovative foreign language and culture courses that promote co-teaching, technology-enhanced learning and joint contributions from faculty and students.
She has taught Elementary Chinese both in the classroom and online, as well as Advanced Chinese. And last fall, she co-taught a new and popular 500-level course on Chinese documentary film, called "Visions of China: Modern Chinese Society and Culture through Documentary Films and New Media."
Sue-mei Wu, teaching professor of Chinese Studies, worked closely with Ke on the Elementary Chinese online course. In Ke's nomination packet, Wu remarked, "I have observed that she is very intelligent, motivated and a quick learner. Through her motivation and devotion, she managed the online blended learning environment very well."
Wu added, "Ms. Ke makes frequent use of props and other visual aids, as well as group activities, which help provide variety and make the lessons come alive for the students."
Ke's students appreciate her natural ability to connect with them. Student comments highlight her propensity for giving timely, in-depth feedback on writing assignments and taking the time for impromptu conversations in Chinese.
Her ultimate goal is to help her students become confident, independent learners.
"My approach is teaching students how to fish rather than giving them the fish," she said.
After graduating from the Ph.D. program, Ke plans to continue her career in foreign language education, focusing on helping students develop cross-cultural communication and problem-solving skills.
"My happiest moments have been when I realize how much I have learned from my students, and the role I have played in helping them to become autonomous life-long learners in their own journeys," said Ke.
Learn more about the Dietrich College Graduate Student Teaching Award, including past winners.
_____
By Emily Stimmel