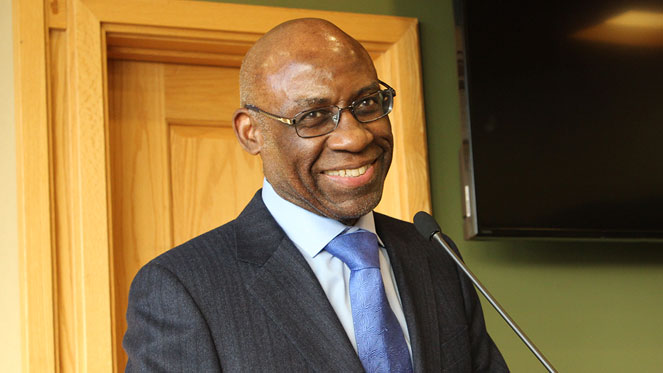 February 19, 2016
Joe Trotter and the Effects of CAUSE
By Emily Stimmel
When Joe William Trotter, Jr. joined Carnegie Mellon University's Department of History in 1985, he saw an opportunity to solve real social problems through his specialties in 20th century U.S. and African American urban and labor history.
"It was an exciting moment to join the department because of Carnegie Mellon's commitment to research on human societies from the perspective of the most dispossessed of the world's people," said Trotter, the Giant Eagle Professor of History and Social Justice in the Dietrich College of Humanities and Social Sciences. "An institution that valued and enthusiastically supported 'history from the bottom up' greatly appealed to me as a scholar of African Americans."
Part of Trotter's work creates links between the past and present — particularly in examining social problems like unemployment, underemployment, incarceration, homelessness, addiction and other issues that disproportionately affect black people. The old adage, "Those who don't learn from history are doomed to repeat it" is particularly salient in a time when racial tensions are high in America.
"The first step toward resolution of current inequalities requires a profound understanding of the many ways that past forms of inequality continue to influence the present," Trotter said. "History is a tool to get the job done."
When working to help the disenfranchised, policymakers, activists, philanthropists and others often rely on stereotypes of the very people they're trying to help, viewing them as helpless consumers — takers, rather than givers. Trotter said this results in a missed opportunity to see the resources the dispossessed share with each other and to learn from the networks and systems they create.
For instance, the Black Lives Matter movement, which has gained momentum through social media, is informed by a rich history of appropriating contemporary modes of communication to fight inequality.
"Such appropriations of new technology recognize and often follow a period of very damaging and inflammatory use of the same technology to denigrate the culture, character and integrity of black people," Trotter said.
Germaine Williams shares Trotter's passion for dismantling racist systems. From 1999 to 2001, Williams was a presidential fellow in the Master of Arts Management program at Heinz College. During this time, he also worked with Trotter as an intern for CAUSE (Center for Africanamerican Urban Studies & the Economy), combining his interests in African American urban life and U.S. cultural policy development. He draws from this interdisciplinary background regularly in his work as a senior program officer in arts and education with The Pittsburgh Foundation.
As he works to disrupt the effects of racism and increase access to the arts, Williams regards Trotter as a professional role model.
"Of all the voices in my head, his is one of the most challenging; his is a powerful voice of encouragement and possibility," Williams said. "The work ethic, rigor, collegiality, ability to laugh, critical listening, deep commitments to fairness and process — these are all qualities that I hope I am able to bring to my work."
Over the past 30 years, Trotter has established himself as the university's leading expert on African American history, through his work and through CAUSE, which he founded in 1995.
As the only unit at Carnegie Mellon devoted to interdisciplinary research and education on the African American experience, CAUSE provides an ongoing forum for people to reflect on racial and class disparities in a non-threatening space.
Under Trotter's leadership, CAUSE has brought more than 150 prominent scholars to CMU and the Pittsburgh region. The speakers' series and conferences have resulted in the publication of three edited volumes on African American urban history, including "Black Power Beyond Borders: The Global Dimensions of Black Power," by CMU Associate Professor of History Nico Slate.
Another major undertaking of the center is the Remembering Africanamerican Pittsburgh (RAP) oral history project. From 2007 to 2009, graduate students collected 185 oral histories of African American life in Pittsburgh since World War II, gathering information on community networks, migratory patterns, family connections and work and leisure activities to paint a picture of black life and culture in Pittsburgh in an era of economic decline.
In addition to the RAP project, CAUSE demonstrates its dedication to research through its postdoctoral fellowship program, which has supported the work of 17 fellows.
Stephanie Boddie, the 2015-2016 CAUSE postdoctoral fellow, is researching the relationship between black church life and entrepreneurship in the United States. On April 29, Boddie will present a lecture entitled "Unfinished Business: Black Religion and Social Entrepreneurship."
"Through CAUSE, Dr. Trotter has created an environment for emerging scholars to reach their full potential," Boddie said. "He is not only studying history — he is making history and creating the space for others to consider how they can do the same."
Trotter makes a point to ensure that CAUSE events are free and open to the public. Upcoming events include a lecture on the history of black women in health professions and a conference that will help shape the future of the center. By making conferences, lectures and film screenings accessible to diverse groups of people, CAUSE provides networking opportunities to individuals who may otherwise not cross paths.
To Trotter, it is important that these networks build bridges between academia and the greater Pittsburgh community.
"Knowledge shouldn't be locked away behind the walls of the academy," he remarked. "We want to empower people through access."
Learn more about CAUSE and the center's upcoming events.
Related Links