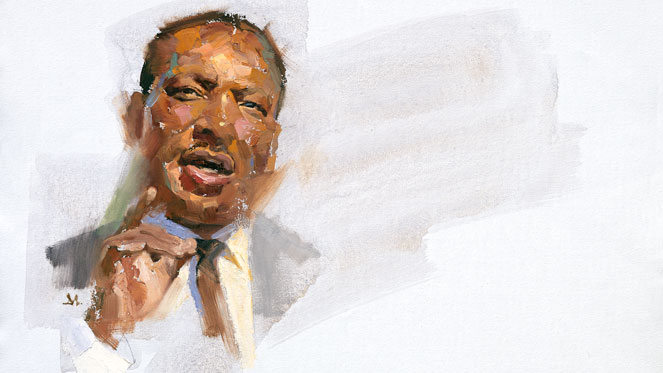 December 20, 2016
Martin Luther King, Jr. Writing Award Winners Tackle Self-Identity, Racism, Terrorism and Other Diverse Topics
Record-Breaking 220 Entries Received From 16 High Schools and Five Colleges
By Shilo Rea
What does it mean to be Asian-American? Or Nigerian-American? Or simply American?
Winners in Carnegie Mellon University's 2017 Martin Luther King, Jr. Writing Awards tackled topics from self-identity and racism to terrorism and the U.S. presidential election. The awards program—established in 1999 to give high school and college students a safe, creative space to explore racial and cultural differences—received a record-breaking 220 entries from 16 high schools and five colleges.
The student winners, who will receive cash prizes and have their pieces published in a booklet distributed at the event, will read their poems and essays at an awards ceremony on Monday, Jan. 16, 2017 at 4:30 p.m. in the CMU Cohon University Center Rangos Ballroom. Local music groups will also perform, and the family-friendly event is free and open to the public.
"I was particularly excited to have a number of new schools participate this year. The more schools that submit work, the more representative of the community the awards become," said Jim Daniels, the Thomas Stockham Baker University Professor of English who founded and directs the awards program.
Zainab Adisa, age 17 and a student at Pittsburgh CAPA, won first place in high school poetry for "We Are Americans." In it Adisa struggles with a Brazilian friend who tells her she is not an American.
No, I am not American, he's right.
My blood lines the heritage of Nigerian
village kin whose accents flow in a wind
I have yet to tame and words
I've yet to claim.
But when he says,
"You are not American"
I know he knows nothing about my heritage.
Without knowing, he is referring to citizens
of the United States of America.
to the blondes
with blue eyes
and peckish habits,
to the brunettes
with long legs
and apparent attitudes,
to the pale skinned
with their perfect
verb conjugations,
to the "blacks"
with kinky curls
and grease slathered fingers
and lastly, the mulatto hued
with a sense of limbo
hiding between their words.
Daniels, an award-winning poet, was impressed with Adisa's ability to shape her poem, relying on original language and imagery to convey the complexity of her subject.
CMU senior Melanie Diaz won first place in the college prose category for "Being Mexican-American Post-Election." Diaz, an English and global studies double major, takes readers through the three days following the 2016 election. She reflected on what her grandmother would have thought of Trump, how her mother will cope and what the future holds for her 15-year-old sister. And she wrote about her tears and reactions from a professor.
I look at my little sister's picture, and it's one of the ones with her smiling. It's a photo of the day she and my mom dropped me off at college. She had her short hair then from donating the rest of it to cancer patients, but her smile is still exactly the same. During the election, she said she was ready to go to Canada. What was I suppose to tell her? What was I going to tell a little girl who's been trying to escape the limitation of her brown skin all her life?
"Every year the submissions bring surprises, but the range and quality of stories this year was particularly impressive. While the recent election showed up in a number of pieces, it was more of a catalyst for students to tell their individual stories than to go off on a political rant. The maturity of these young people in discussing sensitive topics is truly inspiring," said Daniels.
The 16 high schools with student submissions were Allderdice, Brashear, CAPA, Carrick, Fox Chapel, the Kiski School, Lincoln Park Performing Arts, Oakland Catholic, Obama Academy, Our Lady of the Sacred Heart, Penn Hills, Pittsburgh Science and Technology Academy, Shadyside Academy, Westinghouse, Winchester Thurston and Woodland Hills.
Students from five colleges entered the contest: Carlow University, Carnegie Mellon (including the Silicon Valley campus), Chatham University, Duquesne University and the University of Pittsburgh.
The Martin Luther King, Jr. Writing Awards are sponsored by CMU's Dietrich College of Humanities and Social Sciences, Department of English, Office of Student Affairs and Office of the President.
The 2017 Martin Luther King, Jr. Writing Award Winners
High School Prose
First Place: Being a Minority in a School of the White and Privileged
Djibril Branche, 16
Shady Side Academy
Second Place: Gate No. 1
Zihao Kong, 17
Winchester Thurston
Third Place: Sono Con Voi?
Adero Kauffmann-Okoko, 17
Winchester Thurston
Third Place: The "S" Word
Kristen Deasy, 17
Oakland Catholic High School
Honorable Mention:
Katherine Davenport, 17
Shady Side Academy
Honorable Mention: Eskimo Box Days
Cherisse Tompkins, 17
Winchester Thurston
Honorable Mention: Just Because
Emma Steckline, 14
CAPA
High School Poetry
First Place: We Are Americans
Zainab Adisa, 17
CAPA
Second Place: I Am Not Wrong: Wrong is Not My Name
Elsa Eckenrode, 18
CAPA

Third Place: Wide Tooth Comb
Ciara Sing, 16
CAPA
Honorable Mention: Compliment
Ruthanne Pilarski, 16
CAPA
Honorable Mention: Route 28
Becca Stanton, 17
CAPA
Honorable Mention: Black Lives with Corrupted Minds
Katerria Weldon, 17
Taylor Allderdice High School
College Prose
First Place: Being Mexican-American Post-Election
Melanie Diaz, 21
Carnegie Mellon
Second Place: Dear Sir
Christian Manaog, 19
Carnegie Mellon
Third Place: Am I a Terrorist?
Shamanta Mostofa, 21
University of Pittsburgh
Honorable Mention: The Truth from my Chair
Uduak Obong-Eren
Carnegie Mellon- Silicon Valley
Honorable Mention: Mixed Girl Problems
Julianne Mercer, 18
University of Pittsburgh
College Poetry
First Place: Microdermabrasion
Katherine Huang, 21
Carnegie Mellon
Second Place: Whitewash
Indigo Baloch, 22
Chatham University
Third Place: some assembly required
Javier Spivey
Carnegie Mellon
Honorable Mention: The "Dirty" Mirror
Kyle A. Burnett, 22
University of Pittsburgh
Honorable Mention: Birthright
Theresa Abalos, 18
Carnegie Mellon
Honorable Mention: Engineering 101
Pragna Mannam, 20
Carnegie Mellon