December 02, 2016
J. David Creswell To Receive Prestigious Health Psychology Early Career Award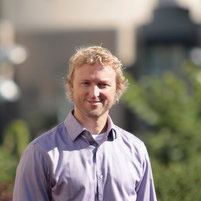 The American Psychosomatic Society has selected Carnegie Mellon University's J. David Creswell as the recipient of its 2017 Herbert Weiner Early Career Award.
Since 1991, the annual award has recognized scientists who, at the beginning stages of their careers, have contributed significantly to the fields of health psychology and behavioral medicine and have shown substantial promise of continued academic accomplishments.
Creswell, associate professor of psychology in the Dietrich College of Humanities and Social Sciences, focuses on how the mind and brain influence stress resilience and physical health. He does this by integrating neuroimaging, biological and behavioral methods to understand stress regulation. Among his many discoveries, Creswell was the first to determine the brain mechanisms that cause stress management strategies such as mindfulness meditation and self-affirmation to work.
"David is an impressive scientist, collaborator and teacher, and his work is already having an enormous impact on health psychology," said Michael J. Tarr, head of the Department of Psychology. "We are delighted that the American Psychosomatic Society has chosen to honor David, and it will be exciting to watch his career unfold further."
Most of Creswell's work examines stress and coping strategies and interventions. For example, he discovered that self-affirmation promote recovery from breast cancer, improve problem-solving under stress and reduce biological stress reactivity. Creswell's early mindfulness meditation research demonstrated that fostering mindful awareness can reduce biological stress reactivity and can improve a broad range of stress-related health and disease outcomes.
In another line of research, Creswell uses human brain imaging to understand learning and decision-making. He found that the brain regions responsible for making decisions continue to be active even when the conscious brain is distracted with a different task. The research provides initial indications that show how the brain unconsciously processes decision information in ways that lead to improved decision-making.
Creswell's work is on the forefront of the brand new field of health neuroscience, which he is credited for helping to establish. Bridging behavioral and health psychology with brain research, health neuroscience is the missing link between understanding how health and well-being is mediated by the brain.
"Overall, David's work has addressed important and interesting questions, using multiple and innovative techniques," said Sheldon Cohen, the Robert E. Doherty University Professor of Psychology at CMU and world-renowned health psychologist. "He has developed promising theoretical approaches to an area that sorely lacked theory and has been a prolific and impactful contributor. He has received substantial funding for his work in an extremely competitive funding environment."
Creswell's work is having an impact outside of academia as well — his research has been regularly featured in the media, including The New York Times, USA Today,
The Today Show, Huffington Post and many others.
At CMU, Creswell is also a faculty member of the Center for the Neural Basis of Cognition and BrainHub. He was also the recipient of the American Psychological Association's 2014 Distinguished Scientific Award for Early Career Contribution to Psychology.
Creswell will receive the Herbert Weiner Early Career Award at the organization's next meeting, March 15 – 18, in Seville, Spain.
Related Articles
_____
By Shilo Rea