August 04, 2016
Beyond the Binary: Q&A with Satvika Neti & Ashley Sobhani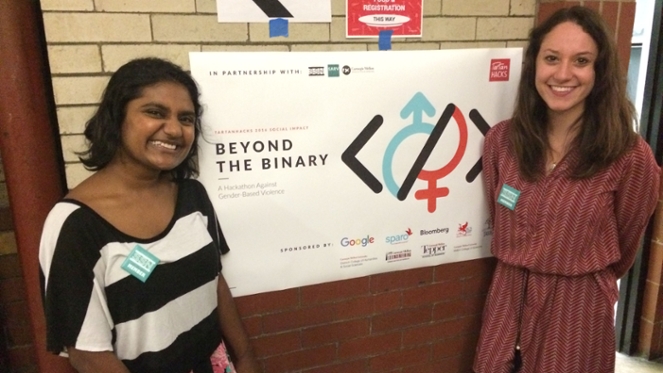 Apps are ubiquitous. We use them to order food, teach our kids and track healthy habits. Now apps can even be used as a tool to solve persistent social problems.

As students at Carnegie Mellon University, alumnae Satvika Neti (DC'16) and Ashley Sobhani (DC'16) created Beyond the Binary – a category at the 2016 Tartan Hacks event that applied technology to preventing sexual assault and relationship violence on college campuses. Neti, who majored in international relations and politics, and Sobhani, who majored in global studies, hope to bring this model to hackathons at colleges and universities nationwide.
Why did you choose to focus on sexual violence and bystander culture?
We saw a large gap in technological solutions that worked in the areas of sexual assault and relationship violence prevention. Most put an undue amount of onus on the victim instead of redirecting the blame back to where it should be – on the perpetrator and campus culture.

Why do you think it's important to address these issues through technology?
Technology has the power to further the fight for social justice everywhere, especially in issues related to rape culture. Through hosting a hackathon, we wanted to use technology to help change the public's perception of the issue.
Can you tell us more about the apps that were developed at Beyond the Binary?
Ping connects trained volunteers with bystanders and potential victims in situations of danger of sexual assault, or with survivors who need help coming forward to official channels.
Created with guidance from CMU's Title IX office, IXEDU is the nation's first resource database for Title IX coordinators that is scalable on a national level.
And Party On is a party-organizing tool that helps hosts and attendees to prevent sexual assault and reduce the bystander effect through anonymous reporting of suspicious activity.
What makes these apps different from other tools that are available
Most other technological solutions only address the symptoms, such as having someone press a button when they feel unsafe. These three applications focus specifically on primary prevention – tackling rape culture and the bystander effect. They are easily scalable to different universities across the country, and they were all created with the intent of being accessible for all communities and users.  
What did you find challenging about hosting a hackathon and what did you learn from the experience?
The most challenging part of hosting this hackathon was finding sponsors. Catherine Copetas, assistant dean for industrial relations and director of special events in the Computer Science Department, suggested that we ask sponsors to provide seed money rather than individual prizes for participants. We learned that students were willing to create these kinds of applications even without monetary incentives.
Another lesson was how invaluable community support was. We would not have been able to pull this event off without Scotty Labs, the Office of Community Standards & Integrity, the Office of Title IX Initiatives, the School of Computer Science, the Mellon College of Science, the Dietrich College of Humanities and Social Sciences, Tepper School of Business, the College of Engineering, Heinz College, the Survivor Support Network and Pittsburgh Action Against Rape (PAAR).

We want to foster these connections, and create new ones on campuses nationwide, as we continue this initiative.
What are you both doing now?
I am working as a CORO fellow in Pittsburgh, as well as working on some individual projects such as starting an alternative education non-profit called WE Education and working to expand Beyond the Binary to other universities. (Neti)
I am working with Satvika on expanding this hackathon to other universities in the U.S. while working full time at Split, a ride-sharing startup in Washington D.C. I'm also volunteering as a marketing specialist for She Rocks the World, a non-profit that empowers teenage girls in the D.C. area. (Sobhani)
How has your CMU education influenced your work?
The biggest thing that CMU did was show me how the best and most efficient, innovative solutions to problems can be found in the liminal spaces between fields of study, majors and disciplines. Also, my first computer science class here at CMU — 15-112 with Professor David Kosbie — taught me that technology and programming should be used for furthering social good throughout the world. (Neti)
CMU gave me the courage to question my surroundings and push for change. This courage motivated me to organize this hackathon with Satvika and drives my passion for continuing this work. Through various leadership roles I held throughout my academic career, I learned that constructive communication is invaluable. The faculty and staff I interacted with at CMU allowed me to constantly question my interests and passions and to not be afraid of the unknown but rather grasp at its potential opportunity for growth and personal success. (Sobhani)
_____
By Emily Stimmel