April 27, 2016
The Digital Music Revolution

New Listening Spaces Book Explores Music, Technology and Culture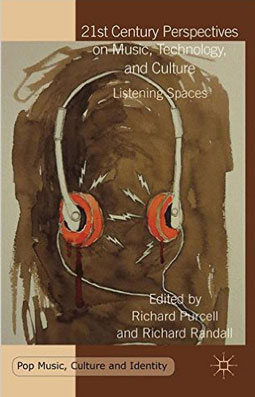 In a matter of decades, the way we listen to, produce, consume and share music has shifted rapidly. Gone are the days of poring over liner notes, analyzing cover art and curating mixtapes. But even as technology evolves, music remains an important cultural touchstone for many people.
Through Listening Spaces, a project under Carnegie Mellon University's Center for the Arts in Society's (CAS) Media Initiative, Richard Purcell and Richard Randall explored the ethical, political and cultural significance of the digital music revolution.
They did this by hosting a series of lectures and workshops with sound artists, music archivists, ethnomusicologists and labor historians to explore the role of digital music in the 21st century. A new book, "21st Century Perspectives on Music, Technology, and Culture," expands on the project, examining musical engagement through the lens of "musicking" — a term coined by music scholar Christopher Smalls that defines music as a process, rather than an object.
Co-edited by Purcell and Randall, "21st Century Perspectives" includes writing from 11 cultural studies scholars, musicians, music preservationists and philosophers, including Graham Hubbs and Jonathan Sterne, who also spoke at the 2012 Listening Spaces symposium. Essay topics range from music industry labor and privacy issues to the ways we interact with music in our cars and workplaces.
"We were looking for a mix of contributors that represented a range of expertise and disciplinary backgrounds to give readers a very broad sense of the impact music has on many fields of study," said Purcell, associate professor of English in the Dietrich College of Humanities and Social Sciences.
In "A Brief Consideration of the Hip-Hop Biopic," Purcell looks at the relationship between hip-hop music and labor in the late 20th century and early 21st century. He claims that films about music perpetuate myths about the labor of music production. In Purcell's view, earlier fictional hip-hop films like "Wild Style" (1982) show more of the process than contemporary films, which romanticize the musicians while glossing over their work.
"One of the things our Listening Spaces project focused on was musical labor and it greatly influenced the way I thought about hip-hop," Purcell said. "Rap is such a cinematic musical genre and rap artists spend an incredible amount of time talking about their craft and the conditions — industrial or entrepreneurial — under which they work. It was fascinating to see how these film reflect these changing conceptions over time."
Algorithm-based streaming services like Pandora and Spotify have taken over the work of music discovery — often with unforeseen consequences to both musicians and listeners.
Damon Krukowski of the 1980s alternative rock band Galaxie 500 laments the economic impact of streaming in his essay, "Love Streams," noting that these services make it virtually impossible for artists to earn a living through music. Krukowski points to the software industry's eventual acceptance of open-source software as a potential model for a decentralized music industry.
"Having a contributor who approached the project as a practicing musician was incredibly important to us," commented Purcell. "Folks like Damon make the music that we love, consume and think critically about."
Randall, the Cooper-Siegel Associate Professor of Music Theory in CMU's College of Fine Arts, examines streaming from another angle in his essay, "A Case for Musical Privacy."
He argues that the listening choices we make in the streaming sphere reveal important personal information. Individuals who stream music aren't always aware of the ways that data is collected and passively accept terms of use that allow the services to share personal details. In essence, the same technology that creates custom playlists to mirror our tastes can be used to target us with ads.
"These services are in the human information business, not the music business," Randall remarked.
Kathy M. Newman, associate professor of English who co-led the Media Initiative, has long held an interest in listening practices.
Newman's essay addresses what she calls "the new workplace battleground" — the fight for literal "listening spaces" within offices. With open plans dominating office design, workers are forced to wear headphones in order to listen to music, preventing collaboration.
According to Newman, the question of what kinds of music people listen to at work evolved into a deeper investigation of the conditions of office work over the last century. She credits Purcell and Randall with prompting a conversation about music and the modern workplace.
"I would have never done this work alone. Writing collaboratively inspired creativity and connections," Newman said.
Other essays tackle the transition from terrestrial to satellite radio, the rise and fall of the ringtone industry and the effects of social networking on the jazz scene.
Kieran Curran's "'On Tape': Cassette Culture in Edinburgh" delves into the burgeoning market for cassette tapes in contemporary Scotland. Curran, a scholar of music and literature as cultural texts, proposes that the appeal of the cassette is twofold: tapes offer a tactile experience that doesn't exist in the digital realm and they are cheaper to produce than records.
As the resurgence of cassette culture and vinyl collecting shows, nostalgia often follows leaps in technology. But this experience is not unique to people of a particular age.

Purcell and Randall note that anxieties over new technology have existed since music became a commercial enterprise, from concerns that recorded music would make live performance obsolete at the turn of the 20th century to the panic over home cassette-recording in the eighties.
"New generations will imbue new practices with meaning," said Randall.
Purcell added, "We learned that the concerns we have in the 21st century about music and commercialization, labor and technology are long-standing ones. In some ways, it's good to know that these are persistent questions and concerns, because it meant that, through Listening Spaces, we could use the past as a way to explain the present."
"21st Century Perspectives on Music, Technology, and Culture" was published by Palgrave Macmillan, which also released "Barack Obama's Literary Legacy" by Purcell earlier this year.
CAS is a research center in the Dietrich College and College of Fine Arts that investigates the role of arts in society.
Related Links:
_____
By Emily Stimmel